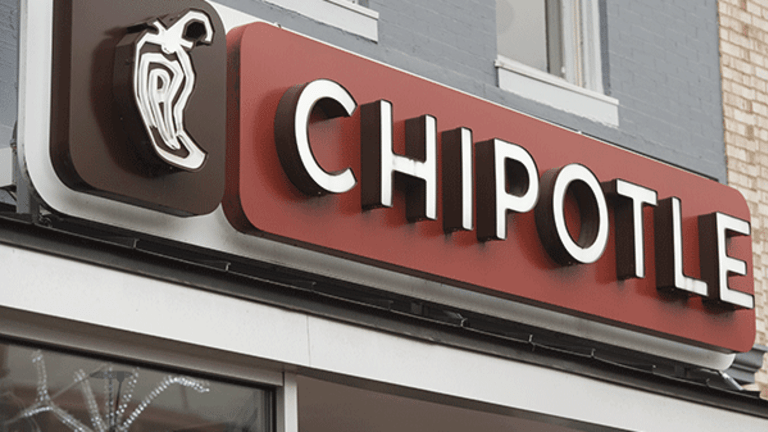 Chipotle Stock May Still Need to Drop More
Chipotle is 18.5% lower in 2016 -- but is that enough to make it a buy?
Year to date, shares of Chipotle Mexican Grill (CMG) - Get Report are down 18.5%. Even after the beating the stock has taken, I don't think shares of Chipotle look appealing.
On Dec. 6, Chipotle founder Steve Ells presented at the Barclays Eat, Sleep, Play investor conference in New York City. He said management was nervous about meeting full-year guidance. The whole room immediately called their trading desks and dumped the stock. The shares fell 7.5% on the news. (P.S. -- Be careful what you say in front of a ballroom full of institutional investors!)
Previously, the company said it expected full fiscal 2017 comparable sales to increase in the high single digits and earnings to be $10 per share.
In September, I was cautious on Chipotle. I said restaurant stocks trade on same-store sales and Chipotle doesn't have a plan to drive same-store sales higher.
After the Barclays presentation, analysts took a hatchet to Chipotle earnings estimates. Right now, the consensus is looking for earnings of $9.09 on $4.56 billion in revenue.
To get to those estimates, the company has to open between 220 and 235 new restaurants, modestly increase prices and grow revenue by 16%. And if that's not enough, Margins have to expand from 3.9% in 2016 to about 9.5% in 2017. In 2015, Chipotle had margins as high as 17% and earnings of $15.10 per share.
In the past, the way Chipotle generated those numbers was via speed. The company tried to service as many customers as possible. But now, Chipotle is no longer cutting corners and its forcing employees to do everything the right way. To me, that means the company will likely never hit those kinds of margins or growth rates again. I think it will take longer than expected for traffic levels to return to normal.
I would continue to avoid shares of Chipotle. At the current price of $391.16, the stock is trading at 43 times forward estimates. That's crazy. Those high multiples are a thing of the past. Even with shares down almost 50% below its all time high, I still don't think an investment in Chipotle is very tasty.
This article is commentary by an independent contributor. At the time of publication, the author held no positions in the stocks mentioned.