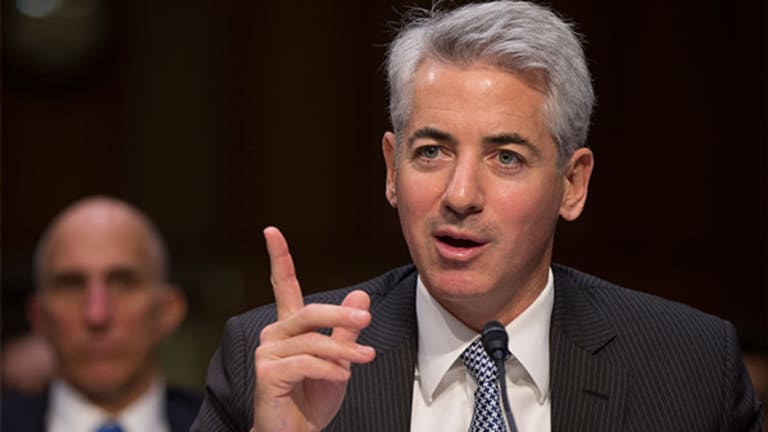 Chipotle Shares Spike on Ackman Settlement
The embattled burrito restaurant chain's shares were up in early trading after activist fund Pershing Square reached a settlement to add four new directors to its board.
Shares of embattled fast-food chain Chipotle Mexican Grill (CMG) - Get Report were up in early trading Friday after the company reached a settlement with activist investor Bill Ackman's Pershing Square Capital Management to add four new directors onto its board in a deal that also includes two dissident board members affiliated with the insurgent investor.
As part of the deal, which was agreed to on Wednesday but released Friday in a securities filing, Chipotle will add Ali Namvar, a member of Pershing Square's investment team and Matthew Paull, an advisory board member of the activist fund. In addition, two other directors were included, Paul Cappuccio, a general counsel at Time Warner since 2001 and Robin Hickenlooper, a senior vice president of corporate development at Liberty Global. Chipotle will increase the size of its board from eight to twelve to include the new additions, according to a spokesman for Ackman.
The agreement comes after Ackman launched an activist campaign at the restaurant chain in September, reporting a 9.9% stake and noting that he intended to engage in discussions with the company's management about its strategic plans, capitalization and financial condition. It's possible that his dissident directors may seek to put Chipotle in play, or at least have it start franchising locations and use the cash to buy back shares.
The settlement comes after Chipotle seeks to move past food-safety problems, a condition described by a Pershing analyst recently as "temporary trouble."
In addition, Chipotle said earlier this month that founder Steve Ells would assume the role of CEO and that long-time co-CEO Monty Moran would leave the company. Ells will now directly oversee restaurant operations, strategic initiatives, and innovation projects. The shakeup at the top of Chipotle likely also was the result of pressure exerted by Ackman and other investors, many of whom have expressed concern about executive pay packages and the co-CEO roles over the years.
Only 72% of holders backed the burrito chain's pay package at its 2016 annual meeting, putting it in the bottom quartile among shareholder votes on executive compensation for the year. In 2014 Chipotle garnered the largest protest vote by shareholders against its executive pay package of any U.S. company that year, with only 23% of holders backing it.
Investor CtW Investment Group, a prominent critic of Chipotle's governance and pay packages, launched a "just vote no" effort earlier this year to encourage shareholders to oppose the re-election of directors Patrick Flynn and Darlene Friedman at the 2016 annual meeting in May. In addition, earlier this week, CtW Investment sent a letter to Ackman highlighting several changes it wanted to see, including the recruitment of two new directors. In addition, CtW Investment was also looking to have the company separate its CEO and Chairman roles.
Richard Clayton, research director at CtW Investment Group, said he is appreciative that the company is making "several long-overdue changes." However, he added that he hopes it is "the start - not the finish - to Chipotle's governance overhaul. Clayton added that he hopes to see Chipotle split its CEO and Chairman role in the coming months. "We look forward to discussing our concerns with these new directors in the near future," he said.
 In a statement Friday Ackman said he was pleased that Chipotle has taken an important step to refresh its board, which will "position the company" for growth and long-term success. He added that the activist fund is looking forward to working with the board and management "for many years to come," which suggests that he expects Pershing Square won't be looking for a quick turnaround on its investment in the burrito restaurant chain.
In addition, Ackman said his fund has agreed to vote its shares in favor of the board at both its 2017 and 2018 annual meetings.
The fund argued that both Flynn and Friedman have spent too long on the board - 18+ years each according to relationship mapping service BoardEx, a service of The Deal -- to be considered independent enough to provide effective oversight of Chipotle's executive team.
The settlement is also a win for the activist fund that until recently has had devastatingly troubling run in 2016 and 2015. Pershing Square reported an abysmal -20.5% return net of fees for 2015. In 2016, it had a -20.7% return up until Nov. 8. However, a blockbuster November, driven partly by a post-election boost in its investments, has driven Pershing Square's returns upwards. In November, Pershing Square reported an 11.5% net return for the month, bringing its year-to-date returns as of Nov. 30 to -13.5%