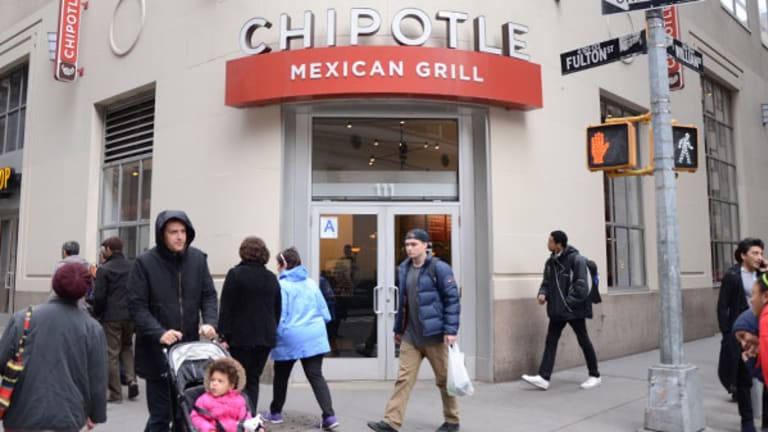 Chipotle Could Still Crash and Burn, Even If Its Surging Stock Price Hints Otherwise
Here's why Chipotle stock could still crash.
Chipotle Mexican Grill (CMG) - Get Chipotle Mexican Grill, Inc. Report shares hit a 52-week high of $471.57 a share on Monday, but it's a move that could be overdone.
The burrito king is set to release its first-quarter results exactly one week from Tuesday, and analysts surveyed by Factset anticipate Chipotle to post earnings of $1.27 a share on revenue of $1.05 billion, compared to the food chain's disastrous first quarter last year when it saw earnings of 88 cents a share on $834 million in revenue.
READ MORE: Chipotle Founder Steve Ells May Want to Be Quiet - He Is Getting Creamed By Panera Bread
But, the bulls should be wary. In its most recent fourth quarter, Chipotle missed its earnings projections and its revenue was only sub-par. Moreover, it saw a same-store sales decline of 4.8%.
The Chipotle stock price surge appears largely based in response to recent headlines rather than evidence the once popular brand has returned to full health.
For example:
Chipotle hikes prices.
Shares of Chipotle climbed on Monday after the company announced it would raise its prices roughly 5% at certain locations. The move marks the first time Chipotle increased prices in three years and will impact 20% of its restaurants.
Likely, Wall Street is expecting the price hike to improve the company's sales and profit performance. But, Wall Street may be losing sight of Chipotle operating in a competitive environment for pricing and traffic. In fact, sales at fast casual restaurants (what Chipotle is referred to as) were markedly weak in the first quarter despite increased promotions, TheStreetreports.
Will Chipotle be the next to get gobbled up?
After Panera Bread (PNRA) announced earlier this month that it would be acquired and taken private by European conglomerate JAB Holdings in a $7.5 billion deal, the question of whether Chipotle will be next is likely on the minds of many investors. After all, Chipotle's stock remains well off its all-time highs of more than $740 hit in August 2015 and the brand still has opportunities to open new restaurants aggressively. 
But, that is mere speculation. First quarter results and guidance will have to deliver to keep hopes alive on these fronts.  
The E.coli aftermath still lingers.
Chipotle served up E. Coli to 60 customers looking for a tasty burrito last year. Just because the company recently announced it removed all preservatives from its tortillas, does not mean people are just going to forgive and forget.
"There's probably some five to 10 percentage of customers that will never return," Wedbush analyst Nick Setyan said in a recent interview. The 60 customers who suffered from E. Coli likely are on that list.