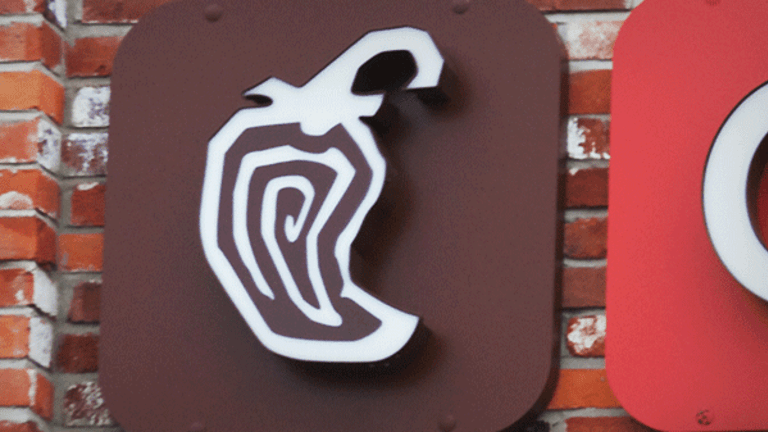 Chipotle's Return to 1 CEO, Vow to Improve Service Shouldn't Inspire Investors
The struggling burrito chain continues to face a big challenge in reviving its reputation.
The struggling burrito chain continues to face a big challenge in reviving its reputation.
We're only halfway into December, and troubled Tex-Mex chain Chipotle Mexican Grill (CMG) - Get Report is already making its New Year's resolution: improve its customer experience.
Perhaps toward that end, this week it announced that co-CEO Montgomery Moran would step down. Founder and co-CEO Steve Ells will now hold the position alone and has vowed to make big improvements. 
Chipotle needs to make customers feel better about its product and want to return or it will remain in the doldrums. Chipotle has a lot to do to restore public confidence.
The company's shares rose almost 2% in Thursday trading. 
In October 2015, a series of food-borne illnesses caused by E. coli forced the then high-flying restaurant chain to temporarily shutter dozens of locations, customers to lose their appetite for Chipotle's food and investors to drop the stock.
Ever since, Chipotle has struggled with regaining favor among diners. The company has sent out seemingly countless promotional text messages, as well as hosting a summer-long rewards program, similar to Starbucks and Dunkin' Brands. But it's been to no avail. Year to date, Chipotle's stock is still down by more than 20%. Shares have lost almost half their market value since before the crisis.
Starbucks is a holding inJim Cramer's Action Alerts PLUS Charitable Trust Portfolio. See how Cramerrates the stock here. Want to be alerted before Cramer buys or sellsSBUX?Learn more now.
Now Chipotle is under pressure from outsiders. Bill Ackman's Pershing Square Capital hedge fund grabbed enough shares to become the company's second largest stakeholder. Ackman, a noted activist investor, is known for creating big shake-ups in troubled brands, including the Burger King chain.
Ells may have sent shares of his company down last week when he announced that he would give about half of Chipotle locations a "C" for customer experience. His announcement that the company would be making big changes to improve that experience underscores his intentions to revive the business.
According to Chipotle, the first makeover will involve making wait times shorter. The steps to do so will include adding an additional food-prep assembly line in the kitchen, as well as integrating more technological advances into the ordering and purchasing experience. The company has also mentioned that it would try using "tablets" to facilitate ordering, harkening to McDonald's pledge to put ordering kiosks in every location.
Yet poor customer service is only part of the problem. The new safety precautions installed to improve the Chipotle brand and confusing practices have created a larger-than-normal turnaround of Chipotle employees. That's not only created the long lines, but it's made restaurants feel unkempt. These are fundamental problems that are difficult to overcome.
Many consumers remain doubtful about the company's food safety.
Until the current restaurant recession winds down, Chipotle shouldn't count on a comeback. Investors should continue to avoid the stock.
---
Chipotle's still a dangerous stock. But it's not the only risky investment out there. A blistering financial storm is about to hit our shores. When it hits, weak companies and their investors will be washed away. You need to put yourself on solid ground. And that doesn't just mean changing your investment allocations or loading up on cash. I'll show you how to protect yourself and prosper when you click here.
The author is an independent contributor who at the time of publication owned none of the stocks mentioned.