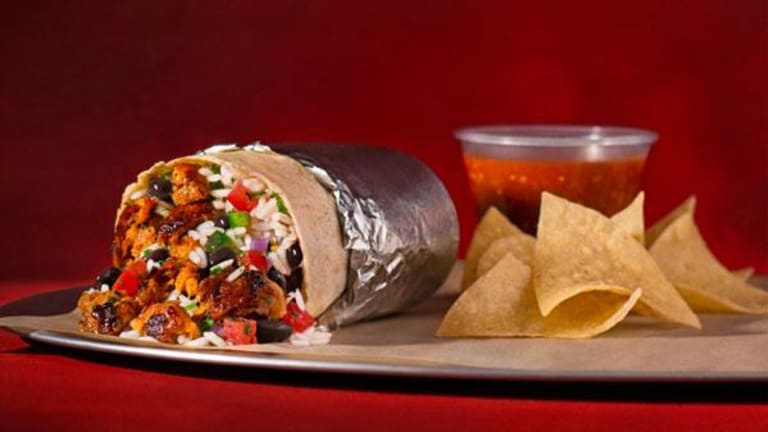 Chipotle's Free Food for Kids Unlikely to Offset Damage of Food Scandal
The beleaguered Tex-Mex chain will offer free kids' meals in September, but is its stock still rancid?
On Tuesday, Chipotle Mexican Grill (CMG) continued its efforts to lure back customers, announcing that it will offer free kids' entrees during September. But while making a play for parents' pocketbooks is generally a good tactic, especially in the restaurant sector, Chipotle still has to earn back customers' trust and profits. 
The company is trying to rebound from a food borne illness scandal that impacted multiple Chipotle locations and left hundreds of people ill. 
Despite the new promotion, Chipotle shares fell nearly 2% in Tuesday trading. Investors should stay away.
In a press release, Chipotle announced that customers will receive one free kid's entrée with each adult entrée purchase on September Sundays. The company has also teamed up with Adam Rubin, the author of the popular children's book "Dragons Love Tacos" to create "limited edition in-store activity sheets" to accompany the meal.
In the release, Chipotle Communications Director Chris Arnold touched on the company's philosophy of providing healthier food: "For more than two decades we have been serving families better food made with ingredients parents can trust -- ingredients raised with respect for the land, the animals, and the farmers who produce them," Arnold said.
Healthier food at so-called fast casual restaurants has drawn a huge following in recent years, especially among Millennials, who have become the largest demographic group in the U.S., and parents.
Restaurant chains have created menus or adjusted their fare to address this demand. Kids' entrees now generate more than $1.2 billion in revenues for the restaurant industry each year.
Recently, Panera Bread revamped its kids' selections, promising better, all-natural ingredients without artificial sweeteners. CEO Ron Shaich vowed to protect the integrity of kids' meals: "Frankly, the typical restaurant industry kids' meal doesn't serve our kids well. We shouldn't be marketing to kids. Toys and games distract from honest food choices. They come with poor options like fries and sugary beverages. This is not food as it should be."
Yet Chipotle will have to more than offer promotions for children and otherwise to solve its woes.
The company's three-month-long Chiptopia rewards program, which it started in July, has increased foot traffic. However, same-store sales are still far below last year's numbers because of the contaminated food scandal.  
Experts remain concerned about Chipotle's future. On Tuesday, analysts at Vetr downgraded Chipotle stock to "Hold."
In addition, the company was hurt by news that nearly 10,000 employees had filed a class-action lawsuit, saying that Chipotle forced them to work overtime without pay.
Despite its best intentions when it comes to kids' meals, Chipotle must remain a stock to avoid for the time being.
---
Now is not the time to get back into Chipotle, especially if you're a cautious investor. But what if I told you there is a way to make $67,548 per year - or more - without stocks at all, just by following this simple step-by-step process? The trader who is sharing this secret has been right more than 8 out of 10 times, turning $5,000 into more than $5 million for himself. Click here to see how easy it is to follow his lead and collect thousands of dollars in "Free Money" every month.
This article is commentary by an independent contributor. At the time of publication, the author held no positions in the stocks mentioned.