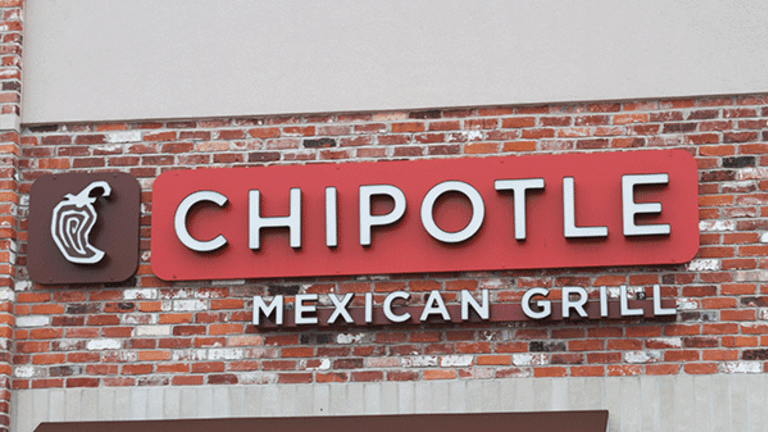 Chipotle Requiring More Humane Practices of Suppliers in Its Latest Effort to Restore Its Brand
The beleaguered burrito chain announced Friday that it will require suppliers to raise slower-growing chickens, which are less prone to a number of ailments, but the stock remains troubled.
In the fast-paced, competitive restaurant industry, players need to continuously deliver what customers desire. That seemed to be on the mind of Chipotle Mexican Grill (CMG) , the once-favored Tex-Mex chain that has been on a losing streak since the fall of 2015.
Chipotle announced Friday that it will require that its chicken suppliers switch to a more humane practice. Suppliers are to transition to using a strain of bird that doesn't grow very quickly.
Chicken farmers have received scrutiny from animal welfare activists who claim that quick-growing chicken varieties suffer from major health problems thanks to their large size. Weakened immune systems, musculoskeletal troubles and cardiovascular disease make the quality of these birds' lives inhumane.
In addition to demanding that farmers raise smaller birds, Chipotle, which uses more than 140 million pounds of chicken meat per year, will require that the chickens have more living space, receive the benefits of better lighting and be slaughtered in a more humane manner.
The changes are to take effect by 2024. Chipotle shares rose slightly in Friday trading. 
If these demands sound similar to you, it might be because rival fast-casual chain Panera Bread recently announced that it will become the first national restaurant chain to adopt the practices outlined by the Global Animal Partnership's Boiler Chicken Standard. This five-step program ensures that broiler birds are raised in a humane manner without cages, crates or crowding. As with Chipotle's new standards, Panera has vowed to meet the guidelines by 2024.
Panera is a holding inJim Cramer's Action Alerts PLUS Charitable Trust Portfolio. See how Cramerrates the stock here. Want to be alerted before Cramer buys or sellsPNRA?Learn more now.
Chipotle has long been known for a "do-gooder" aesthetic that its largely millennial audience found appealing during the restaurant's rise to prominence. Clearly, diners are eager to eat more healthfully, and Chipotle won them over with promises of non-GMO ingredients and ethically and sustainably sourced food.
But then a widespread outbreak of food poisoning caused by the E. coli bacterium shattered consumers' trust in the quality of Chipotle's food. Since October 2015, same-store sales have plummeted and Chipotle's share price has gone from about $725 to about $407.
The move to more humane chicken-raising practices is admirable, but it's also a grab to keep up with Panera and other companies such as Starbucks that are working to improve animal welfare standards.
Starbucks is a holding inJim Cramer's Action Alerts PLUS Charitable Trust Portfolio. See how Cramerrates the stock here. Want to be alerted before Cramer buys or sellsSBUX?Learn more now.
Humanely kept chickens are a logical step past cage-free eggs, the push for which led even fast-food giant McDonald's to change its supply chain.
It's not going to be enough to give Chipotle a big boost. The company is already expecting that same-store sales fell in the fourth quarter, marking the company's fifth consecutive decline when it comes to this metric.
Chipotle Mexican Grill remains a poisonous stock for investors.
---
But the beleaguered burrito chain isn't the only risky investment out there. A blistering financial storm is about to hit our shores. When it hits, weak companies and their investors will be washed away. You need to put yourself on solid ground. And that doesn't just mean changing your investment allocations or loading up on cash. I'll show you how to protect yourself and prosper when you click here.
This article is commentary by an independent contributor. At the time of publication, the author held no positions in the stocks mentioned.