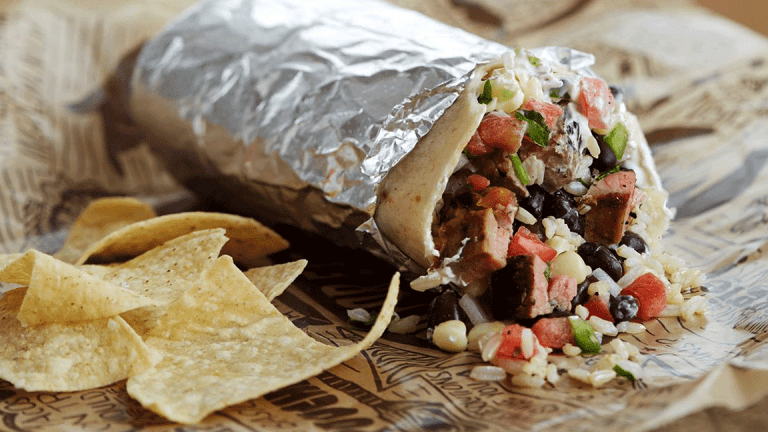 Attention Party Animals: Chipotle Poised to Take on Taco Bell's Late-Night Menu
Chipotle will start dabbling in the late-night business, something that Taco Bell has long-dominated.
New Chipotle (CMG) CEO Brian Niccol is wasting no time bringing a taste of former employer Taco Bell to a better burrito giant in turnaround mode.
Niccol tells TheStreet Chipotle will soon begin piloting a "late-night" menu, serving up $2 tacos and a drink after 8:00 p.m. For years, Yum! Brands (YUM) owned Taco Bell has dominated the late-night fast-food industry with sharply-priced deals targeted to [tipsy] party-goers on their way home. 
"The combination of continuing to make sure the menu is relevant, there is digital relevance and making sure we are giving guests a great experience that is the formula for how you build back transactions," Niccol said. 
If Chipotle can carve out a place in the late-night hours with food that has better ingredients than Taco Bell, it could prove a big-time sales boost. The effort could really get rolling should Chipotle move forward with the addition of drive-thrus to its 2,500 plus locations.  
Niccol took the helm at Chipotle in March after successful stints running the Taco Bell and Pizza Hut Brands. 
Chipotle shares popped 6% in pre-market trading Friday as second quarter earnings came in at $2.87 a share, beating analyst forecasts for $2.76 a share. Same-store sales rose 3.3% vs. estimates for 2.7% growth. Chipotle also plans to have delivery available in 2,000 locations by year end.