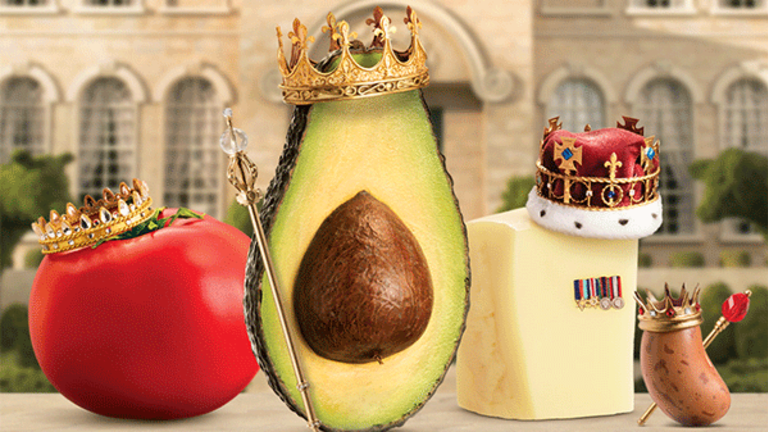 Surging Avocado Prices Are Chipotle's Dirty Little Secret Behind Its Queso Launch
Cheese is not in short supply.
Chipotle Mexican Grill Inc.'s  (CMG) - Get Chipotle Mexican Grill, Inc. Report  plans to introduce queso in its restaurants is probably a large part derived from a desire to offset rising avocado prices.
In an earnings call on Tuesday, Mark Crumpbacker, Chipotle's chief marketing and development officer, announced that the company could roll out its new cheese dip nationally by mid-September. Queso is the first new item Chipotle is moving into consumer acceptance tests from several new items it is evaluating, spurred by many requests the company has received for the dip and the rising cost of short-supplied avocados in the Mexican fast-food chain's guacamole.
"We're not getting any help from avocados, although avocados have, the pricing has receded recently," John Hartung, Chipotle's chief financial officer, said on the call. "If we can also build some complement...and queso is by far the most requested item we've ever had, and so if we can complement [avocados], get a break from the cost of avocados, we can push up to that 20% [revenue] level at this current sales volume."
From the first to the second quarter, Chipotle's food costs increased from 33.8% of revenue to 34.1% due to higher avocado prices, Hartung said, adding those extra costs consumed the effects of savings initiatives. Avocados reached a record high earlier in July, surging 156% to $36 per 22-pound box, The Chicago Tribune reported.
Chipotle, however, is switching from suppliers in California to those in Mexico, which grew more avocados than expected for the season, therefore relieving some expense. If avocado prices continue to decrease, Hartung estimated costs could fall 0.4% before any price increases, which he predicted could happen in the fourth quarter.
Congratulations to McDonald's, but We Are Rocking Too: Dunkin' Donuts CEO
Chipotle Should Gives Its Founder Some Free Queso and Then Send Him Packing
Also helpful in achieving that goal would be the adoption of queso as an alternative offering to guacamole on patrons' burritos, bowls and tacos. Cheese, unlike avocados, is in great abundance. Although Americans on average eat 35 pounds of cheese per year, there were 1.3 billion pounds of the dairy product in cold storage as of May 31, Bloomberg reported.
On Aug. 1, more than 350 restaurants in central and southern California and Colorado will start offering queso. Based on consumer acceptance, the company will evaluate whether or not to introduce the product across the United States for a national roll-out, which could happen as early as mid-September, Crumpbacker said.
He added that the company is creating a fresh marketing campaign that features the new cheese sauce in it, as well.
"We're talking a lot about this one particular menu item, but I shouldn't underestimate how much potential it has," Crumpbacker said. "Queso is something that could attract new customers, could attract lapsed customers, could increase frequency of existing customers and then also have the ability to increase check average."
Chipotle's Next Kitchen in New York City is serving several food items in operational testing, including queso, frozen margaritas, new salad greens served with an avocado citrus dressing and bunuelos, a crispy cinnamon dessert with chocolate dipping sauce.
The company's look to adopt queso is a break from its previous opposition to doing so because the cheese dip typically is made with artificial stabilizers to keep its shiny liquid form. Chipotle says it has created an all-natural recipe.
"It's a clean recipe, and it's a delicious recipe, and operationally, queso is very, very easy for our teams and for our customers," said Steve Ells, Chipotle founder, CEO and chairman, on the call. "So, we're going to put it in a couple of markets and test it, and I think we're going to be happy with the results."
More of What's Trending on TheStreet:
Editors' pick: Originally published July 28.