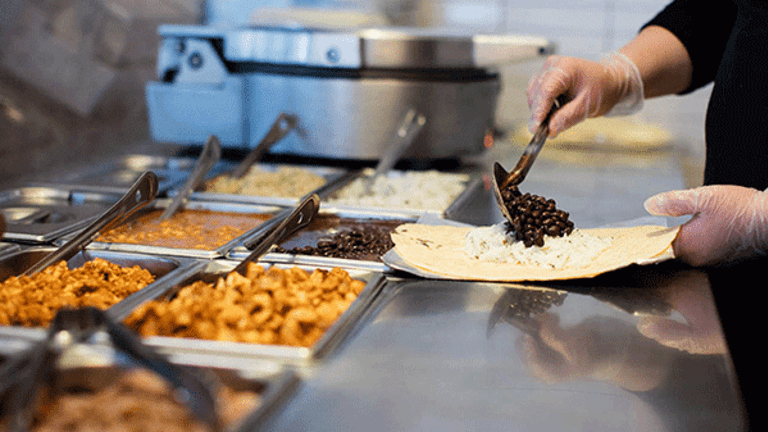 Chipotle Has Seen the Return of Vicious Bears -- Here's Why
The bears return to Chipotle.
It remains a big year for Chipotle Mexican Grill Inc. (CMG) - Get Report .
On Monday, June 29, Chipotle said that its second quarter same-store sales would increase by a high single digit percentage, below analyst estimates for a gain of over 10%. Operating costs as a percentage of sales are also expected "at or slightly higher" than the first quarter results, which could indicate declining profit margins. Finally, marketing and promotional costs are seen rising 0.2% to 0.3% from the first quarter.
Chipotle's shares dropped 7.3% to $425.43 in trading the next day and continued to fall throughout the week, closing Friday at $415.28. Shares fell 0.4% to $413.79 by Monday's close.
The bad news comes a month after Chipotle reported the findings from a credit card security breach originally reported April 25. From March 24 to April 18, Chipotle said, the company discovered "malware designed to access payment card data from cards used on point-of-sale (POS) devices at certain Chipotle and Pizzeria Locale restaurants." Still, Chipotle stressed, "there is no indication that other customer information was affected."
Add in weakening consumer confidence, sluggish consumer spending and mixed U.S. economic growth so far this year and it's easy to see why investors are more on edge about Chipotle's prospects.
Not all is bad though.
SunTrust analyst Jake Bartlett noted recently that Chipotle's catering delivery business, which is available in 40% of its stores, can be a key sales driver over the next several years.
The company has also invested in digital ordering technology, announcing in February that it had fully rolled out its "Smarter Pickup Times" technology, which in tests reduced digital order wait times by up to 50% and increased total digital orders to record highs.
Chipotle is set to release second-quarter earnings on July 20. Analysts expect the company to earn $2.27 a share, up from 87 cents a share a year ago.
The real question right now is whether Chipotle's stock will be down another 5% by the time of that earnings report. 
Visit here for the latest business headlines.