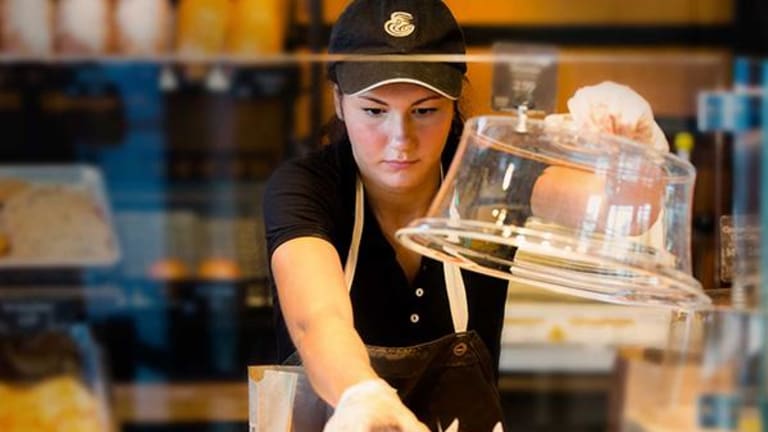 Chipotle Founder Steve Ells May Want to Be Quiet--He Is Getting Creamed by Panera Bread
Chipotle and Panera have a war of words.
Maybe Chipotle's (CMG) - Get Chipotle Mexican Grill, Inc. Report founder Steve Ells is green with envy because Panera Bread (PNRA) founder Ron Shaich has his salad and sandwich chain firing on all cylinders, while his burrito joint continues to struggle mightily. 
How else could one explain Ells' out of the blue attack this week on Panera. Ells criticized Panera Bread in an interview for misleading people by claiming their menu is "clean," or free of all artificial ingredients. Ells said that Panera still uses artificial ingredients since some of its natural flavors are concocted in a lab. 
In January, Panera said its entire U.S. food menu--which includes items such as salad dressings sold in supermarkets--were now free of all artificial flavors, preservatives and sweeteners. Chipotle reached that goal this week by removing some remaining artificial ingredients in its tortillas. 
"I have known Steve for 20 years, I like him--he was a friend," Shaich told TheStreet in an interview Thursday. "The reality is that I appreciate they are following us--you have to ask him [Ells] why needed to do it [make those comments]."
So, that's exactly what we did.
"The comments weren't directed at any brand in particular," Chipotle spokesman Chris Arnold said in an email to TheStreet. "We find it misleading to heavily tout removal of artificial additives when they have been replaced with natural counterparts, when the natural counterparts are often made in very similar ways and often have little or nothing to do with the natural additive itself."
Arnold added, "Panera does much better than most in the category, and we share some great suppliers with them (including chicken suppliers)."
Chipotle may have finally removed preservatives from all of its food, but investors should still be wary of the company that once served up E. Coli to 60 burrito-hungry customers. That's especially so after shares of the embattled burrito giant have surged about 5% over the past month on a lack of any upbeat news.
For the fourth quarter, Chipotle's comparable store sales fell 4.8%, with a whopping 14.7% just in December alone. The company's restaurant level operating margins slipped to 13.5% from 19.6% the previous year. Chipotle's same-store sales crashed 20.4% in 2016.
Panera Bread's fourth quarter same-store sales rose 3%, and by 4.2% on the year. Chipotle's stock has dived 4.2% during the past year while Panera's has tacked on an impressive 20%. 
Although Wedbush analyst Nick Setyan views Chipotle going "clean" with its food as a way to "get them back on the right path," he told TheStreet that challenges still lie ahead for the company.
"Obviously there are headline risks," Setyan said. "There's probably some five to 10 percentage of customers that will never return."
While Setyan, which has a neutral rating on Chipotle stock, expects the burrito chain's same-store sales to improve slightly--in the low- to mid-single digits--in the first quarter, profit margins will remain pressured throughout the year due to the resulting company turnover from the E. Coli scandal.
Setyan suggests "holding off" on buying shares of Chipotle until 2018, at least, as the company continues to invest in hiring and training.
The analyst's views on Chipotle are held elsewhere on Wall Street.
"We expect a slower than targeted same-store sales recovery along with higher costs associated with new food safety programs to keep margins below historical levels of 20% plus," wrote Jefferies analyst Andy Barish in a February note. "We believe current valuation is not capturing the fundamental operating changes and potential risks."
Barish has an underperform rating and $300 price target on Chipotle, implying a 31% decline.
Meanwhile, as TheStreet pointed out recently, Chipotle is opening restaurants at an unreasonable pace. Instead, it should be focused more heavily on cleaning up its image among consumers, operations and board. Last year, a mind-blowing 240 Chipotle restaurants were opened, despite the company being unable to revitalize significant store traffic.
As for the reason why Chipotle's stock hasn't plunged despite continued weak sales, veteran restaurant analyst Howard Penneyexplained to TheStreet back in February that Wall Street is banking on the company hitting its profit goals for the year. But by September, said Penney, it will likely be apparent Chipotle will not come anywhere near its bottom line expectations.