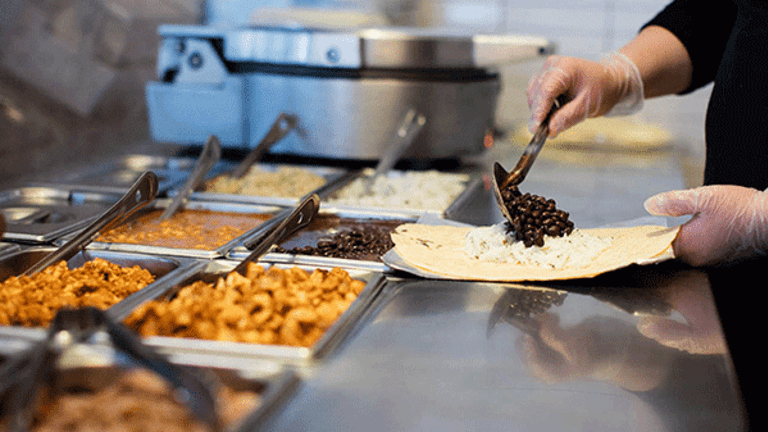 Chipotle Gets Served Another Subpoena Thanks to Norovirus
Company's stock fell Wednesday in spite of reporting earnings that beat estimates.
Shares of Chipotle Mexican Grill Inc. (CMG) - Get Chipotle Mexican Grill, Inc. Report fell Wednesday, in spite of the chain's second-quarter earnings beat, as the company disclosed that it's facing a follow-up subpoena related to a Norovirus incident at its Virginia restaurant.
The Mexican-style food chain said Wednesday that on July 19 it received a second subpoena related to a federal grand jury subpoena issued in January from the U.S. Food and Drug Administration's Office of Criminal Investigations.
The company said it plans to fully cooperate with the investigation and that "it is not possible at this time to determine whether we will incur, or to reasonably estimate the amount of, any fines or penalties in connection with the investigation pursuant to which the subpoena was issued."
Chipotle was down 2.41% Wednesday following the earnings release and subpoena disclosure to $340.60 at close. The shares continued to trade down in after-hours trading, to $339.
Chipotle Should Gives Its Founder Some Free Queso and Then Send Him Packing
Chipotle's Food Scares Could Be Due to Corporate Sabotage, Restaurant Consultancy Hints
All of this is in spite of posting earnings of $2.32 per share, beating analysts' consensus of $2.18, and an upgrade by Jefferies to "hold" from "underperform." Revenue, however, came in below estimates at $1.17 billion versus the consensus for $1.19 billion.
During the company's conference call Chipotle CEO Steve Ells touched on the concept of food safety which first plagued the company in 2015, and more recently, caused a closure at a Virginia location.
Regarding the Norovirus specifically, Ells said that the outbreak last week was not related to the company's food supply and that he is disappointed that Chipotle failed in preventing it from spreading. He apologized for the illness' outbreak during the call.
Don't Look -- Chipotle's Stock Chart Will Make You Sick
Chipotle reported on July 18 that a Norovirus outbreak had caused the closure of its Sterling, Va., location following reports of customers being sickened there. The company said the incident has been traced to a worker violating company policy and coming in sick.
The situation is all too familiar for Chipotle, which in 2015 had its food safety practices questioned following two E. Coli outbreaks.
--Giovanni Bruno and Jonas Elmerraji contributed to this story.
More of What's Trending on TheStreet: