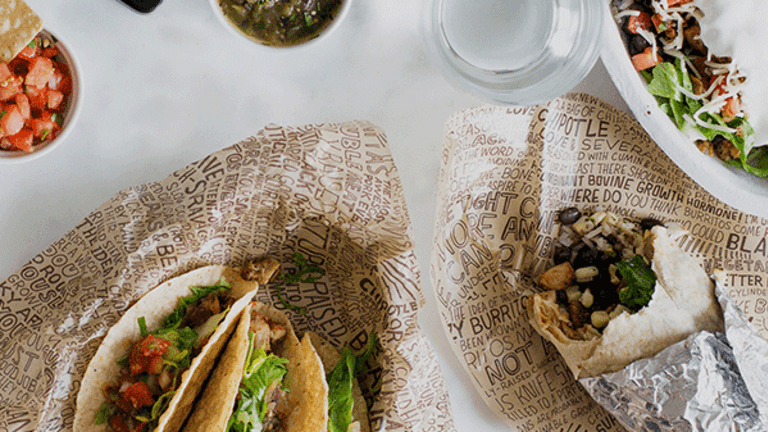 Chipotle Exec: We Need More People to Trust Us
So far, investors seem on the fence as the stock fluctuates.
The beleaguered Chipotle Mexican Grill Inc. (CMG) - Get Chipotle Mexican Grill, Inc. Report  may have delivered on earnings, but its sales still slumped.
After Tuesday, July 25's market close, the burrito king reported second-quarter earnings of $2.32 a share on revenue of $1.17 billion, compared to Wall Street's estimates for earnings of $2.18 a share on revenue of $1.19 billion.
Same-store sales in the quarter rose 8.1%.
Shares of Chipotle rose slightly to $352 in after-hours trading.
Chipotle Is Being Abandoned Because of Falling Rats and New Health Scare, Data Reveals
Chipotle's stock has been under pressure, hitting new 2017 lows, since Tuesday, July 18, when the company was forced to shut down a restaurant in Sterling, Va., due to customer reports made to iwaspoisoned.com of yet another illness outbreak traced to that location.
On an earnings call with analysts, Chipotle CFO John Hartung acknowledged that Chipotle still needs to work on gaining "back customers' trust."
"It is too early to know what [long-term] impact, if any, will be seen from last week's news," Hartung said.
The Loudoun County, Va., health department has since reported that two of the 135 customers sickened after eating at the Sterling restaurant tested positive for norovirus, likely spread by a Chipotle employee. The company was still trying to fix its image after its E. coli outbreak at restaurants in 14 states in 2015.
Going forward, Chipotle CEO Steve Ells said on the call that the company would be committed to developing one of the "most advanced" foods safety systems.
The norovirus scandal was not helped by another report last week that customers at a Chipotle restaurant in Dallas had rats "falling from the ceiling" onto their food.
On today's call, Chipotle announced the launch of a new ad campaign to increase awareness of its new menu offering of Queso, which launched earlier this month, which will feature rapper Robert Fitzgerald Diggs, "RZA," from Wu-Tang Clan.
Next year, Hartung said Chipotle is considering initiating certain price hikes.
Read More: