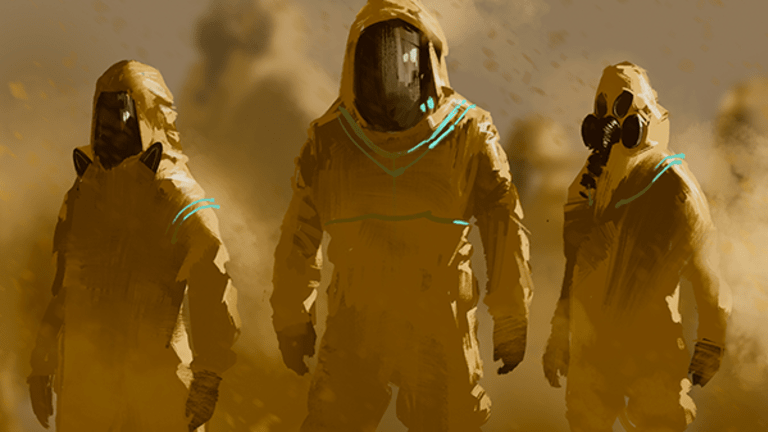 Don't Look -- Chipotle's Stock Chart Will Make You Sick
Chipotle is carving out a bottom.
Chipotle Mexican Grill Inc. (CMG) - Get Chipotle Mexican Grill, Inc. Report has been in the news recently -- but for all the wrong reasons.
Chipotle shares dropped almost 8% on July 18 after news that a Norovirus outbreak caused a closure at a Sterline, Virginia restaurant location after customers got sick. That update is all too familiar for Chipotle investors. Back in 2015, the firm experienced two E. coli outbreaks at its restaurants, putting food safety practices in question. Now, it's happening again.
Shares lost steam after a robust open, falling 2.3% Wednesday on the heels of the firm's second-quarter earnings call. Analysts were calling for profits of $2.18 a share on average for the quarter, but Chipotle bested those estimates with a $2.32 profit.
Chipotle's Food Scares Could Be Due to Corporate Sabotage, Restaurant Consultancy Hints
Chipotle on Its Road to Recovery but Still Faces Hurdles
The firm also managed to allay concerns that Chipotle's Norovirus outbreak was caused by a more widespread issue with its food sources --it  reported Tuesday that it traced the incident to a worker violating company policy and coming in sick.
That combination was enough to earn Chipotle an upgrade at Jefferies, from "underperform" to "hold".
But nimble investors might want to switch their own ratings on Chipotle stock to buy -- shares are showing the early stages of a dramatic reversal. Here's the chart:
Chipotle started the year in a well-defined uptrend, but that all broke down a month ago, well before the Norovirus outbreak in Virginia made the news. That violation of Chipotle's prior uptrend likely has a lot to do with the scale of the down-move earlier this month.
But while the breakdown has been pretty powerful, shares are pointing to a V-bottom, a bullish reversal setup that shows up when there's a sharp and sudden shift in control of shares from sellers to buyers. That's exactly what we're seeing post-earnings in Chipotle.
Shares caught a strong bid Tuesday and were adding more than 2.4% to that Wednesday morning. That near-vertical upside following a near-vertical down-move forms the "V" shape in the price action.
V-bottoms happen quickly. That means traders who want to take advantage of this near-term move should be nimble. That said, there's some extra evidence for a more prolonged upswing in CMG from here.
Chipotle CEO Steve Ells: We Failed Because of This New Norovirus Outbreak
Price momentum, measured by 14-day RSI up at the top of the chart, made a major oversold condition at the end of last week. While that in and of itself isn't a good reason to be contrarian and buy shares, the recent upswing is sending RSI back toward its 30 level and out of oversold territory. That, rather than the absolute reading of the RSI indicator, is a signal that's statistically linked to outperformance in shares going forward.
If you decide to pull the trigger on this trade today, it makes sense to park a stop on the other side of Chipotle lows at $336.52.
Don't miss these top stories on TheStreet:
Facebook Blows the Minds of Investors Yet Again With How Much Money It's Making
Ford Let Us Drive Its Tough New Pickup Truck and We Couldn't Believe the Rip Your Face Off Power
GM May Slash Six Car Models to Combat Slumping Sales, Avoid Plant Layoffs
This article is commentary by an independent contributor. At the time of publication, the author held no positions in the stocks mentioned.