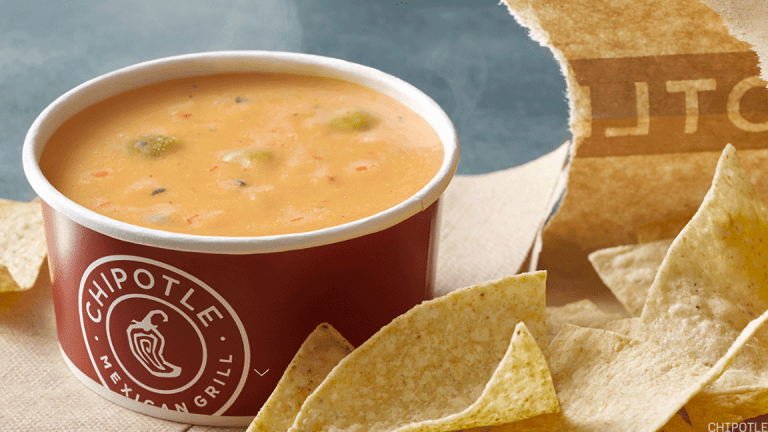 Chipotle CEO: Here Is My Vision
New Chipotle CEO Brian Niccol has unveiled his turnaround plan for the burrito king. TheStreet talks with Niccol about what he intends to do.
It's show time for newly minted Chipotle (CMG) CEO Brian Niccol. 
"It has been really exciting, but also humbling at the same time. You just realize you have 70,000 employees that share my passion and how much I care about this place succeeding," Niccol told TheStreet (TST) when asked about how things have been since taking the helm at Chipotle in early March. Despite successfully leading the gargantuan fast food brand Taco Bell for years, this is Niccol's first CEO role. 
And he came out swinging on Wednesday in order to jump-start a brand that has seen sales and profits weaken in recent years after several food quality scares.   
Niccol laid out plans during a call with Wall Street analysts to close 65 under-performing restaurants. He also plans to bring in-app delivery to almost all of Chipotle's locations by year end. 
Digital sales represented only 9% of the company's total sales in the first quarter and are nearing a half billion dollars, said Niccol. He expects digital to eventually hit multi-billion dollar levels.
The digital opportunity could prove lucrative for Chipotle: pizza delivery players such as Domino's Pizza (DPZ) and Papa John's (PZZA) generate more than 50% of their sales digitally. By leading with digital, each fast-food company is also able to gain valuable data that helps craft marketing and loyalty programs.  
TheStreet talked with Niccol about his turnaround plan and long-term vision for Chipotle. What follows is an edited and condensed version of the interview.
TheStreet: Out of everything I heard with your turnaround plan, I didn't hear you are bringing back the big Chipotle portion sizes I remember from college. How are you going to fix that?
Brian Niccol: I have seen plenty of customers go through our lines and they still get plenty big portion sizes, so it's rare that we skimp. If you are feeling like you need a little more, usually our guys are more than willing to help you out.
TheStreet: Who is Chipotle?
Niccol: Chipotle's heritage is core to the business. What I have seen in my time with the team and customers is there is great pride in the quality of our ingredients, the commitment to cultivating a better world. The result also being really delicious food.
We will continue to use really special ingredients that are freshly prepared every day with real cooking techniques so that you get real food and a real experience that is good. The early data I have seen is that's what people love Chipotle for. They want to hear more about it. It makes them feel good about choosing our food and our brand.
One thing we will add to it is that we will be more forward on technology and how we engage with customers with technology. Therefore the engagement will go up, the love will go up, the loyalty goes up and people feel good about the Chipotle brand.
TheStreet: How do you stay true to Chipotle's DNA with a focus on ingredient quality while also trying to innovate faster on the menu?
Niccol: One thing we are putting in place is a staging process. That gives us the ability to then experiment with equipment and the process so that we can make sure you end up with a great product but also a great proposition. The good news is that we think there are solutions for how we can do this, it requires some new equipment and putting it off the traditional ordering line. But we are trying to get to how we can get this equipment moving as fast as the line.
TheStreet: Is the conveyor belt type ordering process Chipotle pioneered still going to be in play?
Niccol: We have the customer-facing line. But we also have a second make line. All your digital orders, whether off a mobile phone or laptop, will go to your second make line. Then we will have shelving right there that holds your food so you can grab your food and go. Or, you can have a delivery driver walk, pick up the food for you and bring it to you.
We are getting great feedback.
TheStreet: Based on your tech background, where is Chipotle on the tech front in 10 years?
Niccol: We have got places where they are doing 20% to 30% of their sales digitally. Where I think the puck is headed is giving people more access and giving them more convenience. It's that simple. The more access we can give to people, with that comes faster speed to their food and I think we continue to win. Then you layer on top of that a rewards program and now you can engage with them at a different level.
As you look out over the next year or two, you will see a Chipotle where you can order your food digitally, walk in and then walk out instantly. You can go into our app and select delivery. You can go into Doordash and select delivery. I think we will be one of the faster solutions. While this is happening, there is a rewards program and a data analytics engine beneath it that is making the brand more relevant and engaging for the customer.
TheStreet: With all the new equipment, why not do breakfast and brunch? In the past, Chipotle didn't get into it because employees arrive early to hand prepare the food for lunch and dinner.
Niccol: That's a tough one. What we don't want to trade off is the freshness and great taste experience. But obviously, if new equipment becomes available that we can put into the restaurant that supports having great fresh prep we will obviously take a look at it.
We like the idea of all the fresh ingredients and using these real cooking techniques. In our kitchens there are no freezers, no microwaves, no can openers, it's really amazing.
TheStreet: So no plans to bring that stuff in?
Niccol: No plans.
TheStreet: How is your engineering background likely to help turnaround Chipotle?
Niccol: I think it has taught me how to solve problems. It's one of those things that it teaches you how to look at a complex situation and boil it down to critical things. That is what I have always leaned on in my career whether at Proctor & Gamble (PG) , Yum! Brands (YUM) or now at Chipotle.
TheStreet: What is founder Steve Ells' role?
Niccol: Obviously Steve and I have a great relationship. He is a very talented culinary person. He is also very talented on what I would call the operating model on how we get great ingredients into a very fast format. I continue to lean on him for his advisement on the food. We always want our food to be fabulous. We are always talking about the business. It's nice that he has 25 years of history of how we achieved what we have achieved. It's great to have a resource like that.
TheStreet: What have you learned so far in this new role about yourself?
Niccol: It has been really exciting, but also humbling at the same time. You just realize you have 70,000 employees that share my passion and how much I care about this place succeeding. You want everyone to be successful. You want the company to be successful. You want the people to be successful.
You just realize how much these businesses are people businesses when you step into a CEO role. I will only be as good a CEO as the people I surround myself with and the culture we create for our 70,000 employees.
Read more about Chipotle's turnaround on Real Money.