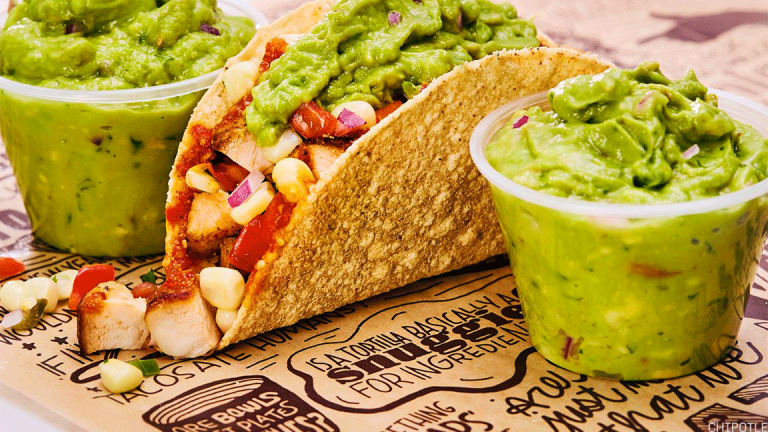 Chipotle Beats Analysts' Earnings Estimates
Comp restaurant sales increased 0.9%, despite alleged outbreaks of food poisoning.
Chipotle Mexican Grill Inc. (CMG) - Get Chipotle Mexican Grill, Inc. Report beat the Wall Street forecast for its fourth-quarter earnings by a small margin on Tuesday, Feb. 6, reporting an EPS of $1.34 versus the anticipated $1.32.
But thanks to benefits under the new tax law, Chipotle took home an extra 21 cents per share. Revenue totaled $1.1 billion, reflecting a 7.3% increase since the same period last year and on par with analysts' projections. The casual dining chain also reported an operating margin of 14.9%, up from 13.5% in 2016. Still, CMG slid in Wednesday trading.
Comparable restaurant sales, meanwhile, increased by 0.9% due to menu price increases at certain locations. It was negatively impacted by a deferred revenue from the Chiptopia Summer Rewards program, the company said. Mobile ordering increased 50% over the last year, CEO Steve Ells said in the earnings call. 
In the fourth quarter, the chain opened 38 new restaurants, bringing the total to 2,408.
"During 2017, we have made considerable changes around leadership, operations and long-term planning and it is clear that, while there is still work to be done, we are starting to see some success," Ells said in a statement.
In the earnings call, Ells underscored the importance of Chipotle to further restore growth and customer trust, starting with improving the guest experience. This year, for instance, the company will spend an additional $50 million on renewing restaurants and $10 million on designing new restaurant prototypes. 
Ells is transitioning out of his role as chief executive after announcing his resignation in late November. "We are making good progress on our search for a new CEO who can improve execution, drive sales and enable Chipotle to realize our enormous potential," he said in the statement. Ells is on the committee to find his replacement.
For the full fiscal year, Chipotle's comp sales increased 6.4% and revenue reached $4.5 billion — a 14.7% bounce from the prior year. Shares are up just under 1% after the bell Tuesday.
Chipotle's earnings beat may be redeeming itself from after reports surfaced of food-related illness possibly contracted at multiple Chipotle locations in December, including in Los Angeles.