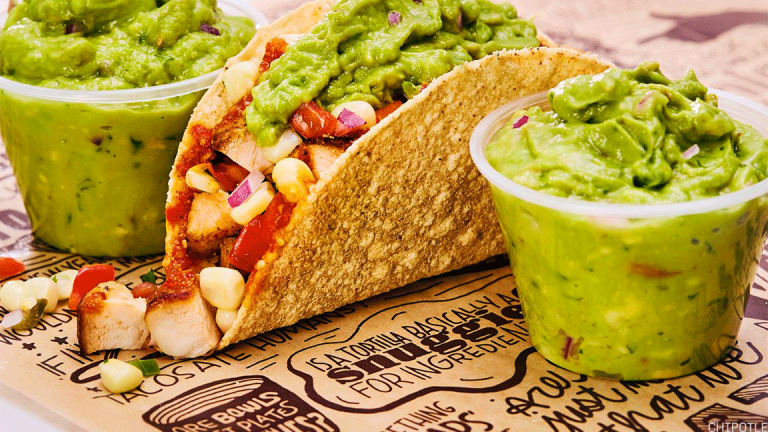 Chipotle Stock Closed Down Nearly 11%
Stock plummets even though it beat analysts' earnings estimates after the bell Tuesday.
Chipotle Mexican Grill Inc. (CMG) - Get Free Report   sank nearly 12% in afternoon trading, despite beating analysts' earnings estimates, and at least one analyst expects the weakness to persist as the company continues its search for a new CEO.
CMG closed out Wednesday, Feb. 7, at $272.21, down $32.12 (10.55%).
The chain did beat expectations for earnings per share by 2 cents, reporting after the bell Tuesday that it made $1.34 for the quarter excluding a one-time gain from the new U.S. tax law. That exceeded analyst expectations of around $1.32. It also more of less met analysts' revenue projections thanks to a 7.8% year-over-year increase. Comp-store sales also increased 0.9%, while operating margins gained 140 basis points as labor costs remained stable and expenses were lower.
Chipotle has also had plenty of problems, including well-publicized food-safety scares that occurred as recently as December. The chain is on the hunt for a new CEO to take over for current chief Steve Ells, also the company's founder and chairman.
Analyst John Zolidis of Quo Vadis Capital wrote in a note Tuesday evening that Chipotle's latest results "reinforce conviction in our analysis, which forecasts downside to Street estimates for nearly every company in the restaurant industry. ... We see further weakness in [CMG] shares even we await a new CEO as a potentially stabilizing factor."