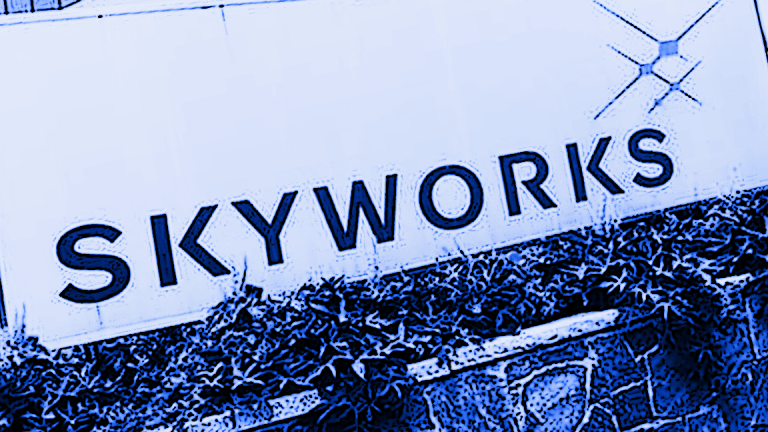 6 Chipmakers Poised to Benefit From the Internet of Things' Massive Growth
Sales of web-connected embedded devices are expected to continue increasingly rapidly over the next few years. That's very good news for some chipmakers.
The number of IoT devices in existence continues to swell, and that's creating plenty of opportunities for chipmakers to profit.
In its latest Mobility Report, mobile infrastructure and services giant Ericsson (ERIC) - Get Ericsson Report predicts there will be 19.8 billion IoT devices in existence in 2023, up from just seven billion in 2017. Of those 19.8 billion devices, 15.7 billion are expected to consist of "short-range" products that connect via Bluetooth, Wi-Fi and other short-distance radio technologies to obtain web connectivity -- everything from game consoles and Bluetooth headsets to smart speakers and industrial Wi-Fi devices -- up from 6.2 billion. And 4.1 billion are expected to consist of "wide-area" products that connect via 4G/5G modems or other long-range radio technologies.
Ericsson's short-range IoT device forecast is actually down from a November forecast of 17.4 billion; with the revised outlook only implying a 17% compound annual growth rate (CAGR), it could prove a little conservative, depending on how much sales of connected devices ramp in areas such as smart home hardware and industrial and infrastructure equipment. On the other hand, the wide-area IoT forecast is up sharply from a prior outlook of 2.4 billion, with Ericsson now predicting deployments of 4G and 5G-connected devices will help drive a 30% CAGR.
Here are a few chipmakers well-positioned to benefit as IoT hardware sales mushroom:
Skyworks and Qorvo
Though better-known for their smartphone chip businesses, Skyworks (SWKS) - Get Skyworks Solutions Inc. Report and Qorvo  (QRVO) - Get Qorvo Inc. Report also do quite a lot of business selling RF chips that go into other devices, including IoT hardware. These sales cover not only RF chips used within mobile modems, but also ones needed by radios based on short-range technologies such as Wi-Fi, ZigBee and Bluetooth Low Energy (BLE).
Skyworks's Broad Markets business, which covers its sales for products outside of mobile devices, now accounts for about a quarter of its revenue. Qorvo's Infrastructure and Defense unit, which covers all of its non-mobile device sales, now accounts for about a third of its revenue. The company bought IoT RF chipmaker GreenPeak Technologies in 2016.
Qualcomm and NXP Semiconductors
It's no secret that Qualcomm (QCOM) - Get QUALCOMM Incorporated Report has been hungry to diversify its chip business as the company contends with both sluggish high-end smartphone demand and a slew of licensing policy disputes with mobile OEMs and regulators. In recent months, the company has begun sharing more details about how much progress it has made on this front.
In February, Qualcomm disclosed it did over $1 billion in IoT-related chip sales (processors, modems, Wi-Fi/Bluetooth connectivity chips) in fiscal 2017. A couple months later, the company said its total backlog of automotive chip design wins is now above $4 billion. For reference, Qualcomm's chip division is expected on average by analysts to post fiscal 2018 revenue of about $17 billion.
Adding NXP Semiconductors (NXPI) - Get NXP Semiconductors N.V. Report to Qualcomm's ranks -- Qualcomm's $44 billion deal to buy NXP is still awaiting approval by Chinese regulators -- would do quite a lot to up the company's automotive and IoT exposure. NXP's automotive chip sales totaled $3.75 billion (40% of its total revenue) in 2017, and the company is also a top supplier of microcontrollers for embedded/IoT devices and smart cards.
Cypress Semiconductor
Cypress Semi's (CY) - Get Cypress Semiconductor Corporation Report $550 million 2016 deal to buy Broadcom's (AVGO) - Get Broadcom Inc. Report Wi-Fi/Bluetooth IoT chip business is increasingly looking like a steal. In February, the company reported the revenue run rate for its IoT wireless connectivity business rose 46% in 2017, and noted demand was strong across automotive, consumer and industrial end-markets. It also forecast the total IoT connectivity market would see a 16% to 18% CAGR in the coming years.
Cypress is also a major supplier of microcontrollers and memory products for cars, industrial hardware and smart home devices, and has talked up its ability to cross-sell these products to IoT connectivity clients (and vice versa). The company's automotive chip sales rose 16% in 2017, and its sales of "broad-based" microcontrollers 11%.
Semtech
Semtech's (SMTC) - Get Semtech Corporation Report IoT-related sales haven't received as much attention as those of some of the aforementioned firms. However, the company's position as a top supplier of RF transceivers based on a long-range/low-power wireless technology called LoRa is beginning to pay off in a big way.
LoRa has been embraced by a number of tech companies, government agencies, network operators and infrastructure equipment makers. Semtech recently claimed about 60 million LoRa nodes had been deployed globally at the end of its April quarter, and predicts there will be 80 million by the end of fiscal 2019 (it ends in January 2019). The company, which did $588 million in sales in fiscal 2018, also estimated it has a LoRa "revenue generation funnel" that exceeds $400 million, and expects 40% to 50% of these opportunities to convert into revenue.
It remains to be seen just how popular LoRa remains over the long run, as 5G (
designed from the ground up
to support IoT devices) and other technologies that can leverage mobile networks to support low-power radios gain traction. But for now, LoRa adoption is proving quite the boon for Semtech's top line.