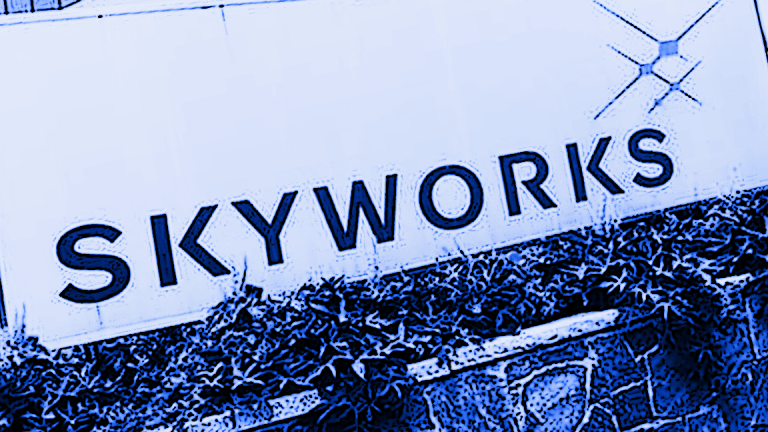 Chip Stocks Look More Intriguing After Their Recent Plunge
While it's possible that trade tensions will lead chip stocks to sell off farther, a lot has already been priced in, and it's not a given that worst-case fears will be realized.
History might end up repeating for chip stocks -- a little bit, anyway.
In late 2018, chip stocks tumbled to dirt-cheap valuations amid concerns about a trade war, a cyclical downturn and the Fed's monetary policies. They then rallied strongly (amid a broader market rally) as trade tensions thawed, the Fed changed its views and signs began to emerge that the current cyclical downturn wasn't going to be as rough as many prior downturns. Eventually, they rallied to a point where markets had arguably gotten too complacent about lingering macro and demand risks.
Today, valuations aren't as low as they got last December. However, with the Philadelphia Semiconductor Index  (SOXX) - Get iShares PHLX SOX Semiconductor Sector Index Fund Report down about 15% from the 52-week high it set in late April (it was down even more as of Monday's close) and many chip developers down over 20% from their high, the pendulum has swung a bit again thanks to trade war worries. Though some of the reports and earnings call comments delivered this earnings season have -- by suggesting there's still uncertainty about the pace at which demand will pick up later this year -- also weighed on chip stocks, worries about trade tensions in general, and export bans directed towards Huawei in particular, are clearly the biggest headwind.
But as was the case in late 2018, it's far from certain that a doomsday scenario will play out. Looking at the Huawei issue in particular, it's worth noting Huawei's U.S. chip, component and software suppliers are able to apply for waivers that could allow them to continue doing business with the company. On Monday, the Commerce Department signed off on a 90-day waiver that allows companies to supply Huawei with products needed to support existing mobile services and "the continued operation" of existing networks.
Though this waiver is pretty limited in scope, it has raised hopes the Commerce Department will show some flexibility in how it handles requests to supply a company that does over $100 billion in global sales. Moreover, in the event that the Commerce Department isn't willing to grant many waivers to Huawei suppliers, it's worth remembering many of the markets that Huawei has a substantial presence in -- from smartphones to telecom equipment to data center hardware -- are highly competitive, with rivals both inside and outside of China likely able to pick up much of the slack in time. While suppliers with outsized exposure to Huawei would get stung, those with stronger exposure to Huawei's rivals would be in better shape.
Beyond the specifics of the Huawei dispute, the nature of the broader U.S.-China trade relationship provides reasons to be cautiously hopeful that -- in spite of the substantial differences that exist between Washington and Beijing on issues such as forced technology transfers and restricted access to Chinese markets -- worst-case fears won't play out.
These are two countries that conduct more than $600 billion in annual trade, with each side having an almost infinite number of options for causing economic harm to the other. China could respond to a prolonged Huawei supply ban by retaliating against Apple (AAPL) - Get Apple Inc. Report , IBM  (IBM) - Get International Business Machines Corporation Report or one of many other U.S. multinationals with meaningful Chinese sales, or by restricting its supply of rare earth minerals. For its part, the U.S. could slap crippling parts and software bans on numerous other Chinese manufacturers, and pressure allies to place trade restrictions of their own, and so on.
Each side in this battle has shown a willingness to accept a measure of short-term pain. And regardless of how things play out from here, there are bound to be long-term repercussions related to this dispute. At a minimum, China will step up its efforts to become less dependent on U.S. chip and software suppliers, and U.S. multinationals will try to become less dependent on Chinese manufacturing by diversifying their supply chains.
But none of that necessarily means Washington and Beijing will escalate this battle to the point where colossal economic damage is done. And following their recent selloff, at least some chip stocks appear to be pricing in such damage.
One only has to look at how RF chip supplier Qorvo (QRVO) - Get Qorvo Inc. Report , estimated by Mizuho Securities to get 10% to 15% or more of its sales from Huawei, is up about 1.5% in Tuesday trading after cutting its June quarter revenue guidance by $50 million and (though stating it's applying for licenses that would let it continue supplying Huawei) declaring that it's for now assuming no September quarter sales to Huawei.
The market's reaction to the guidance cut doesn't make sense -- until one remembers that Qorvo's shares had dropped 15% since last Wednesday's close and were trading for less than 11 times what the company earned in its last fiscal year, and that the company's latest earnings report and call suggest it has been taking share in the broader smartphone RF chip market.
Markets had already assumed the worst for Qorvo with regards to the Huawei ban. And judging by how many other chip stocks are trading at valuations close to Qorvo's -- notable examples include Skyworks (SWKS) - Get Skyworks Solutions Inc. Report , ON Semiconductor (ON) - Get ON Semiconductor Corporation Report and NXP Semiconductors (NXPI) - Get NXP Semiconductors N.V. Report -- markets seem to be pricing in a lot of bad news for other names.
Admittedly, chip stocks still carry with them a measure of risk. Much still depends on the decisions that officials in Washington and Beijing make from this point on, and like others, I won't presume to know exactly what those decisions end up being. Tech investors who don't want to worry about such risk would certainly be better served sticking with moderately-priced names that have limited China exposure (like, for example, Alphabet (GOOGL) - Get Alphabet Inc. Report ).
But given how much many chip stocks have fallen in recent weeks, and what's known about each party involved in the trade dispute, the risk-reward proposition for chip stocks does look better than it has during the last couple of months.
Apple and Alphabet are holdings in Jim Cramer's Action Alerts PLUS member club. Want to be alerted before Jim Cramer buys or sells AAPL or GOOGL? Learn more now.