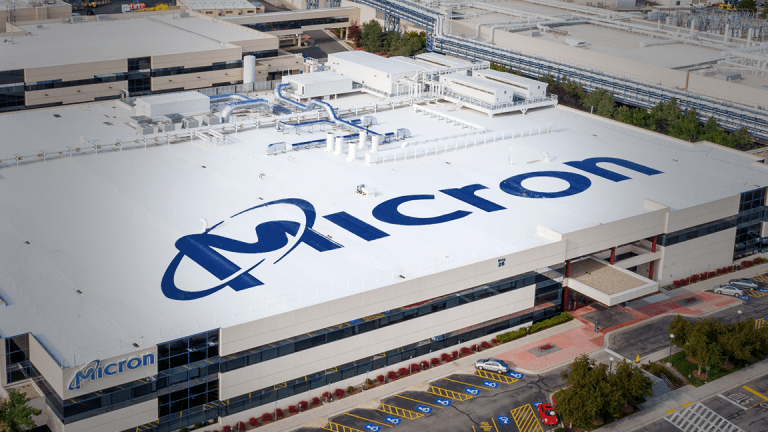 The Chip Stock Rout Presents Opportunities, if Worst-Case Fears Aren't Realized
As chip investors respond to bad news and a tech selloff by taking profits, valuations for many names with decent fundamentals look compelling.
When investors start getting more risk-averse, it's not surprising to see stocks in a cyclical industry that has seen a big run-up quickly get hammered.
The fact that there isn't much evidence for now that the cycle is weakening (never mind ending), and that valuations for many of the names look reasonable, seems to be getting overlooked in this rush to take profits.
The Philadelphia Semiconductor Index has registered a 14% drop since peaking on March 13, and quite a few chip developers and equipment makers have seen much larger declines from their mid-March highs. But the index is still up about 90% from where it traded two years ago.
The latter fact is hard to ignore when looking for explanations for the recent rout. Many chip stock investors have been staring at large paper profits, and remember very well some of the vicious boom-bust cycles the industry has seen over the years. That makes them quite ready to hit the sell button upon seeing news flow turn negative.
And there has admittedly been a spate of negative news in recent weeks. Specifically:
The Trump Administration's proposed tariffs on tens of billions of dollars of Chinese imports, together with the retaliatory tariffs floated by Beijing, have sparked fears of a trade war that would sting chip sales to China and produce ripple effects through the supply chain.
The Administration's rejection of Broadcom's hostile bid for Qualcomm , together with the fact that (possibly due to trade tensions) Chinese regulators haven't yet cleared Qualcomm's $44 billion deal to buy NXP Semiconductors , has stoked fears that regulators won't let the chip industry's multi-year M&A wave won't continue.
Slower-than-expected Apple iPhone X sales, together with broader weakness in smartphone demand, have weighed on the sales of mobile chip suppliers.
NAND flash memory prices have come under pressure, stoking fears that the memory boom cycle that started in late 2016 is coming to an end.
Nosediving prices for Ethereum and other cryptocurrencies have impacted crypto mining activity. That in turn has led sales of AMD  and Nvidia -powered PC graphics cards to slump, and stoked fears of a supply glut as former miners put their cards up for sale. There are also some worries about the impact a new Ethereum mining ASIC from China's Bitmain will have on AMD and Nvidia's sales.
However, when it comes to the first two concerns, it feels as if many investors are assuming worst-case outcomes (or close to it) for situations that are very much in flux. With public hearings on the $50 billion in Chinese tariffs that the Trump Administration just proposed not due until mid-May, and with no date having been set for China's retaliatory tariffs -- tariffs that don't include ones on semiconductors, it should be noted -- to go into effect, it looks like both sides are leaving ample time to work out a compromise.
Jim Cramer and the AAP team hold positions in Broadcom and Nvidia for their Action Alerts PLUS Charitable Trust Portfolio. Want to be alerted before Cramer buys or sells AVGO or NVDA? Learn more now.
And should a compromise happen, it could actually give a boost to U.S.-based chipmakers. China has proposed upping its purchases of U.S. chips relative to Korean and Taiwanese chips as a compromise measure. In addition, with intellectual property theft having been cited by the Trump Administration as its official reason for seeking tariffs, a compromise could yield stronger commitments by Beijing to protect the IP of foreign chipmakers.
As far as M&A concerns go, a trade deal would also of course diminish fears that Beijing will shoot down the type of chip industry deals it has been approving to date. And for now, the Broadcom-Qualcomm rejection feels like a (highly unusual) one-off event, one that had much to do with the deal's immense size along with Qualcomm's strong government ties and historical role in shaping mobile radio standards. There's no sign right now that the Administration will interfere with stop two large pending chip deals (Marvell's (MRVL) - Get Marvell Technology Inc. Report purchase of Cavium (CAVM) and Microchip's (MCHP) - Get Microchip Technology Incorporated Report purchase of Microsemi (MSCC) ).
The last three concerns are on more substantial ground: Smartphone sales have slumped, the crypto mining frenzy has cooled and NAND prices are likely to slide some more as production of high-density 3D NAND chips featuring 64 or more layers keeps ramping. But when it comes to gauging the impact on chip suppliers, it's worth keeping the big picture in mind.
For example, RF chip suppliers are able to offset some of the pressure caused by weak smartphone demand by growing the dollar value of the chips they're providing for many high-volume smartphones, as well as by growing their IoT-related sales. While Nvidia's mining-related sales appear to be getting hit, its gaming and server-related sales are still strong. And though weaker NAND prices impact Micron (MU) - Get Micron Technology Inc. Report , the boom times continue for the company's DRAM business, which produced close to 80% of its gross profit last quarter.
And of course, there are a number of other chip markets that remain quite healthy. There's been little to no sign amid the correction that chip orders from firms servicing the automotive and cloud data center verticals, both of which have been seeing strong growth, have come under pressure. And while demand from some other verticals, such as PCs and home electronics, hasn't been as strong, it doesn't appear to have gotten any weaker in recent months, either.
Meanwhile, though some chip stocks do trade at elevated multiples, companies with low valuations and strong (or at least respectable) fundamentals aren't hard to spot at this point. Broadcom, for example, now goes for just 11 times its fiscal 2019 EPS consensus. Micron trades for less than five times its fiscal 2018 consensus, which feels low just as long as the bottom doesn't fall out of the DRAM market. Lam Research (LRCX) - Get Lam Research Corporation Report , which has been steadily growing its share of global chip equipment spend, trades for less than 12 times its fiscal 2019 consensus.
It's hard to blame any chip stock investor who bought in two or three years ago for taking some money off the table when negative news arrives and markets lose some of their risk appetite. But it's worth remembering that buying opportunities don't usually happen when news flow is overwhelmingly positive.