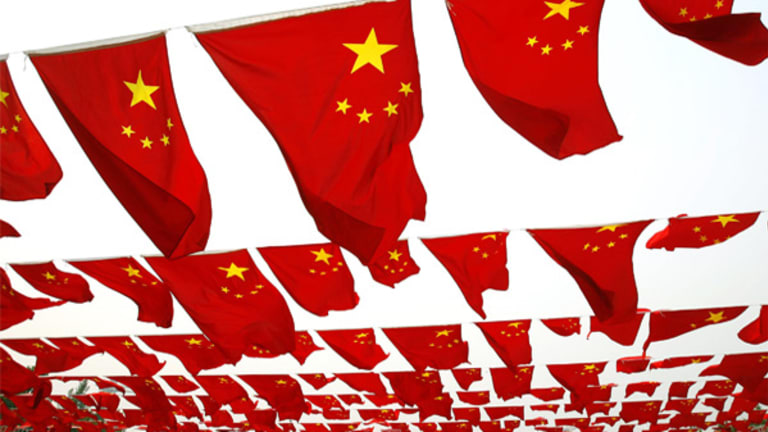 China's Other Transition
The government seems to want the world to know China's capital markets are opening.
NEW YORK (TheStreet) -- While many were focused on China's changing leadership following last week's 18th National Party Congress, another far more subtle but potentially very impactful change also occurred: China's state-run media replaced bank lending with "total social financing" as its preferred lending indicator.
The government, it seems, now wants the world to know China's capital markets are opening.
This is a huge move for a government that's historically manipulated bank lending in order to speed economic growth -- raising state-run banks' loan quotas was an easy way to increase the flow of capital and economic activity.
This year, however, that model fell short: Officials raised loan quotas in order to boost growth during the leadership transition, but the banks didn't cooperate.
Large state-run firms could get loans just fine, but small businesses and entrepreneurs -- increasingly important economic contributors in China -- largely couldn't. Some sought financing from loan sharks (who, predictably, offer usurious rates, threat of physical violence and terrible terms), but most stood pat, choosing not to grow their businesses or start new ones.
Absent that investment, Chinese growth slowed throughout the year, and by all accounts more than officials expected.
So policymakers bowed to economic necessity and tore open the financial system. They expanded corporate debt issuance, allowing small businesses to raise funds on capital markets, permitting junk bond issuance, introducing derivatives and increasing foreign investment caps in Chinese fixed income markets.
They also deregulated private lending in key areas, legitimizing peer-to-peer financing and other alternative lending models. It's not a full market liberalization, but compared to the tightly controlled, antiquated model China used when 2012 began, it's a tremendous step. Small businesses and entrepreneurs now have numerous avenues to credit.
Hence, when bank lending fell 81.6 billion yuan year over year in October, the People's Bank of China made sure to include total social financing -- up a cool 2.42 trillion yuan year over year -- in the data release. Companion editorials from the state-run
Xinhua
news agency and
China Daily
touted the benefits of social financing, and the
People's Daily Online
, the Communist Party's official publication, boasted that China's "corporate sector was becoming less dependent on bank lending, which is favorable for deepening China's financial institution reforms."
Well, if the Party says it, you can pretty much bank on it (pun intended).
Which brings us back to the leadership transition. When the new Central Politburo Standing Committee (PSP), China's decision making body, emerged with a narrow majority of conservative hardliners last week, many questioned whether the new leadership would continue the outgoing administration's economic reforms. These editorials, published during the Party Congress, strongly hint they will, though, since the committee governs by consensus, change will likely be incremental and slow.
But reform remains in the party's current Five-Year Plan, keeping it on the agenda through 2015, and the state-run media blitz seemingly confirms there's no going back.
For Chinese citizens and international investors, this is a welcome development.
The economic benefits of easier corporate financing are obvious: More lending means more businesses can invest more money in growth-oriented endeavors, helping money circulate throughout the broader economy. Broader capital markets with easier access for foreign investors vastly increases folks' ability to capitalize on China's growth.
The government may lose its favorite economic lever, but if this liberalization continues, China will gain so much more.
This article was written by an independent contributor, separate from TheStreet's regular news coverage.