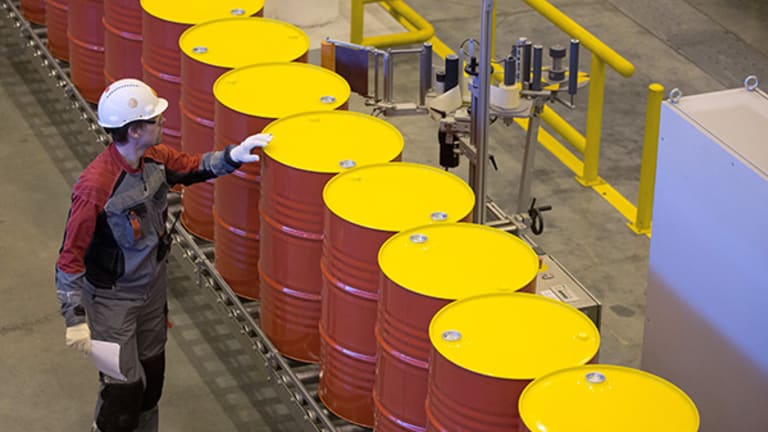 China's Currency Moves Could Send Oil Prices Down Even Further
Crude oil prices have already dipped to a six-year low, and further moves by the Chinese government could reduce demand even further.
NEW YORK (TheStreet) -- Just when it seemed like oil prices might be finding an organic floor, there's yet another geopolitical reason to think they might dip even lower. This time, oil traders are blaming the heavy-handed currency manipulations of the Chinese government.
Responding to an alarming 8.3 percent drop in exports for the month of July, Beijing made the bold call this week to devalue its currency 1.9% against the dollar. The move sent crude prices down as far as $41.35 a barrel -- to more than a 6-year-low.
The 1.9% move is telling, since 2% is the maximum that the People's Bank of China allows the currency to move in a given day. Pushing the limit to the maximum not only makes imports more expensive for the world's largest importer of crude oil, thereby hampering demand, but it also suggests additional devaluations to come.
"PBOC created some confusion," said David Dollar, a senior fellow at the left-leaning Brookings Institution in Washington, "and created expectation of further devaluation."
The logic behind the currency depression is to encourage China's traditionally-robust export sector, which is the world's largest and has earned the country the nickname of "the world's factory." China typically exports about $200 billion worth of goods per month for an annual export volume of well over $2 trillion.
But over-reliance on exports and an unwillingness to encourage domestic consumption with tax breaks and lowered interest rates have led to a slowdown in China's economy. This could mean more currency devaluations in the short term and more pressure on crude prices.
"We've seen unimpressive [consumption] numbers in significant areas, including electric power consumption, coal consumption and car purchases," said economist Keith Crane of the RAND Corporation. "Commodity prices are more telling about the state of the economy than what the government spouts."
While Beijing says it has consistently hit its projections of 7% GDP growth, international economic bodies have cast doubts on China's numbers. In a July update to its World Economic Outlook, the International Monetary Fund predicted Chinese GDP will grow by a more modest 6.8% in 2015 and 6.3% in 2016.
"What's bad is that we're currently in the high-demand season for gasoline," said Fadel Gheit, senior analyst at Oppenheimer. "After August, demand naturally decreases."
In addition to lagging Chinese demand, oil prices are facing the prospect of even more crude on the market coming from Iran. The U.S. Energy Information Administration estimates that Iran's storage volumes alone could immediately increase global supply by 100,000 barrels a day as soon as a treaty is ratified.
Unabated production from the Organization of Petroleum Exporting Countries -- about 32 million barrels per day -- and surprisingly high production from U.S. shale are continual weights on crude prices, as well.
As a result, oil traders are expecting that something major will have to happen before crude rebounds.
"We need an event to snap us out of this, like a big decision from Russia or OPEC," said trader Michael Hiley of LPS Partners to TheStreet. "I could see a $38 or $39 handle and I wouldn't be surprised at all."