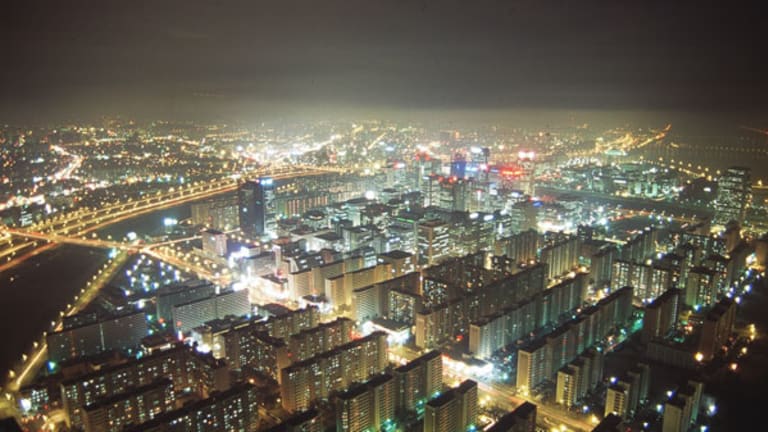 China Ups Ante in Solar Energy Support
A large Chinese bank says it will loan close to $12 billion to China's biggest solar companies, the latest move in China's effort to dominate the world's solar energy markets.
(Trina, Suntech story updated with analyst commentary and for Thursday morning stock price movement.)
NEW YORK (
) -- China has upped the ante yet again in its support for Chinese solar companies.
The
China Development Bank
announced on Wednesday that it plans to dole out close to $12 billion in loans to
Trina Solar
(TSL)
and
Suntech Power
(STP)
, funds that can be used for any purpose, from capacity expansion to the building of utility-scale solar installations to industry acquisitions.
Trina is set to receive $4.4 billion in loans and Suntech $7.3 billion.
The Cost of Connecting in China (Forbes)
One important caveat: because the funding agreements are non-binding, there's no guarantee the loans will be made.
Though China has demonstrated an eagerness to dominate the global alternative-energy industries, it's been slow to follow up on some of the big declarations it's made in the past.
For example, China announced a year ago its intention to create a national feed-in tariff scheme, yet the world still awaits the actual implementation of the FIT plan.
In the end, the loans could ease the pressure on Chinese solar companies to tap equities markets and dilute shareholders, or load up their balance sheets in a bid to capture more market share.
The deals also demonstrate how quickly China can move to support the growth of its solar industry, said Mark Bachman, an analyst at Auriga Securities, who initiated coverge of Trina and
Yingli Green Energy
(YGE)
on Wednesday with buy ratings. (He has a hold rating on Suntech stock.)
The funding deals might also add more fuel to recent criticism of the U.S. government and its slower-moving support for renewable energy. Though Washington has pledged great sums to support green energy, at least on a company-specific basis, the U.S. solar industry still faces the expiration of its main short-term financing vehicle: a cash grant from the Treasury Department, which ends at the start of 2011.
Energy giant
BP
(BP) - Get BP p.l.c. Sponsored ADR Report
recently made news when it
decided to shut down its U.S. solar plant.
The decision stemmed at least in part from the difficulty companies have had in making the economics of solar manufacturing work outside China.
Still, Chinese firms including Suntech are betting big on expansion in the U.S., and have received grants from the Department of Energy alongside U.S. solar counterparts such as
First Solar
(FSLR) - Get First Solar, Inc. Report
.
More broadly, the $11.7 billion in loans to Trina and Suntech may help stifle fears that Chinese credit is tightening, making it harder for solar firms to receive financing. "My checks in China tell me that, in green energy, companies have access to all the debt financing they could want," Bachman said.
The loan announcement comes just weeks after
Trina sold nearly 9 million shares in a secondary offering. The timing raising questions about why the company would rush to the market with an equity deal, diluting shareholders, when $4.4 billion was shortly forthcoming from the Chinese government. In the end, it may be no more than coincidence, since the big loan package is still only a stated intention, not a done deal.
Another question raised by the loan announcement is where Yingli stands in terms of support from the government.
Considered part of the Chinese solar triumvirate alongside Trina and Suntech, Yingli is in the midst of building its first polysilicon plant. Some
analysts are concerned about the drag on earnings that the poly plant ramp-up continues to have on the company's results.
Kelly Dougherty, a Macquarie Securities analyst who recently returned from a trip to China, said the plant remains an overhang on Yingli. The company wants to produce polysilicon at a cost of less than $30 per kilogram -- a tall order, and an expensive one. A loan from the Chinese government might have helped dampen fears about the company's spending on the project.
Shares of Suntech, Trina and Yingli were all gaining about 2% late in Wednesday's regular session.
Among U.S. solar stocks,
First Solar
(FSLR) - Get First Solar, Inc. Report
gained 4.6% during Wednesday's trading sessionto reach $132.60, and is down 0.2% to $132.35 in Thursday's pre-market trading.
Energy Conversion Devices
(ENER)
rose 4.0% to reach $7.54 on the day, and is up 0.8% in pre-market trading Thursday morning.
-- Reported by Eric Rosenbaum in New York.
RELATED STORIES:
>>Solar Winners: Trina Solar, First Solar
>>Solar: Off the Ropes and Fighting Back
>>Ontario Adds 2.5GW of Renewables
Follow TheStreet.com on
and become a fan on
Copyright 2009 TheStreet.com Inc. All rights reserved. This material may not be published, broadcast, rewritten, or redistributed.