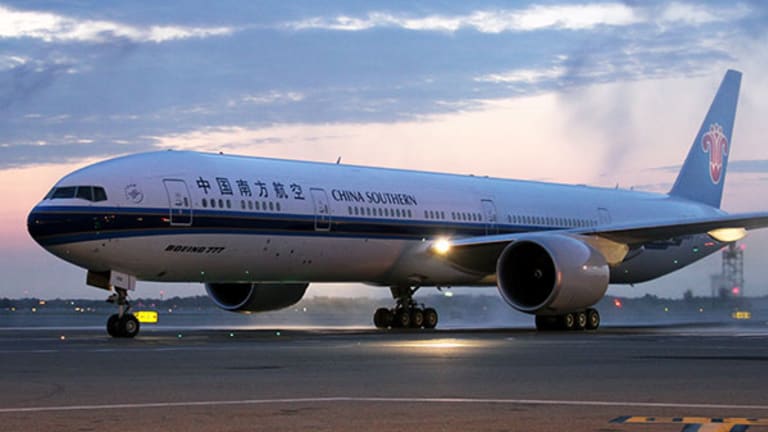 China Southern, at Last, Flies to New York Thanks to Its Boeing 777-300ER
China Southern began Guangzhou-New York service on Thursday, flying a Boeing 777-300ER, finally inaugurating service after 10 years of talking to JFK officials.
NEW YORK -- (TheStreet) -- For all of the overcapacity in the U.S.-China aviation market, one flight seemed to be lacking -- the one between New York and the Guangzhou hub of Asia's largest airline.
That discrepancy ended Thursday, when China Southern (ZNH) - Get Report flew a 309-seat Boeing (BA) - Get Report 777-300 ER (extended range) into Terminal Four at Kennedy International Airport, the largest international terminal in the U.S. "We finally made our dream come true," China Southern Chairman Si Xianmin told reporters Wednesday. "It's been China Southern's years-long aspiration to serve New York."
China Southern launched its first route to the United States when it began Guangzhou-LAX service in 1997.

"For a decade we've been analyzing the viability of launching new routes to New York," Si said, through a translator. "(But) before we took a 777-300 ER we did not have the right aircraft to serve New York routes. China Southern purchased the aircraft for this new service."
The 15-hour flight covers 8,014 miles and will initially be offered four times a week.
Bradley Rubinstein, manager of industry and regulatory relations for the Port Authority of New York and New Jersey, said the delay in the inauguration of service "primarily rested with the Chinese government. China Southern tried several years ago to launch Beijing-JFK, but could not get the rights from the CAAC."
The Civil Aviation Authority of China would not allow China Southern to compete with Air China, which already served the route. Typically, the CAAC allows just one Chinese airline per international route, although exceptions are made.
"China Southern wanted the route and they had (Airbus) A380s to deploy," Rubinstein said, in an interview. "We had many meetings." The A380 can fly the 6,830-mile Beijing/JFK route, but to fly Guangzhou/JFK the carrier needed two 777s, Si said. It took its first delivery in February.
Another barrier to service may have been the proximity of Guangzhou Baiyun International Airport to Hong Kong International Airport. The two cities are 85 miles apart. Cathay Pacific flies Hong Kong-JFK.
For the moment, capacity in the U.S.-China market is growing faster than demand, but Si seemed unconcerned. He said bookings for JFK flights exceed 80% for August. "This has further strengthened our confidence in the new routes," he said.
"Exchange between our two nations has been getting more and more frequent, which has generated huge potential for airlines from both nations," Si said. "We see many Chinese airlines trying very hard to tap international markets in North America, and U.S. airlines trying to tap in even in second-tier cities. Airlines on both sides would like to grab opportunities."
The number of Chinese tourists visiting the U.S. should exceed 100 million this year, up from more than 98 million last year, he said.
In June, Chengdu became the first "second tier" Chinese city to have non-stop flights to North America, when United (UAL) - Get Report began San Francisco service using a Boeing 787 Dreamliner, the first plane efficient enough to serve a start-up long-haul market while carrying enough fuel to fly the 6,857-mile route.
"What we're really pleased with is the point of sale out of China exceeding our expectations," said Jim Compton, United's chief revenue officer, on the carrier's second-quarter earnings call. "That's where we've seen most of the upside vs. what our initial forecast said. We work really closely with the officials in Chengdu and have developed great relationships, and we're seeing the fruit of that bear out."
China "is an economy that continues to grow at a very strong pace," Compton said. "There are many opportunities in China that you can develop markets with, particularly with the 787."
On June 20, the Chinese carrier Hainan Airlines began 787 service between Beijing and Boston, a 6,737-mile flight. "Boston has met our expectations, maybe slightly exceeded them," said Joel Chusid, U.S. executive director for Hainan. Service is daily in the summer and goes to four times a week in September before expanding to daily again during the Christmas travel period.
Hainan's Beijing-Seattle service will have five weekly flights starting in September, up from four weekly winter flights a year ago. Another change: during the summer, the carrier used Airbus A330s, but in September Boeing 787s will fly the route. The airline had ran short of 787s, Chusid said. "We have two more 787s coming early next year," he said. "We will use them in the U.S."
Unlike the three global U.S. carriers, which all have 40% to 50% of capacity in international markets, China Southern is just 17% international. "It's out of balance," Si said. "The revenue generated by domestic is way beyond the revenue generated by international." China Southern investment in international markets is expected to rise to about 30% this year, up from 27% a year ago, he said.
Of course, unlike the mature U.S. domestic market, China domestic travel markets are growing rapidly. "We will not let go of our leading position in the domestic market," Si said. "We are talking about a huge market with a population of 1.3 billion." China Southern, like other Chinese carriers, is considering creation of a low-cost carrier, he said, noting that "everybody in China is thinking very actively in this direction because now we have entered into an era of mass consumption."
China Southern said in a statement to the Hong Kong stock exchange last month that it may lose as much as $178 million in the first half of 2014, after losing $49 million in the first quarter. China Southern ADRs, traded on the New York Stock Exchange, closed Thursday at $17.18 and are down 13% for the year.
Si said China Southern "has seen losses in the first half of the year (as) the slowing down of the Chinese economy lead to a slowing down of aviation markets." He said the airline anticipates second half results will be better than first-half results, partially because exchange rates are expected to be less volatile.
-- Written by Ted Reed in Charlotte, N.C.
To contact this writer, click here.