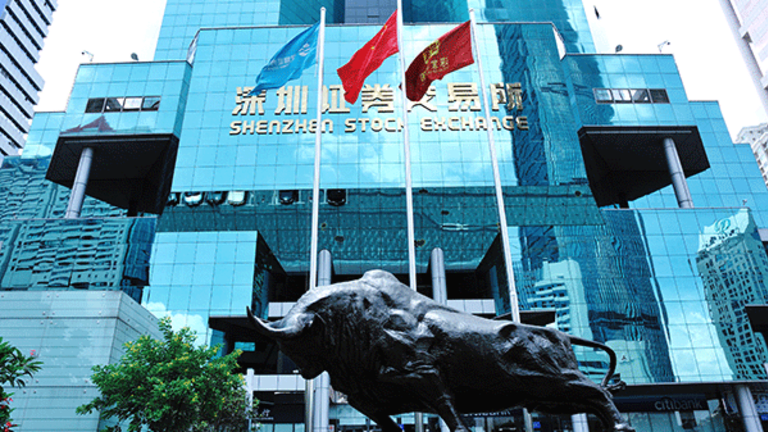 China Slowdown, Weakness in Asia Will Hurt Wins Finance
This company's spectacular run-up in 2016 is unlikely to continue, particularly if China's economy slows further.
While American investors were enjoying a calm Christmas weekend, economic troubles have been brewing on the other side of the world.
The Chinese government had set a economic growth target of 6.5% for five years through 2020. However, thanks to concerns about increasing debt levels and an uncertain geopolitical landscape following Donald Trump's surprise election win, President Xi Jinping recently stated that he would be "open" to a slower rate of growth.
This isn't good news for financial companies with heavy exposure to the Chinese economy. Investors who are wary of risk should avoid one company in particular, although it currently looks tempting.
Wins Finance Holdings (WINS) - Get Report is a New York-based company that specializes in business loans for small- and medium-sized enterprises in China. So far this year, Wins Finance's stock has jumped by more than 1,400%.
However, investors shouldn't get too excited: If China is witnessing increasingly sluggish growth, it will become difficult to digest Wins Finance's roughly $3.7 billion valuation. The company brings in less than $21 million in annual revenues and not even $13 million in profits.
Plus, there is a forthcoming management change that could throw the company's future into disarray.
On Dec. 13, Wins Finance informed the SEC that two companies, Appelo and Wits Global, have entered into an agreement to transfer all their 13.44 million ordinary shares (67% stake) of Wins Finance to a subsidiary of Freeman FinTech.
Accordingly, co-CEO Jianming Hao will step down, and he and three others will also resign from the board. This sudden exit clearly raises several questions.
Moreover, Wins Finance's valuation is extremely expensive. It trades at nearly 15 times to its book (so far it has offered single-digit returns on equity and assets) at a time when big banks like Bank of America and JPMorgan Chase trade at much lower multiples.
This can't possibly continue. There is precious little evidence that demand for Chinese business loans will increase in the near term. Rating agency Fitch has noted a weak outlook for some Asian countries. Against this backdrop, it is hard to imagine that Wins Finance's business will not be vulnerable.
Wins Finance, despite the gain in share price in 2016, is a stock that investors with any risk aversion should avoid.
---
A blistering financial storm is about to hit our shores. When it hits, weak companies and their investors will be washed away. You need to put yourself on solid ground. And that doesn't just mean changing your investment allocations or loading up on cash. I'll show you how to protect yourself and prosper when you click here.
The author is an independent contributor who at the time of publication owned none of the stocks mentioned.