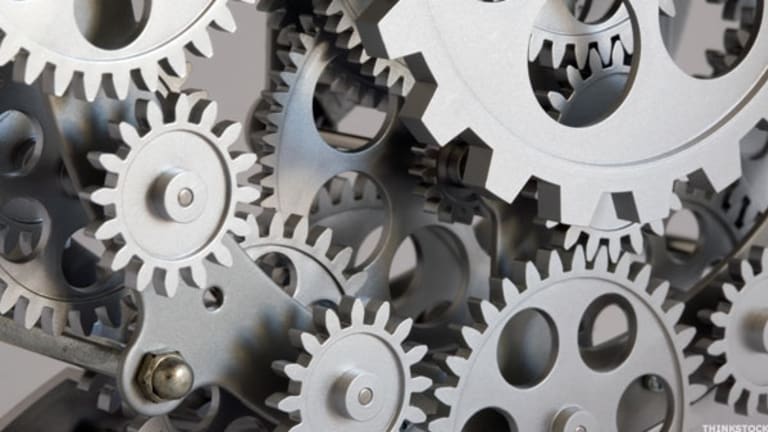 China Security Soars as CEO Talks Up LBO
The CEO of China Security & Surveillance again tells the world of his desire to take his company private -- but this time he names a price, sending the company's shares soaring.
The CEO of China Security & Surveillance again tells the world of his desire to take his company private -- but this time he names a price, sending the company's shares soaring.
NEW YORK (TheStreet) -- Shares of China Security and Surveillance( CSR) soared by as much as 25% Tuesday on frantic volume after its founder and CEO reiterated his desire to take the company private, this time naming a price of $6.50 a share.
In a letter sent to the company's board, Chief Executive Guoshen Tu said the deal would be a combination of equity and debt, and that he has conducted "preliminary discussions with potential sources of debt financings."
Still, Tu hasn't yet struck an agreement with any of those sources, he said in his letter. Nor did he name the entities he says he has spoken with, noting only that he is "confident the debt financing necessary for the acquisition can be arranged on a timely basis."
China Security, based in Shenzhen, which sits just across the harbor from Hong Kong, is a complex roll-up of Chinese security-equipment manufacturers, especially of surveillance cameras and related gear. It was among the first Chinese issuers to sell stock in the U.S. after coming public on this side of the Pacific, in 2006, through a controversial procedure called a reverse merger.
The letter issued Tuesday was similar to one sent by Tu to the company's board in late January, when China Security first made public the CEO's intentions to take the company private. Among the only differences: in January, Tu said the purchase price "will not exceed $6.50 per share." On Tuesday, Tu said the price
would be
$6.50 a share. Not long after the January move by Tu, China Security's board said it hired the Japanese investment bank Nomura International as its adviser.
Also in Tuesday's letter, Tu said he would "provide all the necessary equity financing out of my own holdings of common stock and related sources."
Much of Tu's stock, however, is encumbered. Several years ago, Tu pledged 13.9 million of his China Security shares as collateral to a Hong Kong hedge fund called Abax Global in order to obtain a $50 million personal loan. Tu said he wanted to use that money to buy more CSR stock or lend the proceeds back to his company for corporate purposes. Tu's personal loan has since been recapitalized and taken over by the state-owned
China Development Bank
.
(The company says that Tu beneficially owns 20.9% of its common stock. China Security has about 89.5 million shares outstanding, according to its 2010 annual report.)
The China Development Bank has also lent money to China Security itself, including a new $200 million credit revolver, disclosed last week. The company, which immediately drew down the total amount of the revolver, has consistently burned through cash. In the fourth quarter of 2010, it had negative operating cash flow of about $100 million, SEC filings show. The cash on the company's balance sheet has dwindled to $65.6 million as of Dec. 31 from $154.5 million a year earlier.
Tu appears ready to take his leave of U.S. capital markets as soon as he can. "If the Board considers this Proposal and finds that it is worth pursuing, I am prepared to proceed immediately to arrange firm, committed financing," he assured in his letter. "I fully expect that the process of developing an acceptable proposal can be conducted expeditiously and completed within
four weeks with the cooperation of the Board and the Company."
Investors bid up China Security shares Tuesday. The stock, which was trading recently at its session high of $5.30, was up nearly 30%. Volume exceeded 6 million shares, five times normal.
China Security joins a growing trend among Chinese reverse-merger companies. The founders of
Harbin Electric
( HRBN) and
Fushi Copperweld
( FSIN) have also announced that they intend to remove their companies from U.S. capital markets through leveraged buyouts.
So far, neither company has executed on those plans.
Then, just on Monday,
China Fire and Security's
( CFSG) CEO said he wanted to take his company private. Its stock shot higher as well.
For more than a year, a wave of fraud revelations and allegations of financial wrongdoing -- mostly leveled by short sellers -- has roiled small-cap Chinese companies with stocks listed in the U.S. The controversy has sparked regulatory scrutiny. The
Securities and Exchange Commission
has launched a broad investigation into the Chinese reverse-merger phenomenon, while the House Financial Services Committee remains interested in scheduling hearings on the matter, according to a person familiar with the committee's doings.
-- Written by Scott Eden in New York
RELATED STORIES:
>>China RTO Transfer Agent Gets SEC Sanction
>>China RTO Gets Bounced By SEC
>>China RTO Pump-and-Dump Scam Alleged
>>SEC Probing China Green Ag
>>China Sky One Fights Back with Letter to Holders
>To contact the writer of this article, click here:
Scott Eden
.
>To follow the writer on Twitter, go to
.
>To submit a news tip, send an email to:
.
Follow TheStreet.com on
and become a fan on
Disclosure: TheStreet's editorial policy prohibits staff editors and reporters from holding positions in any individual stocks.