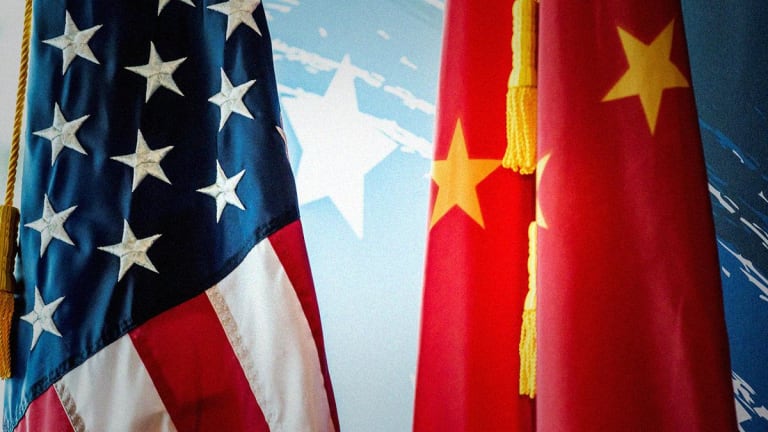 China's Slowing Economy Renews US Trade Deal Focus, But Who Has the Upper Hand?
China's worrying economic slowdown, the steepest in three decades, puts renewed focus on the fate of trade talks with the United States and the chances of a tariff roll-back as the two sides look to end more than year of commercial and political hostilities.
China's worrying economic slowdown, the steepest in three decades, puts renewed focus on the fate of trade talks with the United States and the chances of a tariff roll-back as the two sides look to end more than year of commercial and political hostilities. 
The world's second-largest economy grew at a 6% pace over the three months ending in September, the statistics bureau said Friday, and while that is a level at which every advanced nation in the world would be proud to unveil, for China it's the slowest since 1992.
It could also be a significant equalizer in trade talks with Washington, given previous suggestions that China was willing to take a firmer stance on tariffs and related issues while President Donald Trump remains entangled with myriad impeachment and ethics investigations, as well as the demands of next year's election cycle. 
China now has its own problems to contend with, and if slowing growth leads to a concurrent increase in unemployment -- which is entirely possible, given that the country's under-reported debt crisis limits the kind of fiscal support it could reasonably use to steady the ship -- authorities might begin to grow wary of the potential for social unrest.
"The private sector will continue to suffer from the scaling down of factory activity due to the US tariffs," said ING economist Iris Pang. "This will add even more uncertainty in terms of job security and salary growth which, in turn, will put pressure on consumption, even if substantial public sector growth acts to counter these negative pressures."
Pang argues, however, that China has more than 1 trillion yuan to unleash towards infrastructure projects, which remain an enormous contributor to overall GDP, and noted the China's fixed asset investment growth rate has stabilized at around 5.4%, indicating the government hasn't completely turned off the spending taps.
But while China isn't nearly the export-dependent economy that most casual observers assume --nearly two thirds of its growth comes from consumption -- it simply can't be argued that tariffs and trade disputes with the United States have hit the nation hard.
China's September net exports fell 3.2% from last year, the statistics bureau said last week, and accounted for just under 20% of third quarter GDP. Factory activity, meanwhile, has slowed for five consecutive months, and August industrial production fell to its weakest pace in more than seventeen years. 
Trump and China's President, Xi Jingping, are set to meet next month at the APEC summit in Chile, and both sides are hoping a text of last week's trade agreement will be ready for the pair to sign.
However, with tariffs on $550 billion in China-made goods already in place, and levies on key consumer products set to kick-in on December 15, investors aren't expecting a great market reaction to a "mini deal" predicated on agricultural purchases by China and a vague commitment from Trump to play nice in the future. 
So who blinks first? The answer could be neither. 
The impeachment case against Trump is proceeding apace, and while he does have bi-partisan support for his "tough on China approach", he's unlikely to turn the screws harder in the coming months as that will threaten his key Presidential achievement; a roaring stock market.
However, if he gets his way with the Federal Reserve, whom he has accused of being slow-footed on rate cuts as the economy cools, he may still get the record highs he hopes for heading into next year's election. 
China, meanwhile, might wish to ride out the Trump era and take its chances with a new administration, but as the TheStreet's founder, Jim Cramer, has noted many times, neither Joe Biden or Elizabeth Warren are likely to treat Beijing kindly on trade, given Xi's record on human rights, worker protections and regional security. 
Which brings us back to growth. Slowing economies shed jobs, and while China's (widely unaccepted) unemployment rate has held around the 4% mark for decades, analysts have noted that the country's nearly 300 million migrant workers, clustered around the largest mega-cities, are rarely capture in the official statistics. 
The prospect of sub 6% growth, slowing exports and the ongoing blacklisting of its biggest tech companies -- which hampers the country's ability to rollout its pending 5G network -- could convince China to ditch some of its hardlines on trade and cut a deal with Trump that gets some tariff relief and normalizes relations between the world's two biggest economies. 
But that seems more likely to compel China to look inward, with a focus on spending in stimulus, as opposed to tackling the structural issues -- such as subsidies for state-owned enterprises -- that U.S. officials have hounded them about for years.
"China is urging the US to scrap all tariffs in order to end the trade war. However, the US insists that tariffs remain in place until a final phase two deal is done, meaning that China must commit itself to a list of more substantial structural changes," said Daiwa Capital Markets analyst Kevin Lai. "Therefore, there is a fair possibility that both sides could abandon the deal before President Trump and President Xi are scheduled to sign it at the APEC summit in Chile."