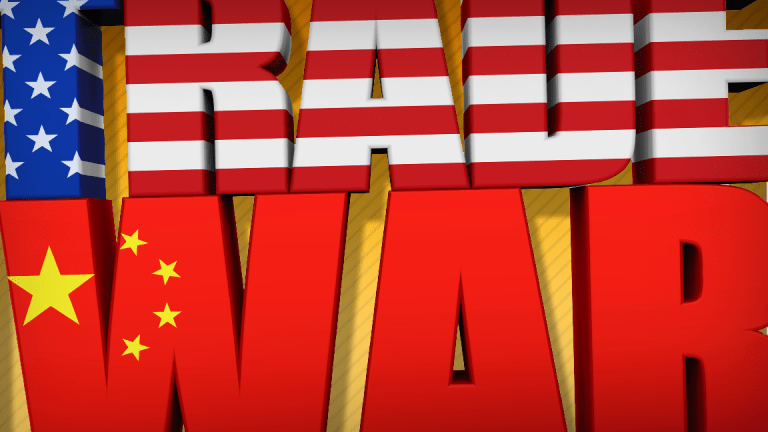 China Retaliates on Trade: Boosts Tariffs on $60 Billion U.S. Goods to 25%
U.S. stock futures extended declines Monday after China said it would hike tariffs on $60 billion worth of U.S. imports to 25% following the collapse of last week's trade talks in Washington.
U.S. stock extended declines Monday, taking the Dow more than 700 points lower to a three-month low, after China said it would hike tariffs on as much as $60 billion worth of U.S. imports to as high as 25% following the collapse of last week's trade talks in Washington.
China said the tariff increase on around 5,100 product groups will take effect on June 1 after declaring earlier today that it would "will never surrender to external pressure" following President Donald Trump's decision to boost levies on $200 billion worth of China-made goods to 25% as of last Friday. However, it also said some companies could get waivers from the increase, which could fall anywhere between 5% and 25%, the Finance Ministry said in a statement. 
"On May 9, 2019, the US government announced that since May 10, 2019, the tariff rate imposed on the $200 billion list of goods imported from China has increased from 10% to 25%. The above measures by the United States have led to an escalation of Sino-US economic and trade frictions, contrary to the consensus between China and the United States on resolving trade differences through consultations, jeopardizing the interests of both sides and not meeting the general expectations of the international community," the Ministry said.
"According to the People's Republic of China Foreign Trade Law, People's Republic of China Import and Export Tariff Regulations and other laws and regulations and the basic principles of international law, the State Council Tariff Commission decided that on June 1, 2019, the part originating in the United States Imported goods will increase the tariff rate," the statement added.
The Dow Jones Industrial Average fell more than 704 points by mid-morning trade to a three-month low of 25,238 points while the broader S&P 500 shed 78.4 points to take its one week decline past 5%. The tech-focused Nasdaq Composite slumped 3.5%, or 277 points, as China-facing stocks fell sharply across the board. 
U.S. 10-year Treasury yields fell to a six-week low of 2.39%, bumping up against 3-month Treasury bill yields of 2.415%.
Apple Inc. (AAPL) - Get Apple Inc. Report shares opened at a six-week low as investors worried that fresh tariffs on China-made imports into the United States will either raise price or depress earnings for the world's biggest tech company.
Shares were also hit by a decision from the U.S. Supreme Court that allowed a class-action lawsuit against the company in a long-running dispute linked to allegations that its App Store monopolizes the market for iPhone software to go ahead.
Apple shares were marked 5.8% lower Monday to change hands at a six week low of $185.68 each, a move that would extend the stock's decline to around 12.1% since President Donald Trump first threatened to increase tariffs on China-made goods to 25% on May 5.
Boeing Co. (BA) - Get The Boeing Company Report , another company with notable exposure to the China market, was marked 4.7% lower at $338.07 each. Caterpillar (CAT) - Get Caterpillar Inc. Report fell 5.4% to 124.27 each. Collectively, the three stocks were responsible for about 250 points, or nearly a third, of the Dow's decline.
TheStreet's founder, Jim Cramer, is slightly more positive on the impact of China tariffs on U.S. companies, given the lead time they have hand in preparing for last week's decision from the White House.
"The companies could really be crushed by the trade war are really down to the 'Big Three', and that's ABC: Apple, Boeing and Caterpillar," Cramer, told CNBC's Mad Money audience Friday. "But Apple's been one of the best performers of the year, gaining 25%, Boeing's up 10% for 2019 even with 737 MAX issue and Caterpillar's up 3%."
"All these stocks are telling me that our companies are far more ready for tariffs and the trade war than most people think ... as are our portfolio managers. Nearly everyone in the business community saw this coming and made the necessary adjustments."
"You know who's been caught off guard?," Cramer asked "The pundits. And that's why the market (was able) to rally on what could have been a really ugly (Friday)."