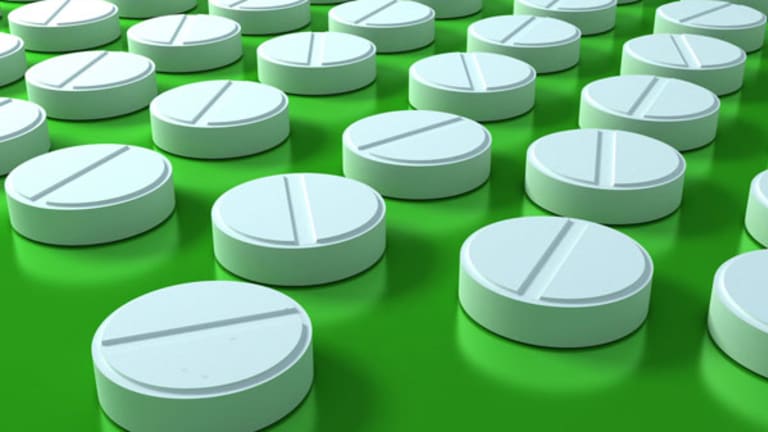 China Pharma Stocks Could Best U.S. Majors
Two undervalued pharmaceutical stocks from China could outperform U.S. drug giants Pfizer and Merck.
NEW YORK (TheStreet) -- China Sky One Medical (CSKI) and Skystar Bio-Pharmaceuticals (SKBI) have strong domestic growth and attractive price multiples and because of recent selloffs could outperform U.S. pharmaceutical giants Pfizer (PFE) - Get Pfizer Inc. Report and Merck (MRK) - Get Merck & Co., Inc. (MRK) Report during the upcoming months.
China's massive population of 1.3 billion people, aggressive government spending on health care and accelerating demand for drugs, and improving investments from multinational companies, will help the country's pharmaceutical industry register a compound annual growth rate of close to 20% for a decade, a substantial long-term growth outlook.
China is likely to emerge the third-largest health care market by 2011, according to IMS Health.
China Sky manufactures pharmaceutical, medical products and diagnostic kits. Skystar Bio-Pharmaceutical manages a biopharmaceutical research and development center and production business. These two Chinese stocks have been undervalued as they are relatively unknown to investors and experience home-bias from U.S. investors.
Revenue growth of the two companies in comparison to Pfizer and Merck is staggering. China Sky's revenue grew at a CAGR of 87% to $130.1 million in 2009 from $19.88 million in 2006, and Skystar's revenue grew at a CAGR of 54.4% to $33.8 million in 2009 from $5.94 million in 2005. Merck's revenue declined to $27.4 billion in 2009 from $51.8 billion in 2002, and Pfizer's revenue fell to $50 billion in 2009 from $52.5 billion in 2002.
China Sky and Skystar lost 47.3% and 29.6% of their respective market values year to date, and hence provide attractive bargaining opportunities. In comparison, Pfizer and Merck have declined 20.1% and 1.6% year to date. Meanwhile, China Sky and Skystar are trading at attractive price-to-earnings ratios of 5.65 and 4.79, respectively, in comparison to Pfizer's 6.71 and Merck's 10.63.
China Sky
China Sky continued diversifying its product portfolio by launching 13 new products during 2010, offsetting revenue declines in other products. Camphor cream, accounting for 10.5% of total sales in the first quarter, is the company's premier product. China Sky expects the State Food and Drug Administration of China to approve the launch of three to five new products during 2010.
Last month, the company increased its revenue guidance for 2010 to $160 million to $164 million from $156 million, and net income guidance to $40 million to $41 million from $39 million. For the first quarter, earnings were 45 cents a share, above the consensus estimates of 41 cents. However, the stock continued declining, indicating strong buying opportunities at current prices.
China Sky is set to report earnings of $2.41 a share for 2010, according to consensus estimates of analysts polled by
Bloomberg
. In comparison, Pfizer and Merck are likely to report earnings of $1.56 a share and $2.38 a share, respectively, for 2010.
Skystar
The company has grown to become a leading manufacturer and distributor of micro-organisms, veterinary medicines, feed additives and vaccines businesses. The company had 71.6% and 43% gross margins in the micro-organism and veterinary medicine segments, respectively. Overall gross margins increased to 52.9% during the first quarter, compared with 51.1% for full-year 2009, and 49.1% a year earlier. High gross margins produced a higher return on equity of 22% for the stock during the past 12 months, in comparison to Pfizer's 11.7%.
Similar to China Sky, Skystar raised its 2010 revenue guidance to $45 million to $47 million from $44 million to $46 million. However, stock prices continued to decline suggesting bargaining opportunities.
Skystar has one buy, no hold, and no sell ratings, whereas China Sky has two buy, no hold, and no sell ratings, according to
TheStreet's
Analyst ratings guide. In comparison, Pfizer and Merck each have 15 buy, four hold, and no sell ratings.
Readers Also Like:
10 Companies With Dividends of Up to 13%
Become a fan of TheStreet on Facebook.