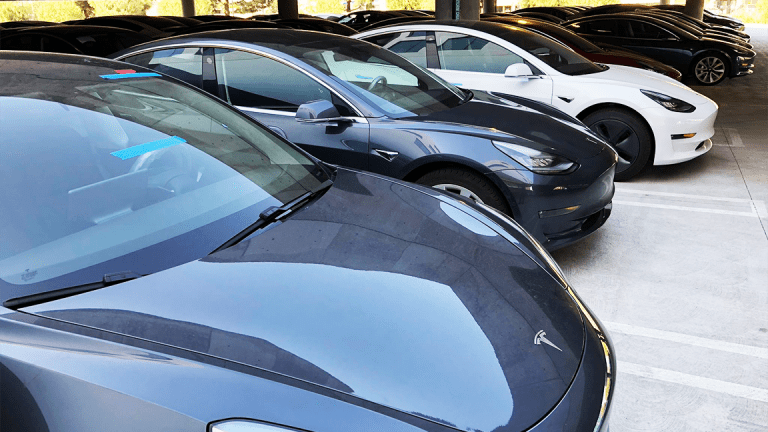 China Halts Auto Tariffs, Tesla Lowers Prices of Model S, X
Tesla is cutting prices on its Model S and Model X after China agreed to lower auto tariffs.
When President Trump met with China's President Jinping Xi during the G-20 summit, Trump later tweeted that China would reduce its tariffs on U.S.-made automobiles.
China had increased its 15% tariff up to 40% in the wake of rising trade tensions between the two countries. However, starting in 2019 the country will remove its additional tariff for 90 days, dropping back down to 15%.
When many investors think of U.S. companies benefiting from lower export tariffs to China, they may first think of companies like Ford (F) - Get Report and General Motors (GM) - Get Report . However, these two automakers produce most of their "for China" vehicles in the country. Ironically, companies like Daimler (DDAIF) and BMW (BMWYY) , the largest U.S. car exporters to China, are set to benefit from the reduced tariff. 
Tesla (TSLA) - Get Report is also a big beneficiary of the reduced tariff. In 2017, the company generated 17% of its overall revenue from China, although that figure has surely fallen in 2018. Part of that is due to the trade war, but it's largely because of the company's massive increase in Model 3 production.
Given that China is the world's largest electric vehicle market and with Tesla having no production in the country yet, rising tariffs (especially at 40%) obviously put the automaker at a big disadvantage. However, with the trade truce set to take effect, Tesla has already responded.
The company has slashed its prices of the Model S sedan and Model X sedan. Certain Model S prices were cut by 105,000 yuan (or more than $15,000), while the Model X had its price cut by up to 65,000 yuan (or roughly $9,400).
Will it matter?
Technically, yes. Any and all sales that Tesla can generate still matter to the company at this stage in the game. However, the impact from China is greatly reduced now that the company is producing the Model 3 in such large quantities.
Until Tesla gets its Gigafactory up and running in Shanghai -- producing both batteries and vehicles -- China will not play a pivotal role in its success or failure in the next 12 months. Maximizing Model 3 production and efficiencies is far more important, particularly with the automaker's plan to begin shipping Model 3 vehicles to Europe.
As it stands, Tesla is reportedly planning to ship 3,000 of the sedans to Europe per week starting in February. Already likely to be a top-10 selling sedan in the U.S., the Model 3 has even more potential in 2019 as it heads into a full year of production.
However, China will play a larger role in Tesla's plans if and when it begins shipping the Model 3 to the country as it does with the Model S and X. Musk has previously said the company is aiming for China shipments to take place in March or April.
Given that the trade truce agreement is only in place for 90 days, though, it's unclear what this may mean for Model 3 shipments.
Save 66% with our '12 Days of Holiday Deals' Sale. Join Jim Cramer's Action Alerts PLUS club for investors and get our best deal of the year. Click here for details or to sign up.
This article is commentary by an independent contributor. At the time of publication, the author had no positions in the stocks mentioned.