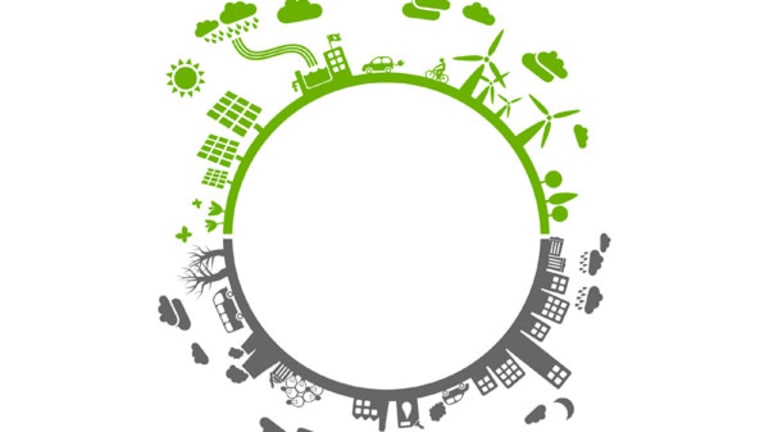 China to Introduce Solar FIT: Reports
China is reportedly set to introduce a national incentive for solar projects, which could be a major boon for solar demand.
NEW YORK (
) -- A surge in Chinese solar market demand could give a jolt to inert solar stocks.
Two new reports suggests that a national feed-in tariff, long delayed in China, is finally set to debut in the second half of 2011.
If the reports are true, and China finally steps up and stimulates domestic solar demand, it will be a welcome change. The emerging giant's primary role in the solar sector has been to dole out capital to Chinese solar companies through state-owned banks, and that's only served to stimulate industry overcapacity.
Yet the details about the Chinese national feed-in tariff system were lacking, and two reports that spurred hopes were contradictory.
Reuters
reported that China would soon introduce a national feed-in tariff, though its source was a Chinese state news agency. Goldman Sachs reported a different version of the same story, and a version that filled in some important details.
Goldman Sachs analyst Amy Song wrote that a "temporary" FIT would be introduced only for 2011, and only for projects that had been endorsed by the government prior to July 1, and these projects had to be grid-connected by the end of the year. The FIT rate in China would also be much lower than FITs in Europe based on the Goldman numbers.
Goldman quoted Li Junfeng of the National Development and Reform Committee of China in its report, and the NRDC is a major energy policy maker in China.
If it's only a temporary FIT, then the Chinese plans are no panacea for the solar sector. It would merely make the economics better for projects already approved by the government as opposed to stimulating incremental demand. Notably, Goldman Sachs updated its 2015 and 2020 demand numbers in China based on the reports, not its short-term outlook.
Chinese policymakers made negative comments earlier this year about the European FIT model, so a temporary FIT would make sense in light of the hesitation to embrace the concept.
Some of the most beaten up Chinese solar stocks were up on Friday, too, led by
Suntech Power's
(STP)
gain of nearly 6% on notable trading action of almost twice its daily volume.
LDK Solar
(LDK)
and
Yingli Green Energy
(YGE)
were also up by more than 2%. A bounce is not necessarily bullishness, though, for stocks that have seen their market values reduced to near book value this year.
There have been countless occasions over the past few years when reports indicated a national feed-in tariff in China was "right around the corner." That said, it may finally be time for China to get moving on domestic solar demand.
European nations have stopped offering generous feed-in tariffs and soaking up all the Chinese demand. Record profits in 2010 for Chinese solar companies are now a distant memory, and profits and margins in the second quarter are expected to be down by as much as 40% to 50% from a year ago.
China's polysilicon sector is finally at a level of maturity where it can support the domestic market as opposed to relying on Western polysilicon manufacturers. LDK has been planning to spin off its polysilicon operations in an IPO this year at a reported value of at least $1 billion, and GCL Poly is growing its capacity significantly.
Analysts seemed to think that the news out of China shouldn't be ignored, even if it's still evolving.
Paul Clegg, analyst at Mizuho Securities, said if one asks companies in China about the FIT, a different answer comes from every company, which lends a note of caution. Even among policymakers -- Goldman quoted the NDRC -- statements out of China are often contradictory. Nevertheless, Clegg was optimistic that China is moving in the right direction.
"This sounds credible in terms of something happening. Unfortunately, we have to wait on the specific details," Clegg said.
Collins Stewart analyst Dan Ries wrote on Friday, "In an environment in which we forecast Germany and Italy to consume 44% fewer modules in CY12 than it did in CY10, the solar industry needs new markets, such as China, the US, and India, to pick up the slack...The country has the potential to be the world's largest solar market by 2020."
Aaron Chew, analyst at Maxim Group, said that nothing can move the solar market more strongly than the incrementally positive news from China, but a temporary FIT wouldn't be enough.
Yet for a sector that's been in the dumps, the chatter from China is something to watch, even if it's not likely to move the sector nearly as much as commentary from
First Solar
(FSLR) - Get First Solar Inc. Report
when it reports on August 4.
"It's going to be a brutal earnings season and I don't think the Wall Street numbers fully reflect it yet," said Mizuho Securities analyst Paul Clegg.
-- Written by Eric Rosenbaum from New York.
RELATED STORIES:
>>In Solar Downturn, Governance Concerns Rise
>>Power-One: Not all Bad, but No 'All Clear'
>>Solar Profits Seen Down 40% in First Half
>To contact the writer of this article, click here:
Eric Rosenbaum
.
Free Download:
TheStreet
's free iPad app offers advanced technical analysis and charting for active traders on the go. Watch video demonstrations of the
apps' charting capabilities here
, or
download it directly from the iTunes store
.