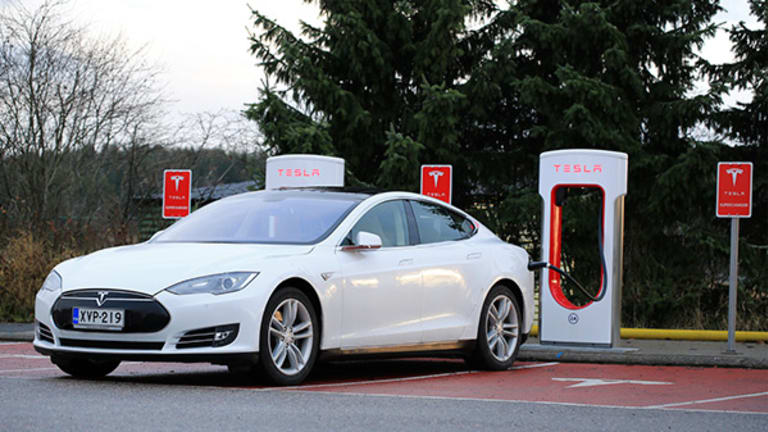 China Crash Raises Fresh Questions About Tesla's Disclosures
A fatality potentially tied to Tesla's Autopilot feature went undisclosed for nine months. Tesla customers and drivers deserve better.
Tesla Motors (TSLA) - Get Tesla Inc Report  is dealing with a second fatality potentially tied to its controversial Autopilot feature, and with it fresh questions about what the electric car company chooses to disclose to both investors and customers about the safety of its systems.
Chinese media sources reported Wednesday that a 23-year-old Hong Kong resident driving a Tesla Model S died back in January after his vehicle hit a street cleaner while traveling at high speed. A subsequent investigation has so far found no sign that the vehicle's brakes were applied prior to the crash, with local reports seemingly indicating that officials believe Tesla's driver-assist Autopilot feature was engaged at the time of the incident.
A disturbing dashcam video of the wreck would seem to back up the claim that there was no attempt made to brake.
The accident occurred months before a May incident in Florida that was previously believed to be the first fatality involving Autopilot. Despite the Chinese victim's family filing suit against Tesla in July, the story is only coming to light now. Whatever investigators determine, the crash raises fresh questions about Tesla's disclosure of potential Autopilot issues, both to investors and to customers who are using the still-developing system on the road.
Tesla is already the subject of a Securities and Exchange Commission investigation into whether it breached securities laws by failing to disclose the Florida crash prior to selling $2 billion worth of shares. The January crash would seemingly raise similar concerns.
This is not the first time Autopilot has apparently been confused by a slow-moving vehicle partially off to the side. A Model S driver in Switzerland earlier this year posted a video of a slow-moving, non-fatal crash in which his car bumped a van on the side of the road. 
Tesla,  in a response to publication Electrek , said Wednesday that due to the damage done in the Chinese incident the car was physically incapable of transmitting log data to the company's servers, so therefore Tesla has no way of knowing if Autopilot was engaged.
"We have tried repeatedly to work with our customer to investigate the cause of the crash, but he has not provided us with any additional information that would allow us to do so," Tesla said. The company --in response to previous incidents involving Autopilot -- has noted that users are informed that Autopilot is meant only to assist drivers and is not a self-driving system, and that drivers are required to pay attention and keep hands on the wheel at all times.
But critics have argued that such disclosures aren't enough to prevent users from pushing the system's boundaries, and said that past comments from Tesla officials including CEO Elon Musk famously saying one could "almost" go from San Francisco to Seattle "without touching the controls at all" have encouraged reckless behavior. Consumer Reports magazine earlier this year accused Tesla of using its customers as "guinea pigs for vehicle safety 'beta' programs."
Indeed whether or not Tesla had a legal obligation to disclose the fatalities, it arguably has a moral obligation to do so. The automaker has said repeatedly that the Autopilot technology is still under development, announcing plans for an upgraded version earlier this week. Users would seemingly benefit from knowing if there is even a chance that there is a reoccurring glitch in the technology that might make it vulnerable to accidents.
Investors in the company need to worry about Tesla's reputation being bruised by these reports, and the way Tesla handles them. The automaker has won a loyal following in part because up until now it offered a unique product, and also because the Silicon Valley-based company is seen as forward-looking and technologically superior to the competition.
With Tesla, still a minnow in the global auto market, soon facing new competition from deep-pocketed rivals including General Motors' Chevy Bolt, its brand reputation has never been more important. The longer questions linger about the safety of its vehicles, and the company's willingness to discuss potential issues, the more that reputation is put at risk.