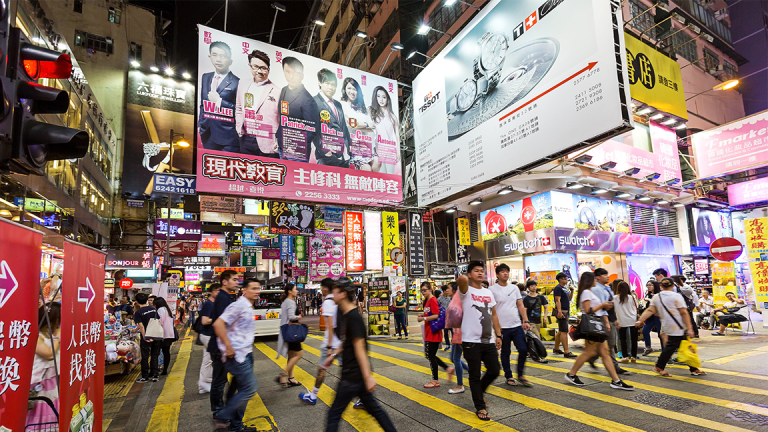 Why China Could Be Future Savior for Struggling American Brands
'If you're famous in the U.S., you're probably famous enough in China,' JD.com's head of global business development in fashion says of retailers doing business in China.
"Made in China" may still be the gold standard for American products, but "sold in China" could be the future of American retail.
That's according to JD.com Inc.'s (JD) - Get Free Report head of global business development in fashion, Harlan Bratcher.
"Traditional retailers are way overstored. The growth that we used to expect in North America and Western Europe is certainly hitting the ceiling, going sideways, and clearly coming down, unless they find new forms of distribution," he told TheStreet at the eTail West conference on Monday, Feb. 26.
And China is the distribution answer, he added.
After two years of economic uncertainty, Chinese consumer confidence is once again at an all-time high. Retail sales in the country consistently clock in with 10% growth, compared with 3.6% year-over-year growth in the U.S. as of January, Census Bureau data shows.
That's why brands such as Abercrombie & Fitch Co. (ANF) - Get Free Report and Guess? Inc. (GES) - Get Free Report have found tremendous growth in China and Asia while U.S. sales stagnate. Ralph Lauren Corp. (RL) - Get Free Report , for instance, saw sales drop 10% in North America in its most recent quarterly report. In Asia, though, its sales rose 3%, driven by performance in China, CFO Jane Nielsen said on the earnings call. Polo Ralph Lauren, which is sold on JD.com, has done very well, according to Bratcher.
"If you're famous in the U.S., you're probably famous enough for China," he said.
But beyond spending power, Chinese consumers have another appealing aspect: the sheer number of millennials, most of whom are educated and totally digital.
"China has 500 million millennials. To put that into perspective, we have 340 million people overall in the U.S.," Bratcher said. "They have bachelor's degrees, they're urban dwellers, and they're digital natives. Doing business there in retail means exponential on top of exponential growth."
Not to mention the Chinese consumer is ahead digitally of his or her American counterpart. In 2017, more than 70% of all mobile purchases worldwide were made in China, according to a Euromonitor report. Through the ubiquitous WeChat app -- owned by Tencent Holdings Ltd., JD.com's largest shareholder -- Chinese consumers can buy products directly as they browse their social feeds or chat with friends, and they can use mobile pay at a growing number of businesses and vendors.
"China is the first cashless society," Bratcher said. "WeChat has 1 billion active users. It's more than just social media. It's currency. It's [a] translator."
It's no surprise, then, that China is the largest and fastest-growing e-commerce market with the most internet users of any country. Walmart Inc. (WMT) - Get Free Report , in fact, has a 12% stake in JD.com.