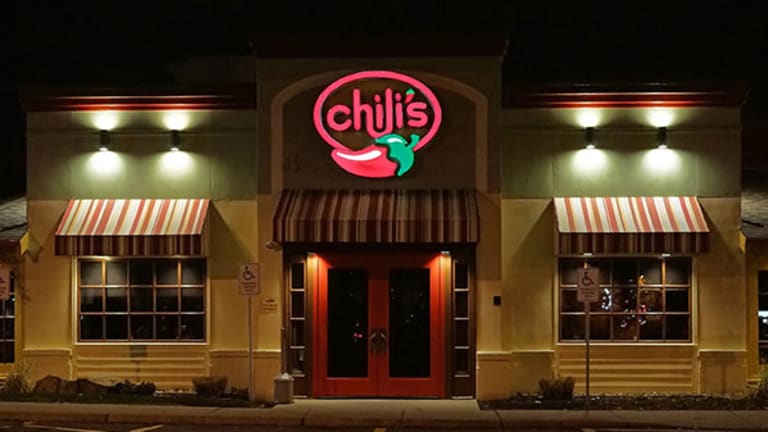 Chili's to Trim 40% of Its Menu, as Casual Dining Pressures Persist
Chili's will cut 75 of its menu items to focus on its roots, burgers, fajitas and ribs.
As consumers increasingly abandon casual dining, so too will Brinker Int.'l Inc.'s (EAT) - Get Free Report Chili's Grill & Bar to the majority of its menu items.
On Friday, Sept. 8, the Tex-Mex casual dining company said it will wipe out 40% of its menu, 75 items, by Sept. 18, getting it "back to its roots." The move includes "investing millions" in its core menu items of burgers, ribs and fajitas.
"Over the years, like many bar and grill chains, Chili's chased consumer trends, expanded the menu and tried to be all things to all guests, therefore compromising execution and resulting in a fuzzy food reputation," Chili's said in a statement.
Fuzzy is likely the last description customers want their food to have. Well, the company had a message for the shifting consumer—"Chili's is back, baby."
"We value every guest and we know that cutting even one entree like Mango Chili Tilapia, or an appetizer like Crispy Asparagus could disappoint a guest who loves that dish. But, guests have also told us they know that today no restaurant can be everything to everyone. By eliminating 40% of our menu, we've reinvested in meatier burgers, ribs and fajitas - the items that we've always been known for," Kelli Valade, Chili's president, said in a statement.
Over the coming week, Chili's said it will reveal which menu items are getting the boot.
When Chili's opened its first restaurant in Dallas in 1975, it was a burger shack with 25 menu items, including beer, margaritas and fajitas. Fast forward to January, Chili's menu reached a peak of 125 items, from burritos to flatbread, "with ingredients ranging from cauliflower to quinoa, making it one of the largest chain restaurant menus," the company said.
Chili's has been suffering sluggish sales since 2008. In its most-recent fourth quarter, Brinker, which also owns Maggiano's Little Italy, reported Chili's same-store sales fell 2.2%, on an owned-restaurant basis. Brinker's total revenue plunged 8.1%.
Still, Chili's is not alone. DineEquity Inc.'s (DIN) - Get Free Report Applebee's has been struggling to attract millennials, despite various attempts. And, in June, the NPD Group reported that while the restaurant industry as a whole "held steady" in the first quarter, driven by growth in delivery and drive-thru, casual dining remained a point of distress. Visits to casual dining restaurants in the quarter fell 4%.
"Many of the weak areas of the industry have been declining since the recession, which is the case with casual dining and midscale/family dining traffic," NPD wrote.
Chili's hamburger tried to reverse weak sales in the past, watch how.
More of What's Trending on TheStreet:
Working Mothers Shouldn't Feel a Twinge of Guilt
Stick with TheStreet for updated storm coverage as Hurricane Irma moves the market:
Hurricane Irma: What Kind of Insurance Should You Have?
Hurricane Irma Will Make Orange Juice Unaffordable and Destroy Your Grocery Bill
Hurricane Irma: How Floridians Are Using Tech, Apps to Prepare for the Big Storm
Editors' pick: Originally published Sept. 8.