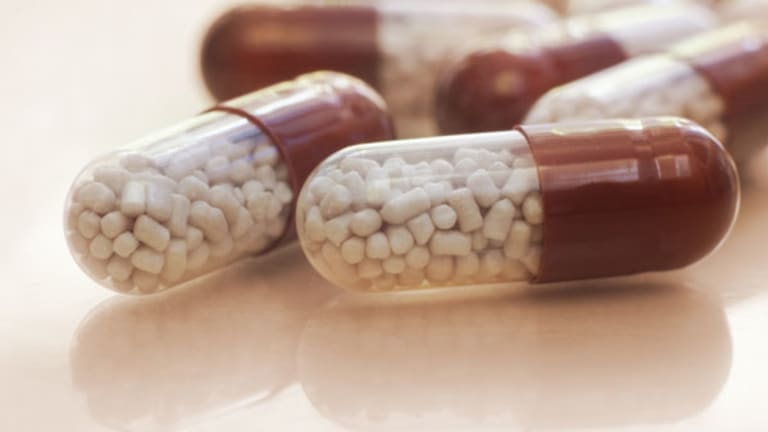 Chiasma's Acromegaly Drug Headed for FDA Rejection, Investor Says
Chiasma is expecting the U.S. Food and Drug Administration to make an approval decision Friday on a new oral treatment for acromegaly, a rare disease of the pituitary gland.
Chiasma (CHMA) is expecting the U.S. Food and Drug Administration to make an approval decision Friday on a new oral treatment for acromegaly, a rare disease of the pituitary gland.
One of my most reliable (and bearish) investor sources believes the FDA will reject the Chiasma capsules, known as Mycapssa, because data from the company's pivotal, single-arm study failed to demonstrate a clinically meaningful benefit for acromegaly patients.
The disease is treatable today with long-acting injectable drugs, meaning there is no unmet medical need which might have persuaded the FDA to approve Mycapssa on subpar study results.
For these reasons, my investor source is shorting Chiasma's stock, which closed Wednesday at $10.90 a share. The company's market cap is $260 million.
Reached via email, Chiasma executives chose not to comment on the Mycapssa bear thesis, citing a self-imposed quiet period ahead of Friday's FDA decision. Cowen biotech analyst Ritu Baral is telling her investor clients to expect a Mycapssa approval. She has a buy rating on Chiasma with a $32 price target. My investor source asked not to be identified by name due to his fund's compliance rules which prohibit appearing in media stories.
Acromegaly is a rare disease which occurs when a benign tumor grows on the pituitary gland. The tumor causes excess levels of growth hormone (GH) and insulin-like growth factor 1 (IGF-1) to be released into the body. High levels of these hormones, in turn, can cause bones in the hands, feet and face to grow abnormally large. Untreated, acromegaly can lead to serious illness and premature death.
Surgical removal of the pituitary gland usually normalizes GH and IGF-1 levels in most acromegaly patients. When surgery doesn't reduce hormone levels, patients are treated with monthly injections of drugs derived from somatostatin, the body's naturally occurring, GH-inhibitory hormone.
Chiasma's Mycapssa is a capsule containing octreotide, one of these somatostatin analogs, combined with a "penetration enhancer" to allow for oral delivery. Essentially, Chiasma is trying to turn a currently approved, injectable drug for acromegaly into one that patients can swallow.
Turning shots into pills has long been a technological challenge, and Chiasma hasn't figured out the solution with Mycapssa, said my investor source. For evidence, he turned to Chiasma's published Mycapssa data.
In its pivotal study, Chiasma said 65% of enrolled acromegaly patients responded to Mycapssa. Response was defined as patients achieving IGF-1 levels less than 1.3 times the upper limit of normal and GH levels less than 2.5 ng/ml after seven months of treatment. A response rate of at least 50% would be considered clinically meaningful for an oral treatment, according to endocrinologists cited by Chiasma.
Based on the 65% response rate coupled with decreases in acromegaly symptoms, Chiasma believes Mycapssa should secure FDA approval.
My source believes the FDA will reject Mycapssa because Chiasma's threshold for IGF-1 response -- 1.3 times the upper limit of normal -- was set arbitrarily only to make the efficacy of the drug look better than it really is.
In Europe, for example, the efficacy standard for acromegaly used historically is to normalize IGF-1 levels to less than 1 times the upper limit of normal. No one but Chiasma uses the 1.3 times the upper limit of normal standard.
Using the more common and stricter definition of response, only 30% to 40% of acromegaly patients responded to Mycapssa treatment, according to Chiasma's published study data. That's below the 50% response threshold needed to demonstrate clinically meaningful efficacy.
There were other problems with the study analysis, including a large number of patient dropouts, due in part to difficulties with Mycapssa dosing. There was no fixed dose of Mycapssa. Instead multiple doses, some higher, some lower, were used during the study to get acromegaly patients under control. Response didn't correlate with dose -- evidence that Chiasma's technology does a poor job turning injectable drugs into something that is reliably available by mouth.
Chiasma might have overcome these issues if its registration study contained a control arm to compare against the efficacy and safety of Mycapssa. The company chose, instead, a single-arm study with all patients treated with the drug. This leaves the company little room for error. FDA tends to take a very conservative stance with single-arm studies.
The FDA advised Chiasma a controlled study was preferable over a single-arm study, and that data from a single-arm study might be difficult to interpret, according to the company's annual report filed with the Securities and Exchange Commission.
European regulators are requiring Chiasma to conduct another, controlled phase III study before submitting Mycapssa for approval there.
Lastly, Swiss pharma giant Roche once had a license from Chiasma to develop Mycapssa. Roche returned the drug to Chiasma after reviewing the same data the FDA is currently considering.
My investor source has a good track record of predicting negative clinical trials and FDA rejections. In this case, he believes FDA rejects Mycapssa on Friday. If that happens, Chiasma's stock price should fall and his short sale will make money.
He's not always right, so if he's wrong and the FDA approves Mycapssa, his short-sale bet on Chiasma will be a loser.
Adam Feuerstein writes regularly for TheStreet. In keeping with company editorial policy, he doesn't own or short individual stocks, although he owns stock in TheStreet. He also doesn't invest in hedge funds or other private investment partnerships. Feuerstein appreciates your feedback; click here to send him an email.