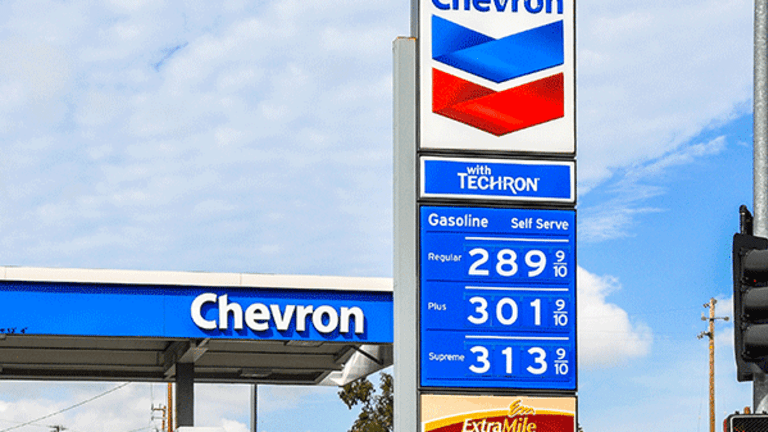 Chevron Whiffs on Revenue; Stock Plummets
Chevron's fourth-quarter revenue came in well below consensus estimates. The company says a full-year $500 million loss reflects lower commodity prices in 2016.
Integrated oil major Chevron (CVX) - Get Chevron Corporation Reportshares closed down 2.4% Friday, Jan. 27, after the company reported fourth-quarter earnings of $415 million, or 22 cents a share, on sales of $30 billion, widely missing analysts' revenue estimates. Analysts surveyed by FactSet expected the company to report adjusted earnings of 64 cents a share on $36.9 billion in revenue.
The miss was largely the result of one-time charges of $872 million during the quarter, meaning Chevron's adjusted earnings is closer to $1.3 billion, or 68 cents a share. 
Chevron also said Friday that it was mulling further asset sales and would consider cutting its capital budget again in 2018 if prices remain between $50 and $50 per barrel in 2017. 
Chevron's U.S. downstream segment broke even for the fourth quarter, compared with earnings of $496 million a year earlier, while the international downstream division posted profit of $357 million. The company's U.S. upstream unit, meanwhile, posted profit of $121 million, while the international segment earned $809 million. 
Barclays analysts expected Chevron's downstream segment to weigh on the fourth-quarter earnings, but the $357 million overall profit comes well below the firm's anticipated $762 million in downstream earnings. The upstream unit's $930 million in total profit did beat Barclays' expectations of $711 million, however. 
The miss comes two days after Chevron announced its dividend would remain flat quarter over quarter at $1.08 a share. There's reason to believe Chevron's dividend could remain at $1.08 for the remaining three quarters of 2017 if a lower commodity environment persists. The company will technically pay out more to investors in 2017 than it did in 2016 even if the dividend remains flat all four quarters. 
Chevron Chairman and CEO John Watson said the company's full-year loss of $497 million, or 27 cents a share, reflects the low oil and natural gas prices the industry experienced in 2016. 
"We responded aggressively to those conditions, cutting capital and operating expenses by $14 billion," Watson said. "We are well-positioned to improve earnings and be cash flow balanced in 2017 through continued tight spending and cost control and additional revenue from expected production growth."
This story has been updated to reflect Chevron's closing share price and adds comments from the company's earnings call Friday.