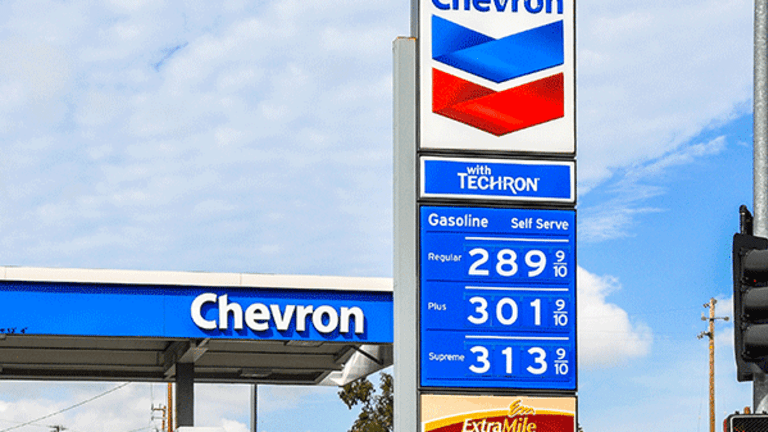 Oil Giant Chevron to Benefit from Increased Production, Rising Oil Prices
The company is expected to post earnings of 64 cents per share on $36.9 billion in sales Friday before the bell.
One of the world's largest energy companies, Chevron (CVX) - Get Chevron Corporation Report is set to report earnings Friday, Jan. 27, before the morning bell and analysts surveyed by FactSet expect the company to report earnings of 64 cents per share on $36.9 billion in sales.
That would compare well to the 26 cents EPS on $29.5 billion in sales it recorded in the same period a year ago. But at 64 cents per share, Chevron's earnings would come in below the surprise 72 cents per share profit the company posted in the third quarter.
Still, at $36.9 billion, Chevron's sales would represent a substantial improvement to the roughly $30 billion it posted last quarter. Despite weaknesses expected in some segment's analysts predict the company's upstream business will benefit from a few factors including rising oil prices.
On a whole, analysts at Deutsche Bank suspect U.S. oil majors to post solid results during the fourth quarter earnings season despite weaker refining and chemicals earnings. 
Upward pressure on international gas pricing, between 30% and 40% quarter-over-quarter, and liquefied natural gas realizations will likely be among the primary causes for improved metrics for these players, of which Deutsche Bank prefers Chevron and ConocoPhillips (COP) - Get ConocoPhillips Report.  
Barclays analysts agree that downstream segment earnings will slump for Chevron. Specifically, the firm is calling for $762 million in downstream earnings, including the company's chemicals unit, compared to the $1.07 billion and $1.06 billion the company posted in the third quarter of 2016 and the fourth quarter of 2015, respectively. 
But as oil prices have stabilized above $50 per barrel since OPEC members agreed in early December to cut production by 1.2 million barrels of oil equivalent per day in the first half of 2017, Barclays' expects Chevron's upstream segment to post profits of $711 million, a substantial increase over the $79 million the company reported in the third quarter. 
Improved upstream earnings will likely come from increased production volumes. Barclays is calling a 6% quarter-over-quarter production increase to roughly 2.66 million barrels of oil equivalent per day. 
Aside from improved production and profits, industry followers are looking for supportive updates on U.S. onshore drilling activity acceleration and whether international refining margins will continue to outpace those in the U.S.
Deustche Bank also expects a focus on capital allocation, specifically within onshore portfolios like those of ExxonMobil (XOM) - Get Exxon Mobil Corporation Report, which just picked up $6.6 billion worth of U.S. shale assets from the Bass family of Fort Worth, Texas. Exxon reports Jan. 31.