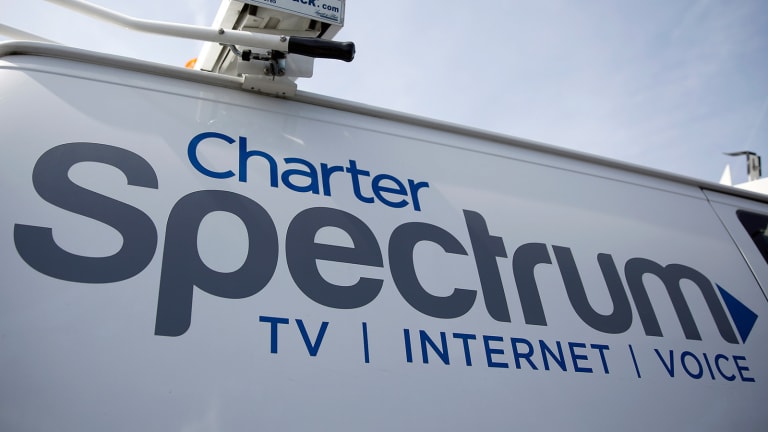 Why a Verizon Bid for Charter Isn't as Simple as It Sounds
Buying Charter would force Verizon to drop its goal of cleaning up its balance sheet in the near future.
Updated from 11:05 a.m. with additional details.
Shares of Charter Communications (CHTR) - Get Free Report spiked on Thursday on reports that Verizon (VZ) - Get Free Report is exploring a deal for the cable operator.
Verizon would make a splash by acquiring Charter, and would reduce its reliance on a slumping wireless business. However, the telecom would also have to kiss goodbye to its plan of improving its credit rating by 2018 to 2019, a goal that the company has repeatedly expressed to investors.
"They cannot do both," Moody's analyst Mark Stodden said.
Moreover, Charter wouldn't come cheap.
The cable operator's stock jumped 6% to $329 on Thursday, following reports of Verizon's interest. Charter's market cap stands around $89 billion, and factoring in debt, the company has a $160 billion valuation.
And Verizon would also have to pay a take-out premium. Wells Fargo analyst Marci Ryvicker suggested in a Thursday report that Charter might ask for $400 per share, based on recent cable valuations, a 21% premium to its current stock price.
As for its credit goals, just on Tuesday, Verizon reiterated its goal of regaining its former A3 credit rating by 2018 to 2019.
Moody's cut the telecom's rating to Baa1 in 2013, after the telecom said it would buy out wireless partner Vodafone for $130 billion. To finance the deal, Verizon launched a record $49 billion bond sale, and its long term debt stood at $108 billion at the end of 2016.
Charter, which itself bulked up on debt for the the purchase of Time Warner Cable in 2016, had nearly $60 billion in long-term debt at the end of the third quarter.
"Unless they were to do a very heavily-weighted stock deal, it's unlikely [Verizon] can accomplish both goals," Stodden said.
Declines in Verizon's wireless business have fueled speculation that the telecom would follow the lead of rival AT&T (T) - Get Free Report and make a large media deal. AT&T has leveraged its purchase of DirecTV into the small but growing DirecTV Now streaming service, and is trying to get regulatory approval for its Time Warner (TWX) merger.
Verizon and Charter declined to comment, but there are ties between the companies. Charter plans to resell Verizon's mobile service.
The cable industry has a clear interest in wireless. Charter board member John Malone, whose Liberty Broadband (LBRDA) - Get Free Report owns a stake in Charter, has suggested that the large cable operators should consider jointly purchasingT-Mobile USA (TMUS) - Get Free Report .
A Trump administration might be open to a combination of a cable company and a telecom.
Buying Charter would entail regulatory challenges and divestitures in markets where the company's overlap, Moody's analyst Stodden suggested. Plus, Verizon would be "hamstrung financially" after the transaction. The post-merger company would not have a national reach that could benefit Verizon's nationwide wireless network.
"Buying one large cable company doesn't really make Verizon that much better," Stodden said. "It just makes it more complex."
An expanded partnership might give Verizon access to Charter's fiber to carry wireless traffic, without loading its balance sheet in debt.