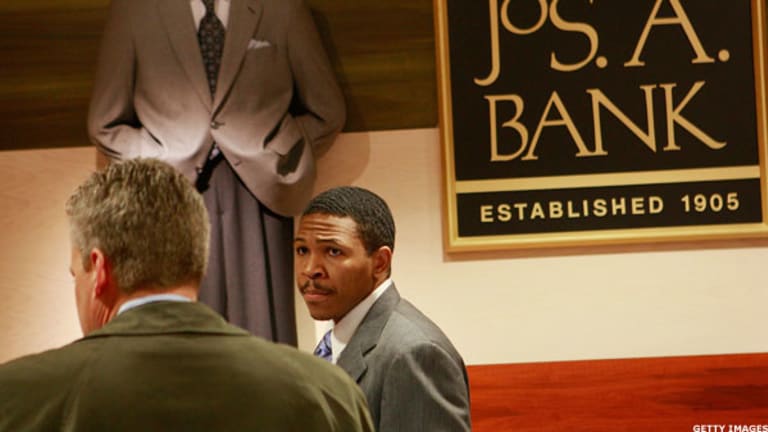 Chance of Jos A. Bank Acquisition Is 1%, Analyst Says (Update 1)
The possibility of Jos A. Bank doing an acquisition is about 1%, an analyst said Monday.
This story has been updated from 1:24 p.m. with quotes from the CEO.
NEW YORK (
) - The possibility of
Jos A. Bank Clothiers
(JOSB)
doing an acquisition is about 1%, an analyst said on Monday.
The menswear retailer announced late Friday that it is considering "strategic opportunities to enhance shareholder value," which include potential acquisitions. It hired investment banking firm Financo, according to a press release.
The Hampstead, Md.-based
said Friday it was looking at various "opportunities," including selective, long-term accretive acquisitions. The company intends to retain capital not needed for operations, it said. It did not give a timetable for any acquisition.
But Mark Montagna, an equity analyst at Avondale Partners, questions the real motive for the release. He says the likelihood of an acquisition for Jos A. Bank is minimal. Montagna rates the company market underperform.
"Nobody on senior management has any experience with acquisitions," Montagna wrote in an email to
TheStreet
on Monday. "They also have no experience with wholesaling, which essentially eliminates acquisitions such as the rumor of their looking at Lucky
Brand. There is minimal opportunity to buy a menswear retailer."
Montagna says the real motivation for Friday's press release was to justify former CEO and non-executive chairman Robert N. Wildrick's annual $825,000 consulting fee. Wildrick, 68, was the company's chief executive for nine years before stepping aside in 2008 to become non-executive chairman.
"This fee relates to his providing strategic advice, including surfacing possible acquisitions. Prior to this release, there had been no company commentary regarding acquisitions, yet this contract has been in place for multiple years and continues through Jan. 30, 2016," says Montagna, citing a regulatory filing.
"We'd like to find opportunities where we can leverage the management expertise that we have and the assets of the company where the combined expertise represents long-term value for our shareholders," CEO R. Neal Black said in an interview with
TheStreet
. "It could be lots of different things depending upon the circumstances."
Black declined to comment on any specific deals being worked on or the possibility of a merger with Men's Wearhouse.
When asked directly about Montagna's assertions, Black responded: "Strategic initiatives, which include acquisitions, are a continuing subject for our board and management and have been for some time."
In a 2011 article from
, which questioned Wildrick's pricey compensation, Wildrick said the fee was justified because of the amount of time he spends on consulting duties. The contract also doesn't allow him to work for another retail company.
He also said in the article that he didn't plan to stay in the consulting role beyond 2014.
In addition, the release came after shareholders at the company's contentious annual meeting on Friday rejected compensation packages for CEO R. Neal Black and other top executives and criticized Black for not using the company's cash to do a stock buyback,
reported.
Black reportedly responded by saying that the company is looking to expand its operations.
Black on Monday referred to specific initiatives that the company is focusing on, including expanding its online sales, building out its tuxedo rental business and expanding its big and tall offerings.
Jos A. Banks plans to also open more factory stores as well as full-line stores. Black reiterated the company's target of 700 full-line stores and 100 factory stores.
Jos A. Bank shares closed on Monday up 0.3% to $39.75.
Montagna said that any acquisition would be a negative for the stock since Jos A. Bank's cash "had been propping up the shares in the face of the likely down year of EPS in 2013 and what may turn out to be another down year of EPS in 2014."
Jos A. Bank's first-quarter net income fell by 45% from a year earlier to $8.1 million, or 29 cents a share.
The company's same-store sales sank 8.5% year-over-year, while sales from e-commerce jumped 12.6% over the prior year's quarter.
Jos A. Bank's cash, cash equivalents and short-term investments as of February, the end of its fiscal year, were about $377 million.
The retailer currently has 607 stores in 44 states. Jos A. Bank's fiscal 2013 sales reached $1 billion, it reported in February.
"Since our reinvention in 1999, the board and management have been committed to long-term growth. To that end, we have built an extraordinarily strong balance sheet with substantial liquid assets and no bank debt," Andrew Giordano, Jos A. Bank's lead independent director, said in the release. "Those assets are critical to our efforts to enhance shareholder value, both through strategic opportunities (such as acquisitions) and organic growth. Our pursuit of strategic opportunities is part of our philosophy of long-term planning and decision-making."
Earlier this month
Women's Wear Daily
said that Jos A. Bank bid for
Fifth & Pacific's
(FNP)
Lucky Brand. Lucky, in addition to Fifth & Pacific's Juicy Couture, is attracting interest from private-equity investors as well as strategic buyers, according to
Bloomberg
.
Wall Street chatter has also pointed towards a possible merger between Jos A. Banks and its competitor
Men's Wearhouse
(MW)
.
Shares of
slipped 2.8% last week after the men's specialty retailer announced that George Zimmer, its co-founder, executive chairman and brand spokesman had been "terminated."
-- Written by Laurie Kulikowski in New York.
To contact Laurie Kulikowski, send an email to:
Laurie.Kulikowski@thestreet.com
.
>To submit a news tip, email:
.
Follow
TheStreet
on
and become a fan on
.
Disclosure: TheStreet's editorial policy prohibits staff editors, reporters and analysts from holding positions in any individual stocks.