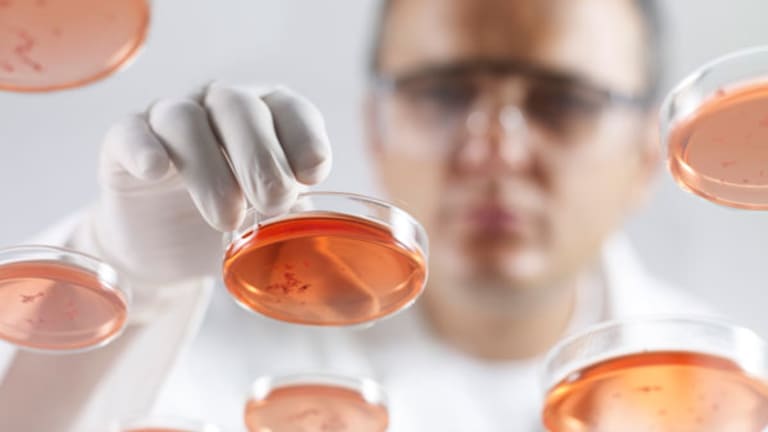 Cephalon Boosts Full-Year Forecast
Adjusted third-quarter earnings were below Wall Street's estimates, but the stock climbs.
Cephalon
(CEPH)
reported adjusted third-quarter earnings that were below Wall Street's estimates, but it upped its full-year guidance, sending its shares higher in late trading.
Shares were up 2.5% in the after market following a 5.4% gain during regular trading hours.
For the third quarter, the company reported a profit of $112 million, or $1.64 a share, reversing a loss of $306.7 million a year ago when the company suffered charges.
On an adjusted, diluted basis, factoring out certain items, Cephalon said it earned $1.18 a share, compared with 92 cents a share a year prior. Revenue rose to $498.5 million from $438.4 million. Analysts surveyed by Thomson Reuters were looking for $1.22 a share on revenue of $499.6 million.
Cephalon's central-nervous business saw sales increase 19% to $273.7 million year over year. Pain-treatment sales declined to $117.2 million from $121.8 million in the third quarter of 2007, and the oncology franchise had sales more than double to $542 million.
The company edged past estimates for some of its recently launched products, reporting $24.6 million in sales of Treanda, a treatment for blood and bone marrow disease chronic lymphocytic leukemia, and $20.5 million for the muscle spasm drug Amrix.
Looking ahead, Cephalon raised its full-year revenue projection to a range of $1.90 billion to $1.94 billion, from between $1.86 billion and $1.91 billion. Analysts are predicting roughly $1.95 billion.
On an adjusted basis, the company said it expects to earn between $354 million and $360 million, and increased its per-share guidance by 10 cents to between $5.20 and $5.30 a share.
For 2009, it expects adjusted income of $452 million to $459 million, or $6.50 to $6.60 a share. On the revenue front, the company guided to between $2.17 billion and $2.23 billion, bracketing the consensus target of $2.21 billion.
In the near-term, the Food and Drug Administration is expected to make a decision on Treanda as a first-line treatment for non-Hodgkin's lymphoma by Friday.
Cephalon's earnings follow big
Genzyme
(GENZ)
,
Amgen
(AMGN) - Get Report
,
Biogen Idec
(BIIB) - Get Report
and
Celgene
(CELG) - Get Report
, all of which reported last week.