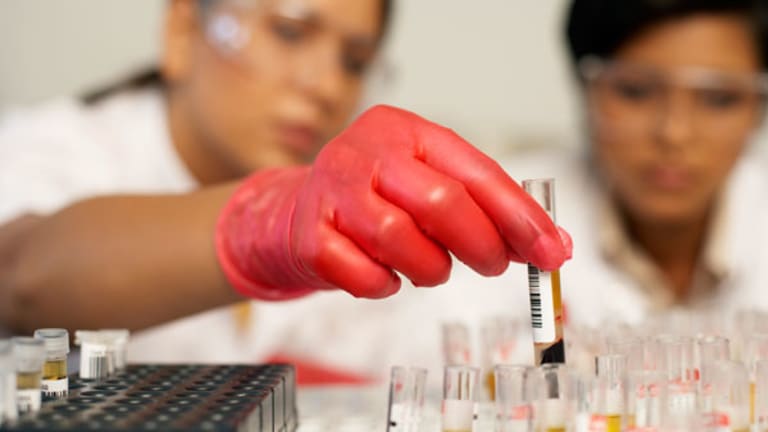 Celldex Nears Pivotal Decision Point for Brain Tumor Therapy
Celldex will announce the outcome of an interim analysis for a pivotal study of its brain tumor therapy Rintega within weeks.
A pivotal brain tumor clinical trial involving a cancer immunotherapy from Celldex Therapeutics (CLDX) is approaching a key decision point. As you'd expect, the outcome will have a volatile impact on Celldex's stock price, up or down.
Let's take a closer look at the hot issues and burning questions.
What is this key decision point involving Celldex's drug?
I'm referring to the phase III study of Celldex's cancer immunotherapy Rintega in patients with newly diagnosed glioblastoma multiforme, or GBM, an aggressive brain tumor. An interim survival analysis of the Rintega "ACT IV" study is being conducted right now. Celldex has said results of this interim analysis will be announced "early in 2016," which just about everyone interprets to mean during the first quarter, so very soon.
Why is an interim analysis of the Rintega clinical trial so important? Won't we have to wait for final results to really know if the drug is working?
Rintega is the most advanced drug in Celldex's pipeline, so the outcome of the ACT IV study is a big deal for the company. Success, defined as a statistically significant survival benefit, means an FDA submission and a good shot at approval. Failure means back to the drawing board.
Independent monitors are conducting the interim analysis of the Rintega study after 75% of the patient deaths required to conduct the final analysis have already taken place. That's usually (but not always) deep enough into a study to determine whether a drug is benefiting patients or not.
Celldex's stock price has dropped by almost 40% since the beginning of the year. What are investors telling you about their expectations for the Rintega interim analysis?
A couple things: Some of the health care investors I spoke with this week regarding Celldex tell me they're gun shy about getting involved in any stock with a risky clinical trial catalyst. This risk-averse attitude reflects the current biotech bear market we're experiencing.
I've also talked to investors this week who are shorting Celldex on the belief that the interim analysis will come back with a negative result. They're betting on two outcomes. The first: Study monitors determine Rintega is futile, meaning the drug has no chance of demonstrating a survival benefit for GBM patients. Obviously, that's really bad news for Celldex. The second: Study monitors tell Celldex to continue the Rintega study through to the final analysis.
Why would continuing the Rintega ACT IV study be considered bad news for the drug and Celldex?
The ACT IV study is far enough along (75% of targeted deaths have occurred) to capture a survival benefit for Rintega if it exists. If the study continues to the final analysis, the risk of outright failure or the drug showing a statistically insignificant survival benefit increases.
I can't speak for all investors, obviously, but those I surveyed this week regarding Celldex told me they view this upcoming interim analysis as a pivotal decision point for Rintega. The drug works or it doesn't.
I assume Celldex disagrees with the bearish sentiment you're hearing from investors.
Absolutely. I also spoke with Celldex management this week. Their point -- and it's a good one -- is that longer follow-up is required for some cancer immunotherapies like Rintega to demonstrate a meaningful survival benefit. That's because it takes time for the patient's immune system to mount a response against the cancer. Celldex won't view a decision by data monitors to continue the ACT IV study to be a negative. They believe the final analysis, if the study goes that far, still carries a good shot at a positive outcome.
Do you believe Celldex's argument supports Rintega? You have been bullish on the company and the drug in the past.
Celldex has Rintega data to back up their point. In the "REACT" study involving patients with recurrent GBM, the survival benefit demonstrated by Rintega increased in statistical significance with longer follow-up. Celldex presented that data at two medical meetings last year. The REACT study supports the theory of a "long tail" of survival favoring Rintega.
If the same trend holds up in the ACT IV study, it's entirely possible the final analysis could return with a statistically significant and clinically meaningful survival benefit for Rintega.
Possible -- but probable?
I have been bullish on Celldex and Rintega because the company has presented data from previous studies (like REACT) which, to me, make a convincing and supportive case for the drug benefitting GBM patients. Celldex has much more credibility than Northwest Biotherapeutics, which excels at promotional claims about its GBM immunotherapy but can't support any of them with convincing clinical data.
But I concede my optimism for Rintega and the outcome of the ACT IV study conflicts with the skepticism I heard from investors this week. That bearishness is reflected in the sharp decline in Celldex's stock price leading up to the interim analysis results. Biotech investors are not in a believing mood these days. Very few, if any, biotech companies are getting the benefit of the doubt.
But if Celldex proves the bears wrong and Rintega demonstrates a statistically significant survival benefit at this upcoming interim analysis, the company's stock price takes off big time.
You said Rintega is a cancer immunotherapy. Remind me how it's supposed to work?
Rintega is a cancer "vaccine," meaning it's designed to educate a patient's immune system to identify and kill certain cancer cells. Rintega's target is a mutated protein known as EGFRvIII (v3), found in about 30% of GBM brain tumors but absent from healthy tissue. Brain tumors containing high levels of EGFRvIII grow more aggressively and are more difficult to treat.
As a cancer vaccine, Rintega works differently than checkpoint inhibitors like Bristol-Myers Squibb's Opdivo. Bristol's very successful drug works by blocking the interaction between PD-L1, a protein found on the surface of tumor cells, and PD-1, a receptor found on immune cells. Blocking the PD-1/PD-L1 connection allows a patient's immune system to recognize and kill cancer cells.
Cancer vaccines have a not-so-good track record, right?
Correct. The only successful cancer vaccine to date -- and by successful, I mean obtaining regulatory approval -- is Dendreon's Provenge. Exclude Dendreon, and the cancer vaccine field has been a black hole when it comes to positive clinical trials and regulatory approvals. Celldex has already gone farther with Rintega than any other cancer vaccine developer, although the company cannot yet declare victory unless it wins with the ACT IV study.
What is the design of the ACT IV study?
In ACT IV, 745 patients with newly diagnosed and EGFRvIII-positive GBM undergo surgery to remove their tumors, followed by standard radiation and chemotherapy. Once that baseline treatment is completed, the patients are randomized into one of two arms: Half the patients receive injections of Rintega along with standard chemotherapy maintenance; the other half of patients receive a control injection plus standard chemotherapy.
The study's primary endpoint is overall survival in 374 patients (out of the 745 enrolled in total) who had minimal residual disease following their surgery and chemo-radiation. Rintega needs to demonstrate a survival benefit in those 374 patients in order for the study to be successful. A secondary efficacy analysis also looks at overall survival in all 745 enrolled patients.
The upcoming interim analysis is actually the second look at the Rintega data in the ACT IV study. The first interim analysis, which concluded the study should continue, was performed last year. This time around, Celldex believes an overall survival hazard ratio of 0.65 or better should be sufficient to declare Rintega a winner.
Um... jargon alert. What the hell does an "overall survival hazard ratio of 0.65 or better" mean?
Oops, sorry. Celldex believes the efficacy hurdle for Rintega at this second interim analysis is to demonstrate a 35% reduction in the risk of death compared to the control arm. Also note the statistical bar is more stringent because it's an early look at the data. At a final analysis, an efficacy endpoint meets statistical significance if there is a 5% chance or less that the result is random. (This is the standard "p value of 0.05" threshold.)
In order for Rintega to achieve statistical significance for overall survival at the second interim analysis underway now, the p value must fall below 0.018, or a 1.8% chance or less that the result is random.
What's the bull thesis for Celldex and Rintega?
It focuses mostly on the REACT study I mentioned, in which Rintega combined with Roche's Avastin reduced the risk of death by a statistically significant 47% compared to Avastin alone. The patients enrolled in this phase II study had recurrent GBM.
Celldex also has supportive data In frontline GBM from a previously conducted phase II study known as ACT III. In that study, the median overall survival for Rintega-treated patients was 21.5 months, which exceeds the overall survival of 16 months typically seen in newly diagnosed EGFRvIII-positive GBM patients treated with surgery and chemo-radiation alone.
Based largely on the REACT study results, the FDA granted Rintega Breakthrough Therapy Designation.
And the bear thesis?
Celldex wanted to seek FDA approval for Rintega based on the overall survival benefit observed in the REACT study. The agency told Celldex not to file because the study was too small, raising concerns about the strength of the observed benefit.
The survival data derived from the ACT III study in frontline GBM is unreliable because the study lacked a comparator arm. Comparing data against an historical control is unreliable.
I have also heard concerns raised about Rintega's ability to generate a sufficiently potent immune response in GBM patients, and doubts that the 21-month survival benefit observed in the ACT III study, even if duplicated in the ongoing ACT IV study, would be large enough to hit the primary endpoint with statistical significance.
Adam Feuerstein writes regularly for TheStreet. In keeping with company editorial policy, he doesn't own or short individual stocks, although he owns stock in TheStreet. He also doesn't invest in hedge funds or other private investment partnerships. Feuerstein appreciates your feedback; click here to send him an email.