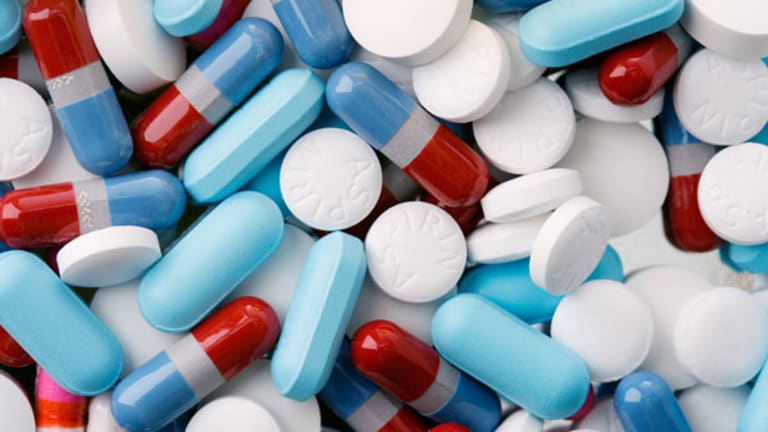 Celldex Immunotherapy Prolongs Survival for Recurrent Brain Tumor Patients
Positive data presented Friday, particularly the statistically significant survival benefit favoring patients treated with rindopepimut, has Celldex planning -- cautiously -- for a conversation with the FDA about accelerated approval.
HAMPTON, NJ (TheStreet) -- Treatment with an experimental, targeted immunotherapy developed by Celldex Therapeutics (CLDX) - Get Celldex Therapeutics, Inc. Report added to Roche's (RHHBY) Avastin is delaying tumor growth and extending survival in patients with a certain type of recurrent brain tumor, according to interim results from a mid-stage study presented Friday at a medical meeting.
The Celldex cancer immunotherapy used in the study is known as rindopepimut. The company designed the phase II study in recurrent brain tumors to be "exploratory" -- meaning it didn't expect the rindopepimut results to be strong enough for regulatory approval. But the positive data presented Friday, particularly the statistically significant survival benefit favoring patients treated with rindopepimut, has Celldex planning -- cautiously -- for a conversation with the FDA about accelerated approval.
"We're very happy with the interim results, but we're trying to be conservative, so we'll wait for the final data in three to six months. If the results are consistent, we'll meet with the FDA," said Celldex CEO Anthony Marucci.
Like all cancer immunotherapies, rindopepimut is designed to stimulate a patient's immune system to identify and kill cancer cells. In this case, rindopepimut's target is a mutated protein known as EGVRvIII (v3), found in about 30% of primary brain tumors known as glioblastoma multiforme (GBM.) Brain tumors containing high levels of EGVRvIII protein grow more aggressively and are more difficult to treat.
In the phase II "ReACT" study, 72 patients diagnosed with recurrent GBM who had not yet been treated with Roche's Avastin, were randomized into two treatment arms: Rindopepimut (rindo) plus Avastin or a control agent plus Avastin. The study's primary endpoint was progression-free survival at six months, which captures the number of patients still alive with tumors that are not growing following six months of treatment. The study also looked at overall progression-free survival, overall survival and response rate.
Reported Friday, six months of treatment with rindo plus Avastin led to a more than doubling in the percentage of recurrent GBM patients alive and without tumor growth compared to Avastin alone. The PFS-6 rate for patients in the rindo+Avastin arm was 27% compared to 11% for patients treated with Avastin+control. The rindo benefit was statistically significant.
Celldex is waiting for four patients (two in each arm) to advance to the point in the study where they can be assessed for tumor progression at six months. The company anticipates this happening within the next few months. Adverse events reported in the study were not different between each treatment arms.
The most intriguing -- and potentially important -- result from the interim analysis of the ReACT study is the survival benefit observed in rindo-treated patients. So far, rindo+Avastin is demonstrating a 53% reduction in the risk of death compared to Avastin+control. At the median, rindo+Avastin patients are living 12 months compared to 8.8 months for the Avastin+control patients -- a difference of 3.2 months. The overall survival benefit favoring rindo is statistically significant.
"Overall survival is the gold standard so these results are what the FDA is really looking for," said Dr. David Reardon, professor of medicine at Harvard Medical School and the lead investigator of the ReACT study.
Reardon believes Celldex has a strong case to make for rindo's approval if the final results confirm what was presented Friday at the annual meeting of the Society for Neuro-Oncology.
The recurrent GBM patients in the ReACT study continue to be followed for survival and an updated analysis will be announced early next year, said Celldex Chief Medical Officer Tom Davis.
A hallmark of effective cancer immunotherapies like Bristol-Myer Squibb's (BMY) - Get Bristol-Myers Squibb Company Report Yervoy is the ability to significantly prolong survival even if tumors begin to grow again. The rindo data reported Friday fit the same pattern. Overall progression-free survival trended in favor of rindo but was not statistically significant, yet the experimental immunotherapy is producing a statistically significant survival advantage.
The overall survival data may actually improve at the final analysis because five rindo patients remain progression-free on study for 15 months to more than 25 months. This compares to only three patients in the Avastin control arm, said Reardon.
Avastin is currently the only approved therapy for recurrent GBM patients, based on data showing significant tumor shrinkage. So far, Roche has been unable to conduct a study in either recurrent or treatment-naive GBM patients demonstrating a survival benefit. Rindo, therefore, has the potential to become the first therapy to prolong survival in recurrent GBM patients.
A second part of the ReACT study investigated use of rindo in patients with recurrent GBM who were previously treated with Avastin but were no longer responding. In this group of more advanced, harder-to-treat patients, the response to rindo failed to meet Celldex's threshold for activity. The company will no longer develop rindo in Avastin-refractory GBM patients.
Celldex is also conducting a phase III study of rindo in newly-diagnosed GBM patients. Enrollment in this study, dubbed ACT IV, will be completed later this year. An interim analysis will be conducted in 2015.
Adam Feuerstein writes regularly for TheStreet. In keeping with company editorial policy, he doesn't own or short individual stocks, although he owns stock in TheStreet. He also doesn't invest in hedge funds or other private investment partnerships. Feuerstein appreciates your feedback;
to send him an email.