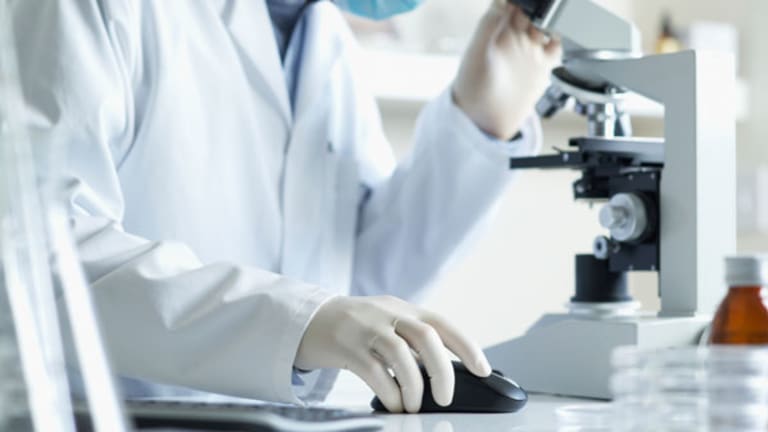 Celladon Heart-Failure Study Looms Large as Next Big Test for Gene Therapy
In April, Celladon is expecting results from a mid-stage study of a gene therapy aiming to improve the pumping ability of the heart in patients with advanced heart failure.
NEW YORK (TheStreet) -- The next investor referendum on the resurgent gene-therapy field will arrive next month when Celladon (CLDN)  is expected to announce results from a mid-stage study of a gene therapy aimed at improving the heart's pumping ability in patients suffering from the organ's advanced failure.
Gene therapy uses engineered viruses to replace defective, disease-causing genes. Celladon's lead therapy, Mydicar, is a virus engineered to insert a working gene capable of producing a protein called SERCA2a into heart-failure patients. SERCA2a is responsible for helping heart muscles contract and pump blood more efficiently. Heart-failure patients have low levels of SERCA2a and hearts that do a poor job pumping blood around the body. Celladon believes infusing Mydicar should lead to higher SERCA2a levels and improved heart function.
Celladon went public in January 2014 at $8 per share. The stock was trading at $24.10, down 1.8%, on Wednesday morning, after rising by more than 30% in March as investors anticipate the Mydicar study results.
After years of scientific doubts about its ability to cure or even treat disease, gene therapy is hot again. Bluebird Bio (BLUE) - Get bluebird bio, Inc. Report, which is using gene therapy to potentially cure rare blood diseases, was one of the best-performing biotech stocks in 2014. Earlier this year, investors clamored for the IPO of Spark Therapeutics (ONCE) - Get Spark Therapeutics, Inc. Report because of its promising gene therapy for eye diseases. The company went public at the end of January.
The outcome of the Mydicar study will affect Celladon's stock price the most, but results -- good or bad -- might also shift investor sentiment about other gene-therapy stocks, even temporarily.
Celladon's phase IIb study, dubbed CUPID-2, is the largest study of a gene therapy in heart-failure ever conducted. It has enrolled 250 patients with advanced heart failure and randomizes them evenly to Mydicar therapy or a placebo. Both Mydicar and the dummy treatment are delivered via a one-time, 10-minute infusion using a catheter threaded through a vein to get near the heart.
For the study to be successful, Mydicar therapy needs to significantly prolong the time before patients re-enter the hospital for heart failure-related reasons compared to a placebo. Additionally, the study will determine if Mydicar can prolong the period before heart-failure patients die, undergo a heart transplant or require the implantation of a heart-pumping assist device.
The company designed the CUPID-2 study based on the assumption that Mydicar can reduce the risk of recurrent heart-failure events by 55% compared to a placebo.
The initial Mydicar target market in advanced heart failure targets about 350,000 patients in the U.S, which could double with new clinical trials, Celladon says.
Celladon's optimism and belief that heart-failure patients benefit from the Mydicar gene therapy stems from data generated by a previous randomized, placebo-controlled study known as CUPID-1.
The CUPID-1 study enrolled 39 advanced heart-failure patients and randomized them to one of three doses of Mydicar (low, middle and high) or a placebo. To determine Mydicar's efficacy, researchers calculated changes over six months in seven different scales typically used to assess heart-failure patients. The analysis found that the high dose of Mydicar demonstrated a statistically significant improvement in heart-failure measurements compared to a placebo. Mydicar at the highest dose achieved the primary endpoint of the CUPID-1 study. There were no significant adverse safety findings related to Mydicar therapy.
Importantly for the CUPID-2 study, researchers conducting CUPID-1 also found that the high dose of Mydicar resulted in a significant reduction in the number of heart failure-related "events" -- worsening heart failure, heart attack, heart transplant, death -- compared to a placebo. That led to an 88% reduction in the risk of recurrent hospitalization after one year favoring high-dose Mydicar over a placebo. Through three years of additional follow-up, the high dose of Mydicar reduced the risk of hospitalization by 82%.
The CUPID-1 study was published in the American Heart Association medical journal Circulation in June 2011. Long-term follow-up data from CUPID-1 were published in Circulation Research in January 2014.
Not surprisingly, Celladon selected the high dose of Mydicar from CUPID-1 for the CUPID-2 study. Celladon and any investor owning the stock in anticipation of next month's release of study results believe Mydicar can replicate the time to recurrent hospitalization benefit over a placebo seen in the CUPID-1 study.
Celladon skeptics, including investors shorting the stock, believe otherwise. Although it hit the primary efficacy goal, the CUPID-I was not entirely clean. Nine heart-failure patients were enrolled in the high-dose Mydicar arm versus 14 patients on a placebo. The small number of patients raises the risk that the benefit observed is an outlier that won't be replicated in the much larger CUPID-2 study.
This risk is amplified by the relatively poor performance of heart-failure patients treated with low and middle doses of Mydicar in CUPID-1. On some efficacy measures, patients treated with the middle dose of Mydicar performed worse than a placebo.
The absence of a consistent dose response in CUPID-1 is worrisome because higher numbers of re-engineered viral particles infused into patients should lead to more healthy, SERCA2a-producing genes taken up inside the cells of the heart muscle. Data on whether Mydicar can actually lead to successful replacement of diseased genes and produce higher levels of SERCA2a protein are unclear.
"When experiments are run in small animals like mice and rats, the gene therapy works well. The re-engineered virus makes its way into the heart tissue and the [SERCA2a] protein is over-expressed," said Ozgur Ogut, who until late last year was the co-director of the Cardiac Muscle Contractility Laboratory at the Mayo Clinic in Rochester, Minn.
"In experiments with larger animals, however, you don't see the same effect. You don't see the overexpression of the (SERCA2a) protein in the heart tissue," Ogut said. Ogut has no affiliation with Celladon and has no investment position in the company.
Measuring SERCA2a levels in heart-failure patients would be the most definitive way to resolve the question about whether the Mydicar gene therapy does what it's designed to do. Unfortunately, this analysis would require removing a small sample of heart tissue from patients, which can be done only if the patient dies or undergoes invasive cardiac surgery.
In the 2014 published study of CUPID-1 follow-up, researchers were able to obtain biopsies of cardiac tissue from 11 patients. In three of four patients infused with the high dose of Mydicar, persistent presence of the transferred gene was found. Five patients treated with the low and middle dose of Mydicar showed no presence of the transplanted gene, and neither did two placebo patients.
Celladon believes the amount of healthy genes transferred successfully by the high dose of Mydicar is sufficient to result in the improved heart function observed in CUPID-1. Skeptics, including scientists such as Ogut, view the amount of gene transfer as marginal and probably clinically meaningless.
The verdict on Mydicar -- and Celladon's stock price -- will be read in April.
Adam Feuerstein writes regularly for TheStreet. In keeping with company editorial policy, he doesn't own or short individual stocks, although he owns stock in TheStreet. He also doesn't invest in hedge funds or other private investment partnerships. Feuerstein appreciates your feedback; click here to send him an email.