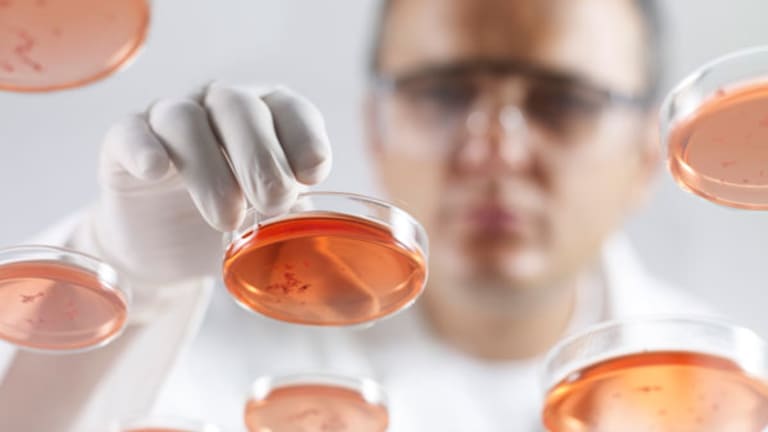 Cell Therapeutics Seeks Liquidity for Debt Holders
Cell Therapuetics is working overtime to make its stock more appealing to debt holders.
Cell Therapeutics
(CTIC) - Get Free Report
is working overtime to push its stock price and trading volume higher so that holders of almost $119 million in the company's debt will accept more stock and less cash in exchange for their notes.
The only way the plan works, however, is if debt holders can quickly and easily sell their stock into the open market. For that to happen, Cell Therapeutics needs to create liquidity and lots of stock price momentum.
This helps explain Monday's dramatic midday stock halt as well as Wednesday's press release on a small and inconsequential study of the company's cancer drug Opaxio. Opaxio, by the way, is the company's rebranding of a failed cancer drug previously known as Xyotax, for those investors new to the Cell Therapeutics story.
Tuesday night, Cell Therapeutics raised the exchange rate of its current debt tender offer significantly, but with a catch: Bondholders have to accept almost twice as much stock and relatively little cash this time around.
Cell Therapeutics is offering $134.50 in cash and 458 shares of common stock for each $1,000 in convertible debt. This works out to a total exchange offer of just over 92 cents on the dollar, based on the company's closing stock price Tuesday.
That's a significant raise from the prior exchange offer of 55 cents to 60 cents on the dollar and may just get debt holders to go along with the deal.
However, the higher offer requires debt holders to accept 85% of the exchange offer in Cell Therapeutics common stock and only 15% in cash. The previous offer gave bondholders 35% cash and 65% stock.
If holders of the company's $118.9 million in debt agree to the tender offer, they will receive about $16 million in cash and $93 million in Cell Therapeutics' common stock.
At Tuesday's closing price, that equals more than 54 million shares.
Bondholders are not like investors. They bought the company's debt because they want cash, not the risk that comes from owning stock, especially one as volatile as Cell Therapeutics. Therefore, a majority of the bondholders will probably try to quickly sell their newly exchanged common stock in order for the safer haven of cash.
But how do you create a market environment that convinces risk-averse bondholders they can quickly dump 50 million shares of stock into the market without cratering the stock price and causing them to lose money?
Unnecessary but highly visible trading halts in front of pedestrian clinical data presentations help, which is what Cell Therapeutics did Monday right before
well-trod data on its chemotherapy drug pixantrone
were presented at the
American Society of Clinical Oncology
annual meeting.
Not one, but two press releases in successive days covering the same pixantrone data also do the trick.
And when more stock oomph is needed, try another press release. Wednesday, Cell Therapeutics highlighted results from 11 patients in a tiny phase II study of its other cancer drug Opaxio in patients with esophageal cancer.
The results from this study were published in the ASCO Proceedings, the research abstract book that accompanies the ASCO conference. In other words, the Opaxio phase II study wasn't deemed important enough by ASCO to even be represented by a poster presentation at the meeting. ASCO just stuck the data in its book.
But based on these data, Cell Therapeutics said it wants to "explore" with the Food and Drug Administration a "potential" phase III registration study of Opaxio in esophageal cancer, according to Wednesday's press release.
So far, Cell Therapeutics' plan seems to be working. The stock price is higher than it was before the ASCO meeting, and volume has picked up considerably. More than 106 million shares traded Monday and 77 million shares traded Tuesday, well above the stock's average volume of 28 million shares.
Whether bondholders go along with the new tender offer will be known by the expiration date on June 16. If successful, look for a lot of stock to be sold.
On a related note, let's discuss Opaxio in a bit more detail, especially since the drug is probably new to many of Cell Therapeutics' recent investors. While pixantrone takes center stage, Opaxio is actually under review for approval in lung cancer by European drug regulators.
But Opaxio is just the new brand name for Xyotax, a reformulation of the chemotherapy drug paclitaxel that failed to meet primary endpoints in a series of phase III lung cancer studies in 2005. Cell Therapeutics' stock price tanked on the negative data, despite claims from the company that the results showed Xyotax's equivalence to standard paclitaxel.
Later in 2005, the company performed some post-hoc subgroup analysis from the failed Xyotax studies, claiming the drug actually worked for women with lung cancer who had poor performance status.
Cell Therapeutics pushed ahead with Xyotax's development as the first gender-specific cancer drug. A new phase III study was started to confirm the drug's benefit in female lung cancer patients, but in 2006, that study was shut down early because women treated with Xyotax were dying more quickly than women treated with ordinary paclitaxel.
Despite four failed phase III studies of Xyotax, Cell Therapeutics pushes on doggedly with the drug's development. Xyotax was renamed Opaxio and filed for approval in Europe on the basis of equivalency data from the first set of failed phase III studies. And the company continues to conduct a study of Opaxio/Xyotax in women with ovarian cancer, with results expected later this year.
Adam Feuerstein writes regularly for TheStreet.com. In keeping with TSC's editorial policy, he doesn't own or short individual stocks, although he owns stock in TheStreet.com. He also doesn't invest in hedge funds or other private investment partnerships. Feuerstein appreciates your feedback;
to send him an email.