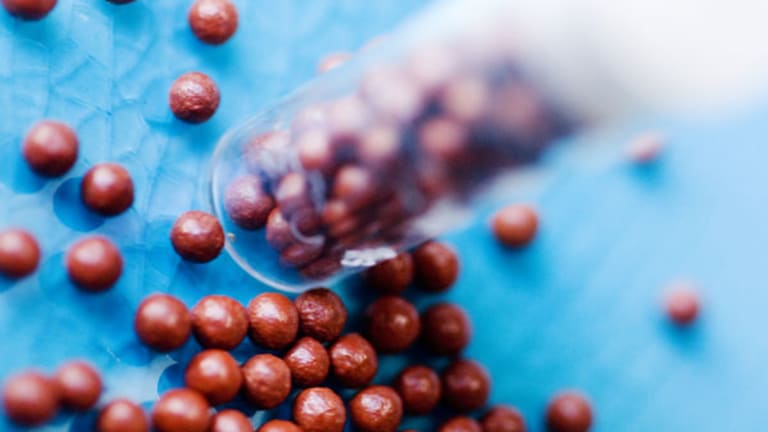 Cell Therapeutics' Pixantrone: Priority Review or Not?
FDA review status of Cell Therapeutics' key cancer drug Pixantrone is unclear.
BOSTON, Mass. (
) -- It appears the
Food and Drug Administration
and
Cell Therapeutics
(CTIC) - Get Free Report
are at odds about the game-changing attributes of the latter's experimental cancer drug pixantrone for the treatment of non-Hodgkin's lymphoma (NHL).
In a strangely worded press release issued last Monday, Cell Therapeutics said that "FDA opts for standard review" of pixantrone. That would be a huge disappointment, of course, since a standard review takes 10 months. The Street's expectation -- and the company's guidance -- was that the FDA would grant a priority, six-month review.
But then the press release states, "Cell Therapeutics to discuss merits for priority review -- final decision due September 4."
Discuss merits with whom? The company doesn't specify. CEO Jim Bianco is quoted in the release saying, "We look forward to working with the FDA and their final decision on our request for priority review."
"Final decision?" So, the FDA opting for standard review was a preliminary, non-binding decision? It sounds as if Cell Therapeutics is appealing the FDA's ruling, hoping to convince the agency to change its mind and speed up the pixantrone review.
Nothing, it seems, is ever straightforward when it comes to Cell Therapeutics.
For the record, this is how FDA regulations define a standard, 10-month drug review: "Standard Review is applied to a drug that offers at most, only minor improvement over existing marketed therapies."
And this is how FDA classifies a drug for priority, six-month drug review: "A Priority Review designation is given to drugs that offer major advances in treatment, or provide a treatment where no adequate therapy exists."
Cell Therapeutics claims pixantrone is a major advance in the treatment of NHL because the drug causes significantly less cardio-toxicity than similar drugs already approved and used frequently to treat patients with NHL. As such, the company forecasts $600 million to $1 billion in peak annual sales for the drug.
I believe Cell Therapeutics overstates the case for pixantrone. It's much more of a me-too drug than the company lets on. If approved, I don't see pixantrone generating more than
$50 million to $100 million in peak annual sales
, which makes Cell Therapeutics a very over-valued company even with shares trading around $1.65
I guess we'll just wait for FDA's "final" decision on the status of the pixantrone review on Sept. 4. The majority of cancer drugs get a six-month review clock from FDA so I've been assuming the same for pixantrone all along. So, I'll only be surprised (and not in a good way) if the agency's standard review decision stands.
A 10-month review cycle for pixantrone would push out the FDA's approval decision date to April 24, 2010 instead of Dec. 24, 2009 under priority review.
UPDATE: I heard back from Cell Therapeutics' spokesman Dan Eramian who confirms that company is appealing FDA's decision to grant pixantrone a standard, 10-month review.
"Yes, we respectfully discussed their decision, but official, final FDA notification is scheduled for Sept. 4, so I would not speculate," he told me, via email.
Genzyme's CEO on the Hot Seat
(At 12:06 pm EDT)
BOSTON, Mass. (
) -- Is it time for
Genzyme's
( GENZ) CEO Henri Termeer to go?
The cycle of bad news, missteps and sloppy work coming out of Genzyme these days is never ending, yet so far, there is no public call from any of the biotech company's shareholders asking for Termeer to resign.
I know there is anger and resentment behind the scenes, based on conversations I've had with a few large investors. These people wonder how Genzyme has sunk so far, so fast. And they place a lot of blame at the feet of Termeer, naturally, because as chief executive, he is ultimately responsible for steering the ship. Right now, Termeer's sense of direction seems way off.
The problems continue at Genzyme's drug manufacturing plant just outside Boston. On Friday, the company disclosed that European inspectors found at least one "major" deficiency at the facility, which was forced to shut down earlier this summer due to a viral contamination.
Genzyme's manufacturing problems over the past year have led to key drug shortages, caused sales and profit shortfalls, prompted regulators to delay new drug approvals and allowed competitors, mainly
Shire
( SHPGY) and
Protalix BioTherapeutics
(PLX) - Get Free Report
, to chip away at Genzyme's core business.
On top of all these problems, the FDA doesn't appear inclined to approve wider use of Genzyme's leukemia drug Clolar, based on my reading of the agency's briefing documents released Friday. (The FDA's cancer drug advisory committee will review and vote on Clolar Tuesday.)
Genzyme's stock price is down 18% year to date. It's been down as much as 27%.
I know other biotech CEOs, most notably
Amgen's
(AMGN) - Get Free Report
Kevin Sharer, have weathered rough patches during which their leadership abilities were questioned. Perhaps Termeer can still turn things around, but re-assuring signs surely aren't apparent.
How much worse do things at Genzyme have to get before some investors calls for a change at the top? Carl Icahn, are you paying attention? Perhaps your beef with
Biogen Idec's
(BIIB) - Get Free Report
CEO Jim Mullen was misplaced. You should have been casting your stink eye at the other major biotech firm based in Cambridge.
-- Reported by Adam Feuerstein in Boston
Adam Feuerstein writes regularly for TheStreet.com. In keeping with TSC's editorial policy, he doesn't own or short individual stocks, although he owns stock in TheStreet.com. He also doesn't invest in hedge funds or other private investment partnerships. Feuerstein appreciates your feedback;
to send him an email.