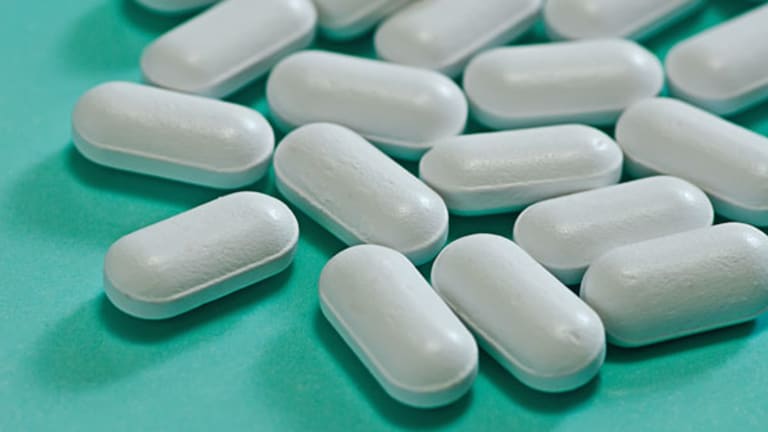 Cell Therapeutics Downplays Drug's Heart Risks
A brilliantly crafted press release sends Cell Therapeutics rocketing despite data showing heart toxicity in pixantrone.
A dramatic mid-day stock halt and a deftly worded press release can't disguise the fact that
Cell Therapeutics'
(CTIC) - Get CTI BioPharma Corp. Report
chemotherapy drug pixantrone is causing significant heart toxicity.
I'm in awe of Jim Bianco, Cell Therapeutics' CEO. Placing a halt on the trading of his stock just before 2 pm EDT in order to issue a press release on a pixantrone poster presentation at the American Society of Clinical Oncology (ASCO) annual meeting was a brilliant piece of gamesmanship.
The press release was no less a work of art, so hats off to Cell Therapeutics' PR chieftain Dan Eramian. He managed to weave about 15% new data (some of not so positive) with 85% old news but still made pixantrone look like the most effective and least heart toxic chemotherapy drug ever invented.
Cell Therapeutics' shares zoomed up 67 cents, or 47%, to $2.10once the trading halt was lifted, so the plan clearly worked.
Unfortunately, Bianco and his team can't do anything to change the underlying safety problems with pixantrone, which are apparent to anyone who downloads and reads the actual poster of the pixantrone data that was displayed this afternoon at the ASCO meeting in Orlando, Fla.
Cell Therapeutics has provided a link, so you can download the pixantrone poster
.
As a reminder, pixantrone belongs to a class of effective cancer medicines called anthracylines. Dosing of anthracyclines is limited, however, because the drugs cause heart damage that can lead to congestive heart failure.
Cell Therapeutics believes pixantrone causes less cardiac toxicity and congestive heart failure than other anthracyclines and could therefore be used more freely, especially in patients treated previously with more commonly used anthracyclines like doxorubicin.
In Monday's press release, Cell Therapeutics states:
"Data from repeated evaluations of Left Ventricular Ejection Fraction LVEF by MUGA (Multi Gated Acquisition Scan) scan demonstrated no consistent dose related decline as has been described for doxorubicin with median LVEF values at a baseline of 58% and at the end of treatment of 59%."
Translated, what Cell Therapeutics claims is that patients treated with pixantrone started the study with a median LVEF (a measure of the heart's ability to pump blood) of 58%. At the end of the study, these same patients had a median LVEF of 59%, so their cardiac function actually got just a tiny bit better. MUGA, by the way, is a common test doctors use to measure LVEF.
That is what the press release says, but the actual pixantrone poster paints a different picture. And the poster is most important because it represents the real data, collected and analyzed by the doctors who actually conducted the study. It's not the interpretation of the study written by some PR guy in Cell Therapeutics' Seattle headquarters.
The "cardiac safety assessment" section of the pixantrone poster reveals that 64 patients in each of the pixantrone and comparator arms of the study had LVEF levels measured at the start of the study. But at the end of the study, the number of patients with LVEF measurements dropped to 28 patients in the pixantrone arm and 23 patients in the comparator arm.
In other words, 36 pixantrone patients, or 56% of the total, didn't have end-of-treatment heart scans to assess for cardiac safety. Likewise, 64% of the patients in the comparator arm are left out of the heart toxicity analysis.
Where are all the missing patients for the cardiac safety assessment and why are they missing?
There's more. The same section of the poster also discloses that there was actually a 5% drop in LVEF amongst the 28 pixantrone patients at the end of the study.
So, what Cell Therapeutics is actually telling us about pixantrone's heart safety from this study is that they have complete data on 28 patients treated with pixantrone, and in these patients, their cardiac function (the ability of the heart to pump blood) actually decreased.
And what about the 23 patients in the comparator arm with complete heart safety data? Well, these patients actually improved by 1% in the LVEF.
Oh, and I should also mention that the patients in the comparator arm were previously treated with relatively higher doses of an anthracycline than the pixantrone patients before the study began. This should have pitched the cardiac toxicity assessment in pixantrone's favor, but it did not.
The incidence of serious cardiac disorders was 8.8% in the pixantrone arm compared to 4.5% in the comparator arm.
I haven't even addressed the efficacy of pixantrone, but there was little new information shed in today's presentation that wasn't previously disclosed by the company. An analysis of survival favored pixantrone-treated patients, but the result was nowhere close to being statistically significant, with a p value of 0.54. Statistical significance requires a p value of 0.05.
Bianco will probably still insist that pixantrone can be a $600 million drug or more and eventually replace all other anthracyclines in the treatment of lymphomas and other cancers. But based on the actual safety data -- not the press release version of same -- I'm quite comfortable sticking to my prediction that pixantrone is nothing more than a $50 million me-too cancer drug.
After today's stock price bump, Cell Therapeutics sports an enterprise value of $1.1 billion.
Now that's what I called over-valued.
Adam Feuerstein writes regularly for TheStreet.com. In keeping with TSC's editorial policy, he doesn't own or short individual stocks, although he owns stock in TheStreet.com. He also doesn't invest in hedge funds or other private investment partnerships. Feuerstein appreciates your feedback;
to send him an email.