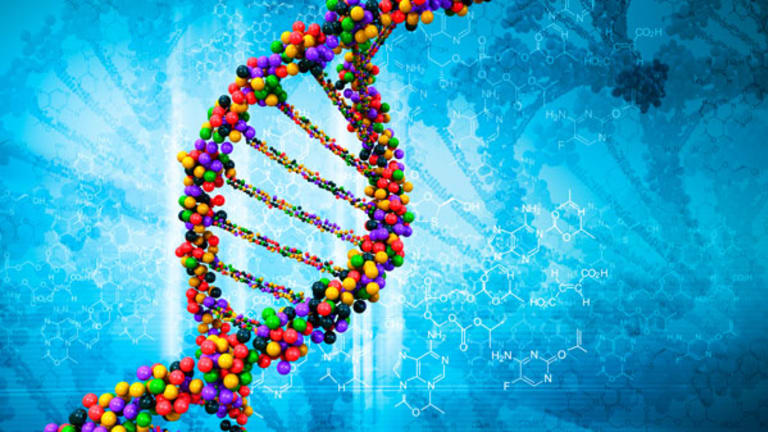 I can think of 462 million reasons why
Cell Therapeutics
(CTIC) - Get CTI BioPharma Corp. Report
is not the feel-good biotech turnaround story of the year, despite a raging stock price.
The Seattle-based drugmaker has a whopping 462 million shares outstanding. Plus, about $118 million in convertible debt is on the company's books, with a big chunk coming due next year. (More on the debt and the company's attempt to pay it off below.)
Add it all up, and the Cell Therapeutics sports an enterprise value of more than $800 million!
And what do investors get in return for an $800 million enterprise value?
Not much.
CEO Jim Bianco will have investors believe that pixantrone, a cancer drug soon to be filed with
U.S. Food and Drug Administration
, is the company's ticket to profitability after years of clinical failure and stinging corporate losses.
Pixantrone will be used widely to treat various forms of lymphoma and leukemia as well as breast cancer, says Bianco, and could generate peak sales exceeding $600 million a year.
It's a nice story -- wildly exaggerated. Pixantrone is, at best, a mildly improved version of a commonly used chemotherapy drug that has already gone generic. If Cell Therapeutics is lucky, pixantrone will be used as a last-resort treatment for a few thousand desperately sick lymphoma patients and generate $50 million a year in sales. If I were generous, I'd say peak sales could reach $100 million.
A $50 million to $100 million drug like pixantrone is simply not enough to justify an $800 million-plus enterprise value. Cell Therapeutics' shares, at $1.62 on Monday, are outrageously overvalued.
If Bianco is spinning fantasy stories about his company's revenue potential, he's also glossing over a messy corporate balance sheet that has the company consistently operating just a few steps from insolvency.
Monday night, the company announced a plan to exchange cash and common stock for about $89 million of its convertible debt.
Bianco thinks he can persuade debt holders to accept 25-30 cents for every dollar of Cell Therapeutics debt they own. At the midpoint of that exchange rate, the debt tender offer will cost the company $24.5 million.
That's about all the cash Cell Therapeutics currently has, so the company is proposing to pay debt holders about $17.8 million in cash, with the remainder paid out in common stock. At the current stock price, this would add another 4 million shares to the 462 million shares already outstanding.
Concurrent with the debt tender offer announced Monday, Cell Therapeutics also said it raised another $20 million through the sale of stock and warrants to a single investor. The financing was priced at $1.25 a share, which adds another 20.8 million shares to the company's float (assuming the warrants are exercised.)
By my rough calculations, none of these financial maneuverings helps Cell Therapeutics make its balance sheet any more attractive.
The company would reduce its debt from $118 million to $29 million, but at the cost of further diluting shareholders to the count of nearly 490 million total shares outstanding. Factor in the remaining debt and about $26 million in cash, and Cell Therapeutics still sports an enterprise value of approximately $790 million (using Monday's closing stock price.)
The reality of the situation is even worse because Bianco is going to have a very difficult time persuading his debt holders to accept 25-30 cents on the dollar. He needs 70% agreement to the terms for the tender to work.
But if I'm a debt holder, why would I accept a fire sale price for a company which, to hear Bianco tell it, will break even in the fourth quarter and be profitable next year with a drug, pixantrone, that could generate more than $600 million in revenue at peak?
If the debt holders balk, Bianco's options are lousy. One way or another, he has to raise more money with another massively dilutive financing just to pay off the debt.
Plus, Cell Therapeutics is still shouldered with the financial burden of actually selling pixantrone, if the FDA actually approves the drug. Cell Therapeutics has no commercial sales team, which means it must be built and paid for. So, yes, that means the company has to sell more stock to raise additional cash.
Can Cell Therapeutics find a partner willing to sell pixantrone in exchange for a significant royalty payment? Maybe. Bianco is telling investors that
Novartis
(NVS) - Get Novartis AG Sponsored ADR Report
, which has an option on pixantrone, is very interested. But if that's true, why is Novartis dragging its feet?
Could it be that potential partners are worried about the approvability of pixantrone? All the data on the drug released so far has come from Cell Therapeutics press releases. Some efficacy and safety data on pixantrone will finally be presented later this month at the American Society of Clinical Oncology annual meeting.
The safety of the drug will be key because Cell Therapeutics' big selling point is that pixantrone causes less cardiac toxicity than other similar chemo drugs like doxorubicin. But if that's true, then why did more patients in the pixantrone arm of the pivotal study report severe cardiac side events, including one patient with chronic heart failure attributable to the drug, compared to the control arm?
I've followed Cell Therapeutics for years, so all the buzz about a turnaround and a surging stock price isn't new or exciting, or even remotely close to the truth.
Cell Therapeutics was trading for 5 cents in March. On Monday, the stock closed at $1.62. That's a dramatic 3100% return and real money for the day traders and momentum stock junkies who bid up the stock every day. But the party ends soon with someone left holding the bag.
Understand that the story Bianco sells never turns out as good as the promises he makes. Cell Therapeutics keeps burning cash. The company never comes close to earning a profit, and shareholders lose money. It happened with Trisenox, Zevalin and Opaxio; the same will happen again with pixantrone.
Bianco is the only person who wins in the end because he finds a way to pay himself a handsome salary.
Adam Feuerstein writes regularly for TheStreet.com. In keeping with TSC's editorial policy, he doesn't own or short individual stocks, although he owns stock in TheStreet.com. He also doesn't invest in hedge funds or other private investment partnerships. Feuerstein appreciates your feedback;
to send him an email.