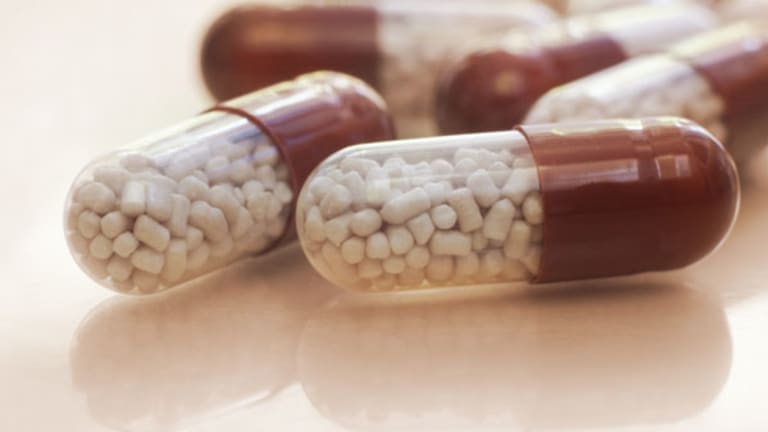 Celgene's Siren Song
TheStreet Contributor Nate Sadeghi debates whether to buy Celgene ahead of a European decision on expanding use of its multiple myeloma drug Revlimid.
NEW YORK (
) -- Even the most experienced professional investors can succumb to the allure of stocks that seem to offer tantalizing rewards and little downside. The waters of biotechnology are particularly treacherous. Like the Sirens in Greek mythology, seemingly "safe" biotech bets can easily distract investors from the craggy rocks of risk with "so close you can taste it" upside. In healthcare, shipwrecked investment portfolios abound.
Over the years, I've kicked myself on more than one occasion for not being more aggressively long
Celgene
(CELG) - Get Celgene Corporation Report
after big dips. Recently, I've been hearing whispers that the stock's 14% decline over the past two months is another buy-on-the-dip opportunity.
Within the next two months, Celgene should receive a favorable recommendation from the Committee for Medicinal Products for Human Use (CHMP) -- the European equivalent of the FDA -- for approval of Revlimid as maintenance therapy in front-line multiple myeloma, a hematologic malignancy. Despite nearly $3.5 billion in annualized sales (management guidance is for $3.8 billion in 2012), Revlimid has thus far received European approval only for relapsed or refractory multiple myeloma. Given the virtually nonexistent "off label" use of drugs outside of the U.S., formal approval in the front-line setting would meaningfully expand the addressable market.
The upside from expanded use of Revlimid is clear, yet I also worry about underappreciated risk. Celgene's valuation is compelling but short-term trading gains may be capped by high expectations baked into the stock already.
Celgene is enticing investors to buy the stock now ahead of the European Revlimid regulatory decision. It's easy to succumb to the temptation so I'm binding myself to the mast and plugging my ears with the wax of reason in order to steer clear, attractive as Celgene may seem. Here's why I believe buying today isn't the right course to chart:
Transplant Eligible Multiple Myeloma: CALGB and IFM
Published in the
New England Journal of Medicine (NEJM)
this month, Celgene's data in transplant eligible patients unambiguously show a clinically meaningful benefit. Referred to by the acronyms of sponsoring investigator groups, the CALGB and IFM studies had a similar design: patients were randomized to receive either Revlimid or placebo following stem cell transplant until disease progression or death. (In the IFM trial, all patients received post-transplant Revlimid "consolidation" -- a short period of drug therapy intended to boost response rates -- prior to randomization for maintenance.)
In the U.S.-based CALGB study, maintenance significantly improved median time to disease progression (TTP), from 27 months in the placebo arm to 46 months for Revlimid-treated patients. The IFM study, conducted in Europe, also showed an improvement in median progression free survival (PFS) -- from 23 months for placebo to 41 months for Revlimid; these results were also statistically significant.
One quick aside: always read endpoint definitions carefully. Technically speaking, TTP and PFS are not interchangeable. TTP censors patient deaths, meaning that deaths are excluded from the analysis; this can skew results and is inappropriate for any oncology study in which the majority of deaths are cancer-related. PFS is more robust, defined as the time from randomization until objective tumor progression or death. Even seasoned investors often overlook this distinction due to the carelessness of colloquial use. In fact, the CALGB investigators seem to have mischaracterized the endpoint -- which includes death from any cause -- as TTP. In fact, both trials use the same endpoint -- PFS.
Let's return to the data.
Despite an increased rate of secondary malignancies and the confounding influence of post-progression crossover, Revlimid also appeared to prolong survival versus placebo in the CALGB trial. Oddly, the survival curves overlapped completely in the IFM trial despite a similar follow-up period. Bulls will reasonably argue that the lack of a survival trend is due to Revlimid consolidation in the IFM study, which boosted complete or very good partial response rates from 58% to 69%. Longer follow-up may shed additional light on the data (event rates were low in both studies), but I suspect the dramatic PFS benefit and plausible explanations for a lack of survival benefit will be adequate for a positive CHMP recommendation in transplant eligible patients.
Transplant Ineligible: MM-015
Moving on to Celgene's ex-U.S. MM-015 study, also published in
NEJM
this month, which evaluated transplant ineligible patients with multiple myeloma. Investigators reported significantly improved PFS for those patients receiving a three-drug chemotherapy regimen known as MPR -- which combines Revlimid with melphalan and prednisone -- followed by Revlimid maintenance (MPR-R), compared to MPR without maintenance (31 months versus 14 months, respectively).
Importantly, MPR-R did not significantly extend PFS in the subset of patients more than 75 years old. Although there is a favorable trend and the cohort is small, the higher toxicity-related dropout rate and lower dose intensity -- a ratio of actual to intended dose -- in this group raises important questions about tolerability in older patients. I don't think the elderly subgroup data are good enough for European approval.
As in the IFM study, MM-015 did not show an overall survival benefit. (This should worry the bulls; I can't easily explain this finding away.) However, at the American Society of Hematology (ASH) conference last December, Celgene presented data showing a non-significant trend towards a survival benefit for MPR-R in younger patients (65-75 years old). Combined with the PFS results, this should be enough to ensure a favorable CHMP vote for transplant ineligible 65-75 year old patients.
The Market
Now let's look at the market. Roughly 40% of the 50,000-60,000 newly-diagnosed multiple myeloma patients in the US and Europe will be considered eligible for a transplant, although only two thirds of those patients actually get one. (The incidence of multiple myeloma is slightly lower in the US, at 21,000-25,000 patients; this makes front-line European approval even more critical.)
Despite having some negative impact on Celgene's relapsed and refractory business, wider adoption of Revlimid in the front-line maintenance setting would substantially extend treatment duration. Given the drug's cost -- a whopping $80,000-100,000 per year -- longer use is a boon for profits. (The current average treatment duration in Europe is about 8 months; with maintenance, this could triple or even quadruple.)
After reviewing a bunch of sellside models, I think the European front-line opportunity for Revlimid in multiple myeloma has been reasonably characterized. And that's exactly the problem. Most Street analysts assume a favorable recommendation in transplant eligible and younger transplant ineligible patients, with rapid adoption in these groups. This leaves little room for a big upside surprise, unless one assumes Celgene gets a broad CHMP recommendation for front-line use in all patients. I'm not willing to make that bet.
Thoughts on Valuation
Celgene trades at 14.4 times consensus estimates of $4.79 per share for 2012. Wall Street estimates -- which seem achievable, suggest EPS will grow slightly more than 20% per year through 2015. Even though I tend to be cheap, that seems potentially compelling. (Celgene enthusiasts will simply roll forward the earnings multiple by one year and posit a price target of $81 per share, a seemingly easy 18% profit.)
The Long-Term
The composition-of-matter patent for Revlimid in the US expires in 2019, although Celgene has a polymorph patent that extends to 2026. (Generally, polymorph patents, which cover a particular crystal structure of the drug, are considered less robust.) Even bullish investors will eventually wonder what comes after Revlimid. I'm not sure when that day will arrive, but as
Gilead Sciences
(GILD) - Get Gilead Sciences, Inc. Report
can attest, "patent cliff" concerns can wreak havoc on earnings multiples.
Celgene's long-term strategy is to develop an improved version of Revlimid, dubbed pomalidomide. Although the initial data appear promising, management may struggle to justify branded pricing for pomalidomide in a world with a very good alternative -- generic Revlimid. Celgene does have some other interesting early-and-mid-stage development candidates, but the biotech history books are littered with stories of company's that had a harder-than-expected time replacing lost sales when blockbuster drugs go generic.
Although it looks reasonably priced, my primary near-term concern is that buyside investors already expect good news, which makes Celgene's short-term trading unclear. For now, I'm going continue sailing past and not buy quite yet. Untie me from the mast once we get a decision from the CHMP.
Disclosure: Sadeghi has no positions in any of the stocks mentioned in this article.
Follow Nathan Sadeghi-Nejad on
.
Nathan Sadeghi-Nejad has 15 years experience as a professional health-care investor, most recently as a sector head for Highside Capital. He has worked on the sell side (with independent research boutiques Sturza's Medical Research and Avalon Research) and the buyside (at Kilkenny Capital prior to Highside). Sadeghi-Nejad is a graduate of Columbia University and lives in New York. You can follow him on Twitter @natesadeghi.