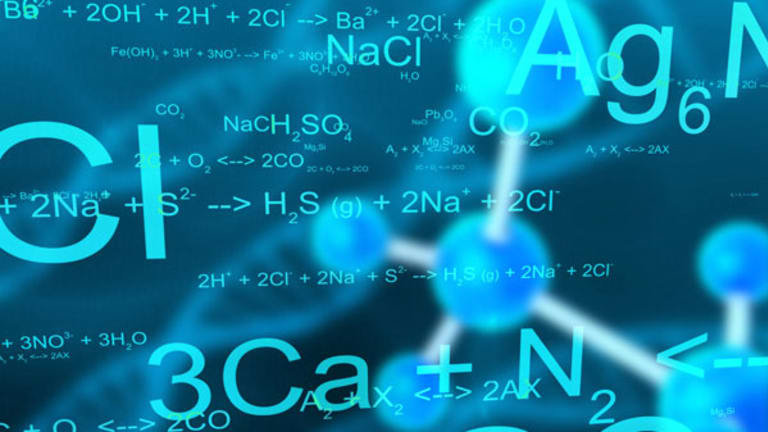 Publish date:
Celgene's Revlimid Cuts Cancer Growth: BioBuzz
Company presents data from MM-015 study in multiple myeloma.
Company presents data from MM-015 study in multiple myeloma.
NEW ORLEANS, La. (
) --Newly diagnosed multiple myeloma patients treated with
Celgene's
(CELG) - Get Report
Revlimid plus chemotherapy followed by Revlimid "maintenance" had a 50% reduction in the risk of disease progression or death compared to patients treated with chemotherapy alone, according to results from a closely watched phase III study presented this afternoon.
The benefit of extended Revlimid treatment for multiple myeloma patients demonstrated in the so-called MM-015 study appears to be a bit stronger than the 45% risk reduction Wall Street was expecting.
The overall response rate for patients treated with Revlimid maintenance was 77%, including 17% complete responses compared to a 45% overall response rate and 5% complete responses for patients treated with chemotherapy alone.
The MM-015 study also included a third arm in which patients were treated with a fixed, nine-month course of Revlimid and chemotherapy. Celgene said Monday that patients treated with this so-called Revlimid induction therapy didn't benefit as much as patients treated with Revlimid maintenance, although the extent of this benefit was not clear, in part because the data from this part of the study are not yet ready for full analysis.
Celgene shares have been volatile in recent weeks because of worries that the benefit of Revlimid maintenance (i.e., more Revlimid) wouldn't outweigh Revlimid induction (i.e., less Revlimid).
Investors expect Revlimid sales to grow from around $1.7 billion this year to well over $3 billion in 2013-2014. To meet these expectations for high growth, however, the treatment duration of Revlimid therapy needs to grow longer, particularly for front-line multiple myeloma patients.
Celgene shares were volatile at the end of Monday's trading, with the stock spiking higher as the Revlimid data presentation was taking place around 3:45 PM EST. The stock is now trading lower by 3% to $54.55 in the after-hours session.
Allos Defends Lymhpoma Drug
(At 10:54 AM EST)
Allos Therapeutics
(TICKER)
executives hit the phones Monday to defend the company's lymphoma drug Folotyn and take some not-too-subtle jabs at a potential competing lymphoma drug just acquired by
Celgene
(CELG) - Get Report
.
With Monday's
of
Gloucester Pharmaceuticals
, Celgene will soon launch Istodax as a treatment for cutaneous T-cell lymphoma (CTCL). But what has investors somewhat unsettled about Allos this morning is that Istodax may become a direct competitor to Folotyn in the peripheral T-cell lymphoma market (PTCL).
Allos shares were down 14% to $5.71 in recent trading, which no doubt prompted the company's executives to pick up the phone to defend their drug.
"We have the first and only approved drug for PTCL in Folotyn and the reception for the drug here at ASH this weekend has been very strong," said Allos' chief commercial officer Jim Caruso, in a phone interview.
By ASH, Caruso is referring to the annual meeting of the American Society of Hematology, the largest annual gathering of doctors and researchers of blood-related cancers. Allos is using this year's meeting to introduce doctors to Folotyn, which received Food and Drug Administration approval in September.
A full-scale commercial launch for Folotyn will begin in January, after the FDA-imposed restrictions on promotional advertising expire.
As the only approved drug in PTCL, Folotyn will have a big head start over Istodax in PTCL, assuming the drug is ever approved for this indication, says Caruso.
He adds that Folotyn is administered through an infusion that takes about five minutes while Istodax's infusion takes four hours -- a lengthy procedure which Caruso calls a "non starter commercially," especially for busy doctors who work in community-based hospitals.
Istodax also causes cardiovascular side effects, which forced Gloucester to exclude certain patients with heart-related illnesses from its clinical trials, says Caruso, adding that Folotyn has no such problem with cardiovascular toxicity.
Folotyn does cause a relatively high percentage of patients to develop painful sores in their mouths, a condition known as mucositis, but Caruso says this is a common and easily treatable side effect of many chemotherapy drugs.
Celgene is a formidable player when it comes to selling blood cancer drugs, so the company's move into Allos' territory cannot be ignored. But while the Gloucester deal means Celgene isn't going to buy Allos, it does validate the commercial opportunity for CTCL and PTCL, which were both considered a bit of a blood-cancer backwater.
Leerink Swann analyst Josh Schimmer, in a note to clients Monday, said his checks with doctors at ASH this weekend confirmed strong interest in using Folotyn on a majority of PTCL patients. He added that fourth-quarter Folotyn sales may come in ahead of investor expectation when Allos reports results early next year.
Celgene Buys Gloucester Pharma
(At 7:14 AM EST)
News from the
American Society of Hematology
annual meeting:
Celgene
(CELG) - Get Report
said Monday it will acquire privately held
Gloucester Pharmaceuticals
to bolster its portfolio of approved blood cancer drugs.
The purchase price is $340 million in upfront cash and $300 million in future U.S. and international regulatory milestones.
In November, Gloucester received U.S. approval for Istodax, a treatment for cutanenous T-cell lymphoma (CTCL), a relatively uncommon form of non-Hodgkin's lymphoma that mainly involves the skin.
Gloucester has not yet launched Istodax in the U.S. -- a task that will now fall to Celgene, which can leverage its existing blood-cancer drug salesforce. Celgene will also pursue European approval for Istodax in CTCL as well as advance the drug's clinical development into other cancers, including peripheral T-cell lymphoma (PTCL).
Allos Therapeutics
(ALTH)
is in the process of launching Folotyn as a treatment for PTCL so Celgene, with its purchase of Gloucester, has just become a potential competitor.
-- Reported by Adam Feuerstein in Boston
Adam Feuerstein writes regularly for TheStreet.com. In keeping with TSC's editorial policy, he doesn't own or short individual stocks, although he owns stock in TheStreet.com. He also doesn't invest in hedge funds or other private investment partnerships. Feuerstein appreciates your feedback;
to send him an email.