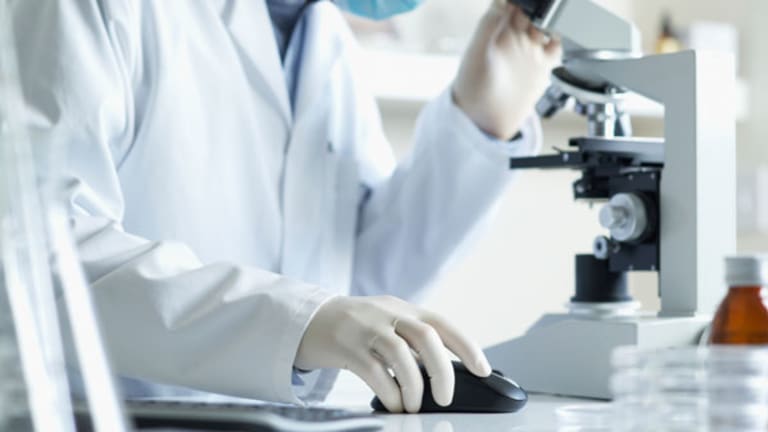 Celgene CVR: Upside Into Abraxane Pancreatic Cancer Trial Data
How best to invest in the next important clinical trial catalyst facing Celgene.
CAMBRIDGE, Mass. (
) --While some biotech investors like to play the "run up" to clinical data or FDA drug approval decisions, others may be more inclined to take the risk and hold through these important binary events. This more traditional approach to biotech investing requires a careful, fundamental analysis that weighs the odds of a positive or negative outcome against the upside rewards or downside risks in the stock price.
Obviously, the key to profiting from binary-event investing is to find a stock where the potential rewards outweigh the possible risks. I believe I've found one such situation with the publicly traded, contingent value rights (CVR) tied to the cancer drug Abraxane.
Celgene
(CELG) - Get Celgene Corporation Report
created these CVRs when it acquired Abraxane's original owner
Abraxis BioScience
in 2010.
This
Celgene CVR
(CELGZ)
closed Monday at $2.50. What I like about the Celgene CVR is the potential for a nearly $7.50-per-share payout should a phase III study of Abraxane in pancreatic cancer succeed.
Abraxane is an albumin-bound formulation of paclitaxel, the old cancer chemotherapy drug. Abraxane is currently approved to treat breast cancer and does seem to be more efficacious and less toxic than standard paclitaxel. Celgene is seeking an expanded FDA approval for Abraxane into non-small cell lung cancer and has other late-stage studies ongoing, including melanoma and the above-mentioned pancreatic cancer.
Gemcitabine is the current standard of care in pancreatic cancer, which generally conveys a survival benefit of approximately six months. Despite many attempts, pancreatic cancer has been stubbornly resistant to new therapies. Pancreatic cancer cells are believed to be surrounded by what amounts to a protective shell. This shell makes it very difficult for cancer-killing drugs to penetrate effectively.
Abraxane and its albumin formulation may have stumbled upon a way to weaken the coat of armor that normally protects pancreatic cancer cells. In phase II studies, Abraxane demonstrated a median overall survival of 12.2 months and conferred an even longer survival rate in patients with pancreatic tumors expressing high levels of a protein known as SPARC.
Approximately half of all pancreatic tumors over-express SPARC.
On the downside, the Abraxane phase II studies were single arm, therefore lacking a comparator. However, the studies were conducted in the U.S., which mitigates some of the added risk.
Threshold Pharmaceuticals
(THLD)
,
Clovis Oncology
(CLVS) - Get Clovis Oncology, Inc. Report
and
Newlink Genetics
(NLNK) - Get Newlink Genetics Corporation Report
are among Celgene's competitors pursuing development of their own pancreatic cancer drugs.
Celgene's ongoing phase III study compares the combination of Abraxane and gemcitabine versus gemcitabine and a placebo with a primary endpoint of overall survival. The study is being led by a pancreatic cancer
of oncologists and some doctors are already prescribing Abraxane off label to pancreatic cancer patients, according to reports posted on various patient advocacy web sites. The results reported by some of these patients is anecdotal, of course, but does appear to be consistent with the strong results reported in the Abraxane phase II studies.
Make no mistake, the outcome of the Abraxane phase III study in pancreatic cancer remains high risk. But what I like most about the Celgene CVR at $TK is that the market is hardly pricing in success at all.
Each holder of the Celgene CVR receives a pro-rata share of $300 million in cash, paid if FDA approves Abraxane for pancreatic cancer with a survival claim in the label. If the approval occurs before April 1, 2013, Celgene pays an additional $100 million.
Additionally, Celgene CVR holders will receive an ongoing royalty tied to Abraxane sales that starts at 2.5 % for annualized sales of $1 billion and scales higher. Abraxane sales today are annualizing at about $450 million, but pancreatic cancer sales, alone, could exceed $1 billion.
Some investors may prefer to play the Abraxane pancreatic cancer trial event by owning Celgene itself. I own the Celgene CVR because of the favorable risk-reward. I would expect the CVR to trade closer to $7.50 (from $TK today) if Abraxane improves overall survival in the pancreatic cancer trial. The risk is the CVR could become almost worthless if the pancreatic cancer trial fails. Results from the study are expected late this year or early next.
Silverman is long Celgene CVR.
Jim Silverman is the managing member of RRC Bio Fund LP, a Boston-based hedge fund focused on small-cap biotech. RRC Bio was launched in 2007. Silverman also founded Risk/Reward Capital Management in 1997, a registered investment advisory. He lives in Cambridge, Mass., and received a BBA in finance from The George Washington University.