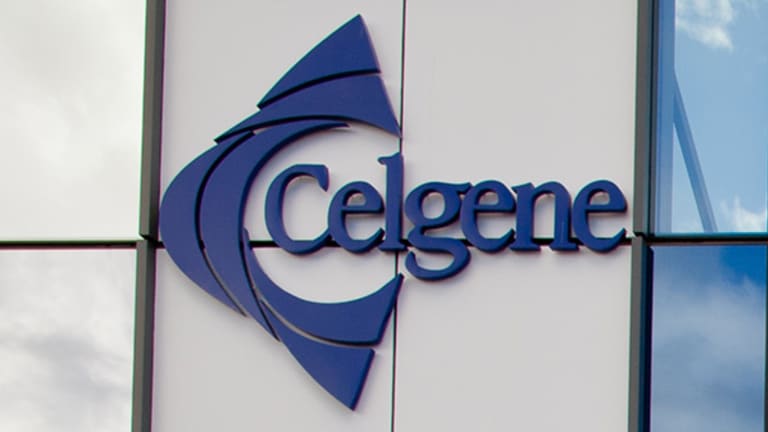 Celgene Could Skyrocket by 22% With Ease
More upside could be on the way here.
In the last three months, shares of Celgene (CELG) - Get Free Report are up nearly 14%. The stock jumped after the third-quarter earnings report on Oct. 27. The company posted third-quarter earnings of $1.48, 10 cents better than the consensus estimate. Management raised fourth-quarter guidance and issued in-line guidance for 2017. The news lit a fire under the stock.
Then, last week, at the J.P. Morgan Healthcare Conference, Celgene reported preliminary fourth-quarter and fiscal 2016 year-end results. The company also provided an updated look into 2017. The company will report the fully audited results on Jan. 26.
Celgene said fiscal 2016 total net product sales would be approximately $11.18 billion, up 22%. Revlimid, the company's treatment for multiple myeloma, or cancer of the plasma cells, posted sales of $6.9 billion, up 20%. The results were driven by the addition of new patients, market share gains and increased treatment duration. Revlimid accounted for 62.3% of Celgene's sales in the quarter. Multiple myeloma is a form of blood cancer that primarily affects older adults and arises from plasma cells in the bone marrow.
Revlimid is one of the most expensive cancer drugs in the world. According to data from Connecture, the average wholesale cost of Revlimid was $644 per pill in the second quarter, up from $393 in the second quarter of 2008. Patients take one pill a day for three weeks a month, which means therapy costs approximately $162,000 per year. Patients are on the drug indefinitely.
The American Cancer Society estimates about 30,280 people in the United States will be diagnosed with multiple myeloma in 2017. The drug's patent expires in 2026.
Pomalyst/Imnovid sales were $1.3 billion, up 33% year over year. Pomalyst is used to treat patients with multiple myeloma whose disease progressed after being treated with other cancer drugs.
Otezla sales were $1.0 billion, up 116%. Otezla is approved for the treatment of patients with moderate to severe plaque psoriasis. According to Fierce Pharma, Otezla treatment costs approximately $22,500 per year, which is a 30% discount to Humira and Enbrel.
Abraxane sales were $973 million, up 1%. Abraxane is used in the treatment of breast cancer, lung cancer, and pancreatic cancer. Pancreatic cancer is the fourth-leading cause of cancer death in the United States. Abraxane is a chemotherapy drug that can slow the growth of certain tumors. Abraxane is used with gemcitabine, another chemotherapy drug, in patients with pancreatic cancer that has spread to other parts of the body.
Management also said that for the full year, fully adjusted earnings per share would be $5.94, a 26% year-over-year increase.
In 2017, the company expects total revenue of $13 billion to $13.4 billion and adjusted earnings per share to range between $7.10 and $7.25 per share.
Although Revlimid accounts for 62% of sales, Celgene does have a large underappreciated pipeline of new treatments that could be approved with the next few years, which could help to mitigate the risk of a Revlimid slowdown.
Through 2020, sales and earnings are forecast to grow at a compounded annualized rate of 17% and 22%, respectively.
I think it is completely reasonable that Celgene shares can trade to at least 19 time forward estimates, or around $138 per share.
This article is commentary by an independent contributor. At the time of publication, the author held no positions in the stocks mentioned.